Few things in life are ever certain.
One thing you can count on though, when you go to a Foo Fighters concert, Dave Grohl (lead vocals and guitar) and the guys — Taylor Hawkins (drums and vocals), Nate Mendel (bass), Chris Shiflett (guitar) and Pat Smear (guitar) — are going to put on one killer show! Masters of their trade, they have perfected how to put on an impressive live performance during their 20 years together.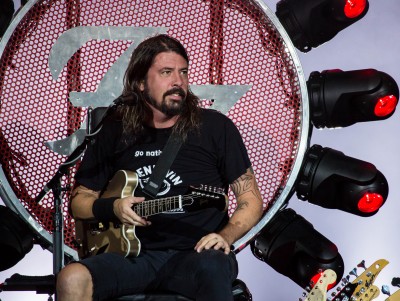 The August 25th gig at the First Niagara Pavilion in Pittsburgh, Pa. was their first show at this venue. The Foos had the crowd hooked from the opening screams of, "Are you fucking ready?" while shrouded behind their logo-emblazoned curtain — all the way through the last song and the final beat of drums by Taylor Hawkins.
As the show opened shortly after 8:30 p.m., the first chords of "Everlong" traveled through the pavilion, and the crowd roared in anticipation of what was coming:
The curtain goes up and unveils Grohl thrashing around in his Throne of Rock, barely staying contained to the small confines of the seat attached to it. To make up for this temporary immobility (a broken leg), he gives it everything he possibly can and rocks out as hard as he does without the Throne. Maybe even more so.
Head banging, hair flying, his good leg jumps like there's an invisible kick drum he's trying to beat. He strums his guitar like he's mad at it and screams lyrics loud enough to make sure folks all the way in Philly can hear him. It's like watching a caged animal trying to escape into the wild. (And that was just the first song!)
During the second song, "Monkey Wrench," Grohl takes a minute to slow it down, telling the now infamous lighting guy, Dan, "light em' up! Let me see what I got right now." As the pavilion lights up like a Christmas tree to the way back, thousands of people in attendance cheer and wave their arms. Happy with the crowds' response, Grohl says, "Oh! It's like that,"
He eggs them on and rewards them with, "When it's like that, it's like this," shredding his guitar and offering an extended riff to the crowd. Assessing the night ahead as one of "those nights," he works the crowd into a screaming frenzy before doing his own screaming bit to finish out the song. By "Learn to Fly," Grohl and co. maintain the fast-pace with high energy, showing the crowd it is indeed going to be one of those nights!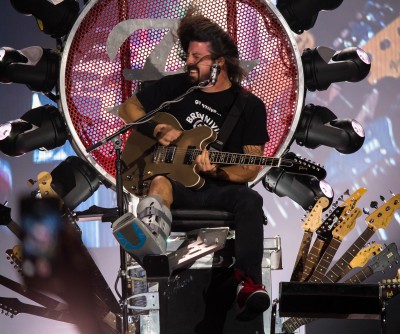 Grohl completely surrenders himself to the music when he plays. Watch him play, and you can see how it comes from his core. Music is something you can see him feel. It's rather surreal to witness. Throughout the show, as if simply unable to contain himself any longer, Grohl stands up for brief moments, letting the music take over. Looking out at the crowd with his quirky expressions, this flash of relief washes over his face each time he escapes being seated for a moment.
During "The Pretender," he lets the crowd in on how he likes to boogie. Then standing up to do just that, while continuing to play, bobbing his head along in a muted version of the wild flailing he does from his Throne. It serves as a clue to how he is progressing on the road to recovery after the surgery for his broken leg back in June 2015.
The Foo Fighters have certainly turned an awful circumstance into a tour of epic proportions. It almost seems foolish now to think that. For a while fans were worried the American stretch of the tour would be postponed or even cancelled — notably the kick-off of their first show back stateside on July 4th at RFK Stadium in Grohls' hometown, Washington D.C. Fans didn't know that show was greenlit until a couple days before the actual show, and speculation was rampant about how he would pull it off.
In the near two months since the all-day festival in Grohls' hometown, where the Throne of Rock made its debut, and Grohl was decked out in a full-blown purple cast that he kept propped up the entire show — to now, where he's started standing sporadically — it's a matter of time before Grohl retires the Throne. But, according to him, he's not quite ready to ditch it just yet, because "it's cool as shit." After all, it's got a built-in place to hold his beer.
Back in Pittsburgh, it's a long night, spanning over two and a half hours of play time, with over 20 songs from the Foo Fighters collection, ranging from their very first self-titled album, to the most recent "Sonic Highways." There is an eclectic mix for the fans to enjoy. One cover song the Foo Fighters play, "Under Pressure," shows how eerily comparable in range Hawkins' vocals can get to that of the legendary Freddie Mercury.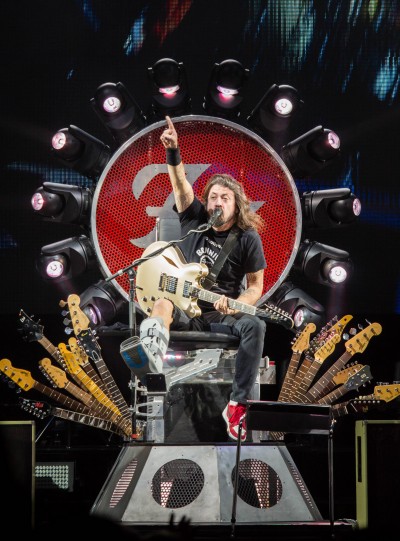 Grohl lets the crowd know that they normally do a couple of other covers, but he is "not in the fucking mood tonight," and moves on instead, to call out a fan in the crowd who holds a sign requesting they play the largely forgotten/unknown "Low." The Foos oblige the fan request, tuning and fumbling around with some notes while getting ready to play, letting the crowd know "it's not that good" before Hawkins bangs his drumsticks, and they jump into the song they haven't played live in years.
By the end of the night the finale song, "Best of You," turns into an almost 10-minute extended version, full of extra riffs, with a semi-acoustic jam session in the middle, and the crowd fills in for vocals while Grohl looks on in contentment at a show well done.
When the song is over, the Foos band together at the end of the thrust, waving to the crowd, whispering amongst themselves and staying just long enough for everyone to snap their final memento photos of the night, before the band members bow and head off stage.