FIVE FINGER DEATH PUNCH's NEW ALBUM "GOT YOUR SIX" AVAILABLE 9/4
BAND KICKS OFF ARENA TOUR WITH PAPA ROACH, IN THIS MOMENT and FROM ASHES TO NEW
Produced by Frank Productions/NS2/CMoore Live and Fueled by Monster Energy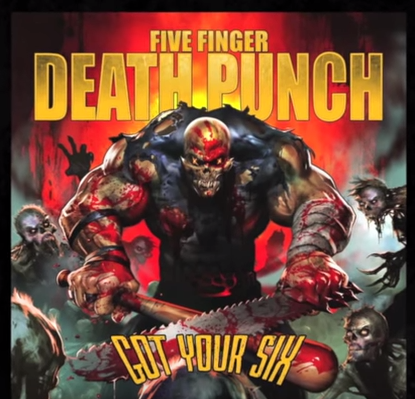 The highly-anticipated 6th album from FIVE FINGER DEATH PUNCH (FFDP), entitled GOT YOUR SIX, is available Friday September 4.  The album is the follow-up to the global smash hits THE WRONG SIDE OF HEAVEN AND THE RIGHTEOUS SIDE OF HELL Volumes 1 and 2 and coincides with the U.S. kickoff of their fall arena tour with PAPA ROACH, IN THIS MOMENT, and newcomers FROM ASHES TO NEW. A demand campaign assisted in mapping out this tour yielded over 2 million responses from US fans, thus helping to create their biggest tour to date.
GOT YOUR SIX'S debut single, "Jekyll & Hyde" is in the Top 5 at US Active Rock radio, has sold 120K singles and has amassed over 3.7 Million streams on Spotify, outperforming every other current song on the Active Rock chart.  The song's official video (https://youtu.be/HCBPmxiVMKk) has over 5.5 million views on YouTube.
Got Your Six will be released through Prospect Park Records in North America and Eleven Seven Music outside North America. The album will be offered in various digital and physical formats:
– Standard album, digital (11 tracks) – http://smarturl.it/FFDP6
– Deluxe album, digital (11 tracks + 3 bonus tracks) – http://smarturl.it/FFDP6_DLX
– Standard physical CD (11 tracks) – http://smarturl.it/FFDP6_AmzCD
– Deluxe physical CD (11 tracks + 3 bonus tracks + redeemable code for an exclusive t-shirt) http://smarturl.it/FFDP6_AmzDLX
– Best Buy Exclusive (Deluxe album & an exclusive t-shirt in-box) http://smarturl.it/FFDP6BBYDLX
Sirius XM's Octane will air a radio special with songs from GOT YOUR SIX with drummer Jeremy Spencer & guitarist Jason Hook guest DJing, providing intros to every song all throughout Labor Day Weekend.  Octane Program Director Vincent Usuriello says "No radio station in North America plays more Five Finger Death Punch than we do on Sirius XM's Octane. We have been there from the beginning and we're expecting only bigger & better things as they continue to explode worldwide."
"FFDP is on top of their game. They're one of the handful of Active Rock acts that can fill an arena and still burn up our request lines. The singles test, sell, and make it to catalogue. Add to that, they are a must see live band. FFDP deliver every time. GOT YOUR SIX will be no different and "Jekyll and Hyde" is just a taste of more gold and platinum from Death Punch," says Joe Bevilacqua, iHeart Media's Active Rock Brand Coordinator/KBPI Denver Program Director.
"5fdp have established themselves at the forefront of Rock – not only at radio but also with album and ticket sales. They have grown into one of only a few viable arena rock acts that fans feel they MUST see. This band is a bullet train that's blowing the doors off of everyone they fly past and they're still gathering momentum," says Larry Frank , CEO of Frank Productions.
Guitarist, Zoltan Bathory, explains "This is my favorite record to date, but I can't believe that we are on our sixth record already, and how this rocket ship just keeps accelerating. We were the unlikely candidates, the underdogs with a weird band name; signed to a tiny indie label with a shoestring budget… I could say we were lucky, but luck seems to favor those who work hard and simply, we work harder than anyone else I know… That is our "secret formula". We were grinding out endless tours after endless tours and every time we had a moment break we went to the studio and wrote another record. We were determined and relentless… and that energy is magnetic… It attracted a die-hard fan base… a fan base that 'got our six' and always shows up… but even our peers and the industry professionals who believed in and rooted for this underdog… We have to thank all of you, we did this together…  this band is the people's band… always was always will be."
As the band's international touring landscape continues to grow, Andy Copping of Live Nation UK adds "I've had the pleasure of working with 5FDP watching them rise up the bill at Download and become an arena act in just a few short years. Headlining and selling out Wembley for the first time this autumn is a testament to the bands' dedication and hard work. It illustrates you can succeed executing a vision with partners who share the same goals. GOT YOUR SIX is just the start – 5FDP will only get bigger from here."
FIVE FINGER DEATH PUNCH has grown exponentially in a breathtakingly short amount of time – 15 consecutive Top 10 Hits, 3 #1 Hits and 5 Gold albums.  With the release of their 2-volumes in 2013, the band had continuous new content with which they outsold the majority of bands in their genre, selling 1.5 million albums over the past 2 years in North America alone.  The band's manager, Allen Kovac of 10th Street Entertainment, says "FIVE FINGER DEATH PUNCH have established themselves as a crown jewel of rock radio, retail, streaming and touring, worldwide.  Looking forward to the band's first number one album next week!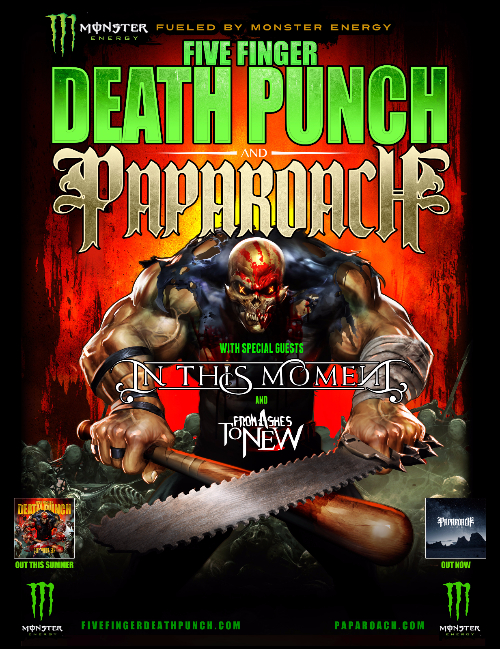 TOUR DATES:
9/4 LEXINGTON, KY – RUPP ARENA
9/5 CINCINNATI, OH – US BANK ARENA
9/6 MOUNT PLEASANT, MI – SOARING EAGLE CASINO & RESORT*
9/8 MANAKTO, MN – VERIZON WIRELESS CENTER
9/11 MISSOULA, MT – ADAMS EVENT CENTER
9/12 EVERETT, WA – XFINITY ARENA
9/13 SPOKANE, WA – SPOKANE ARENA
9/15 EUGENE, OR – MATTHEW KNIGHT ARENA
9/16 RENO, NV – LAWLOR EVENT CENTER
9/18 ONTARIO, CA – CITIZENS BUSINESS BANK ARENA
9/19 LAS VEGAS, NV – THE JOINT AT HARD ROCK HOTEL & CASINO
9/20 SALT LAKE CITY, UT – MAVERIK CENTER
9/22 COLORADO SPRINGS, CO – BROADMOOR WORLD ARENA
9/24 INDEPENDENCE, MO – INDEPENDENCE EVENTS CENTER
9/25 LA CROSSE, WI – LA CROSSE CENTER
9/26 JANESVILLE, WI – WJOO SONIC BOOM**
9/27 COUNCIL BLUFFS, IA – MID-AMERICA CENTER
9/29 ST. CHARLES, MO – FAMILY ARENA
9/30 INDIANAPOLIS, IN – INDIANA FARMERS COLISEUM
10/2 CEDAR RAPIDS, IA – US CELLULAR CENTER
10/3 TOLEDO, OH – HUNTINGTON CENTER
10/4 CLEVELAND, OH – JACOBS PAVILION
10/6 LOWELL, MA – TSONGAS CENTER
10/8 UNCASVILLE, CT – MOHEGAN SUN ARENA
10/9 GLENS FALLS, NY – GLEN FALLS CIVIC CENTER
10/10 PHILADELPHIA, PA – ROCK ALLEGIANCE**
**Festival
*No In This Moment
FIVE FINGER DEATH PUNCH/PAPA ROACH EUROPE/UK TOUR DATES:
11/2 HELSINKI, FINLAND – HELSINKI ICE HALL
11/4 STOCKHOLM, SWEDEN – HOVET
11/5 OSLO, NORWAY – SENTRUM SCENE
11/6 COPENHAGEN, DENMARK – TAP1
11/8 HANNOVER, GERMANY – SWISS LIFE HALL
11/9 LEIPZEG, GERMANY – LEIPZIG ARENA
11/11 STUTTGART, GERMANY – PORSCHE ARENA
11/12 WINTERTHUR, SWITZERLAND – EULACHHALLE
11/13 FRANKFURT, GERMANY – JAHHUNDERTHALLE
11/15 STRASBOURG, FRANCE – LA LAITERIE GRANDE SALLE***
11/16 LUXEMBOURG, LUX – DEN ATELIER***
11/17 AMSTERDAM, NETHERLANDS – HEINEKEN MUSIC HALL
11/19 MUNICH, GERMANY – ZENITH
11/20 PRAGUE, CZECH REPUBLIC – MALA SPORTVONI HALA
11/21 VIENNA, AUSTRIA – GASOMETER
11/22 MILAN, ITALY – ALCATRAZ
11/24 PARIS, FRANCE – OLYMPIA
11/25 DUSSELDORF, GERMANY – MITSUBISHI ELECTRIC HALLE
11/26 BRUSSELS, BELGIUM – FOREST NATIONAL CLUB
11/28 LONDON, UK – SSE ARENA WEMBLEY
***No Papa Roach
www.fivefingerdeathpunch.com
www.paparoach.com
www.inthismomentofficial.com
www.fromashestonew.com