Fender gives birth
by Stephen Stern, Executive Editor, Music Insider Magazine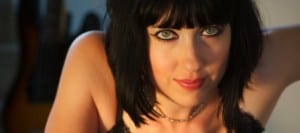 Eva Gardner was born with a silver spoon shaped as a bass guitar. Not out of privilege, but by right of musical passage. By second grade, the pig-tailed, green-eyed kid proclaimed to family and friends that the bass was her toy of choice.
To some adults, such mutterings are reciprocated with a wink and a smile, followed by musings of "oh how cute she is …" But it was music to the ears of Andy Johns, producer and engineer for Led Zeppelin, The Rolling Stones, Rod Stewart and Eric Clapton; and John Entwistle, bass guitarist for The Who; and numerous other rock royalty family friends.
But not to Kim Gardner — Eva's British rocker father.  A highly regarded bass player with The Creation, and The Birds (which included Ronnie Wood of The Faces and Rolling Stones), Kim required evidence that his daughter's proclamation was not a passing fancy.
This continued through age 11, when Eva's request to bring a bass guitar to London was denied. "Dad said 'no.'" Eva added, "I did not show him that I was serious enough to have him haul it over to England along with a family of five and suitcases."
Meanwhile, Eva dabbled dispassionately on the piano, biding time. And then it happened: "Age 12," Eva explained, "Andy Johns hands me a bass and a Pignose amp, he turns up the volume on Van Halen's live recording of The Kinks' classic, "You Really Got Me" and proclaims, 'Now this is a solid bass line.'"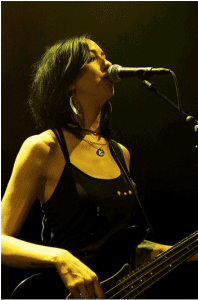 Soon thereafter, Eva joined bands, polished her bass chops, and continued to learn and study from family friends and others who showed up regularly at her parents' famous Los Angeles-based British pub, the Cat 'N Fiddle. "Dad played every Sunday with the jazz band, plus we had other live music nights," Eva recalled. "We are now celebrating our 30th year anniversary." (www.thecatandfiddle.com).
Her father took notice of his daughter's intense passion for music in general and dedication to the bass in particular. "When he saw just how serious I was, he helped me haul in equipment to gigs, plugged in amps, and helped me tune my bass – he became my personal roadie," Eva said, smiling.
Her reputation quickly growing, Eva turned down tour offers to finish her degree in Ethnomusicology from UCLA. "I wanted to finish what I started. Plus the program reached far beyond Western music – I was exposed to music from all over the world—I learned other ways of seeing music as a celebration of love and life," she said.
During this time, Eva received a call requesting that she travel to Long Beach to meet a group of musicians who wanted to form a new band and needed a bass player. There was instant harmony, she explained. "We sat around the living room discussing band names. They settled on The Mars Volta."
The band caught fire, in part, because of the extensive following of a few band members that they had from their former group. Eva said, "I played on the demos and first EP, and soon started a US tour playing clubs. I felt free because I was finally able to commit to a project full time, and I really wanted to tour."
Eva added, "The music was also very exciting because I was free to play however I wanted to play. I had learned all the rules and now I could break them and play whatever came to mind."
She added, "In retrospect, my dad really made me work for it, and it made me better because of his approach. And maybe he tried to protect me because of how hard it can be to be a musician."
As she prepared for The Mars Volta US tour, notes of dissonance and discord struck. Her father was dying of cancer, and time was of the essence.  "It was bittersweet; I always just wanted to be on the road, but here's my father dying of cancer," Eva said. After a long pause, she exclaimed, "he told me that if I didn't go, all I would do is just sit around and cry.  He told me I should go out on tour and kick ass…and do what he taught me to do."
By end of first week of tour, while in Athens, GA., her father died.
At that moment the torch was passed. Eva noted she was fulfilling her dream but not the way she expected.  "I privately dedicated every night's performance to my father." She continued. "I found myself performing easily in a zone, and in his presence. My father inspired me…and still does."
This made her next stop with famed British artist Tim Burgess of the Charlatans, particularly memorable: Opening for The Rolling Stones at Wembley Arena in London.
"It was my first arena venue," she recalled.  "The stage was massive – we were spread so far apart. I also had to adjust to the big sound." And then she had to stay focused when seeing family friend Ronnie Wood at sound check, and Mick Jagger, from side stage, while she performed that night. "Ronnie said, 'nice gig,' referring subtly to the circle of events from father to daughter, and the fact my father had also opened for The Rolling Stones with The Creation in the 1960s."
Next stop was Australia with a band she remembers listening to growing up, Veruca Salt. "I went to see them when I was 13; I knew their songs, sang along with them, already rocking out," Eva queried, "If I only knew I was going to play with them one day. It was also my first singing gig. Each one of these experiences prepped me for the next one."
This included a phone call that led to a last minute ticket to Dublin, Ireland with instructions to learn an hour and half song list before she arrived. "The next day I was rehearsing with P!NK's band for the following night's show at Malahide Castle, only to find that some of the live arrangements were different from what I had learned!" Eva exalted, "I met Alecia (P!NK) for the first time during sound check. She said, 'Welcome to the family.'"
"There was an amazing moment during my first show with P!NK that overwhelmed me. I was side stage watching her sing the acoustic version of 'Dear Mr. President.'" Eva added, "I'm sitting there, watching thousands of people sing along with her to such a controversial subject. I realized how she really affects people…they were really moved. I then realized I was part of something special and important."
In between world tours with P!NK, Eva has also sat in with Rihanna during the NBA all-star game, Moby during a recent appearance on The Tonight Show with Jay Leno, as well as Butch Walker on The Late Show with David Letterman. Eva is also a core member of Rockers Collective. (www.rockerscollective.com). She also teamed up last year with multi-instrumentalist and songwriter Chris Unck (Butch Walker), and Stewart Heyduk (Feist), to create Telstar.  One of the hottest groups on the LA scene, Telstar emanates a British Invasion flavor with clever lyrics and addicting hooks. (www.telstarmusic.com).
Recently, Fender gave birth to an instrument shaped as a signature series custom Precision Eva Gardner bass guitar. Eva's tattoo of a ship can be found near the bridge, and her dad's fingerprints on the specs — not out of privilege, but by rite of passage.