Echo Arcadia make sweet music out of Edinburgh, Scotland. Their unusual mix of gritty rock backbeats, grumbling guitars and catchy pop melodies have gained them a growing fanbase. The seven members' eclectic influences marry to create a fresh alternative to the usual indie-pop/rock fare.
The band consists of frontman and rhythm guitarist Leigh, lead guitarist and vocalist Vonny, guitar, vocals and trumpet taken care of by Kevin, Pete on keys and vocals, bassist Euan, Andy on violin and Dan on drums.
Following the release of their inaugural 'Broken Chapter's EP in October 2010, the Arcadians have enjoyed an intensive period of gigging, also relishing opportunities to play acoustically, allowing them to hone their sound and take their music to a new audience. 6 months later, they recorded their first single, 'Joker', (made available for download in early March 2011), Edinburgh Spotlight had this to say about it:
"Sparkling and freshly polished…the track uses layers of shimmering guitar and Leigh and Siobhan's atmospheric vocal harmonies to create a multi-faceted little nugget of poppiness.
All this builds up to a classic vocal refrain which we guarantee you will be singing in the shower, on the way to work, shopping at the supermarket and everywhere else until all your friends tell you to shut up (or until they get their own copy)."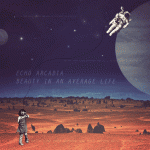 The band are scheduling gigs further afield with aspirations of a UK tour in the near future.
Echo Arcadia's Beauty In An Average Life in stores February 11, 2014.
Spectra Records
www.spectrarecords.com