Sydney Dolezal is not your typical seventeen year old girl. She isn't spending her after school hours in the mall with friends, checking out boys, or shopping until she drops. She isn't concerned with the fact that she's only seventeen, and doesn't recognize that there are any age or gender requirements to be successful at being in a rock band. But if there were, she'd be the first to buck the trend and go out and do what she and her band mates do best, which is getting up on stage to entertain audiences with their fresh take on girl-powered "glitter punk."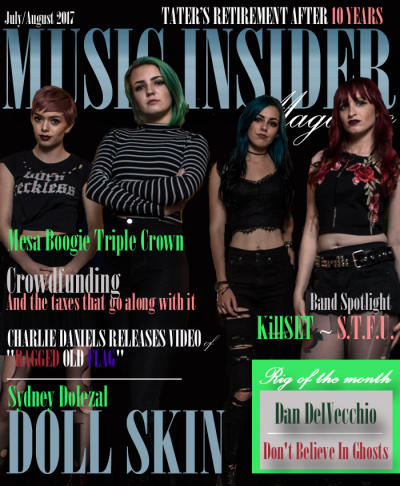 Dolezal and her band, Doll Skin were first discovered, signed, and produced in 2013 by Megadeth bassist, David Ellefson at a 'battle of the bands' competition called "Rock Revolution" at Desert Mountain High School in Scottsdale, Arizona. One of the judges of the competition just happened to have a son who is a student at that school, and he also happens to be David Ellefson; bassist of the legendary thrash metal band, Megadeth, who was thoroughly convinced of the band's potential after the band received an almost perfect score and ultimately won the competition.
After being featured prominently in the Phoenix News Times as one of the "Ten Best Bands/Musicians in Phoenix (under the age of 21) in 2014," and again being featured by the Phoenix News Times as one of the "Top 15 Bands to Watch in 2015," and after following the band's activities for about a year after their initial meeting at the battle of the bands in Scottsdale, Ellefson approached the band with an offer to manage and produce their music in the studio.
In October 2105, the band released their debut EP, In Your Face was produced by Ellefson on the EMP Label Group – Megadeth's label, and distributed by Megaforce Records. In Your Face was mixed by the American record producer, sound engineer, former owner of Crush Recording Studios in Scottsdale, Arizona and founder of Area 52 Entertainment in Los Angeles, California, Ryan Greene, who had worked with artists and bands such as Jay-Z, Tonic, Mr. Big, Wilson Phillips, Alice Cooper, Cheap Trick, NOFX, Usher, and of course, Ellefson's own band, Megadeth.
Now, I must admit that my initial instincts as a middle-aged music writer were to compare them to such all-female predecessors as The Runaways, The GoGos, L7, The Bangles, and The Donnas, all iconic bands in the history of female rock bands. But after more than just a cursory look at and listen to the band's music, it's plain to see, at least for me, that there are as many differences as there are similarities with their predecessor girl bands; not better or worse, but definitely different. And that difference is a good and necessary thing, especially in modern rock music where a lot of the popular music today is so homogenous and nondescript that you literally can't tell one band apart from another in any given genre. The truly original bands are the ones that stand out, and Doll Skin manages to set them apart from the rest of what's going on in popular music today, in their aesthetics as well as their music writing and performances.
I recently had the opportunity and pleasure to speak with Dolezal over the din of music and laughter from people of all ages under a blazing sun enjoying the sweet summer sensations of splashing about in the waters of a suburban Arizona neighborhood water park, just a week before the girls embarked on their inaugural stint on the summer 2017 Van's Warped Tour. Over the course of a very enjoyable and spirited conversation with the spunky young singer, I learned firsthand that she isn't just another pretty face, but she is rock and roll through and through.
Brian McKinny: Tell me a little about yourself. Where did you grow up, when did you first become interested in music, and more specifically, when did you become interested in singing in a band?
Sydney Dolezal: I started trying to sing basically from the moment I could talk. I was always an entertainer. Even before I was in a band, I was doing plays and stuff from the time I was really little. I've always loved being the center of attention and being on stage giving a performance. I was Ariel in The Little Mermaid in a play one time, and that was some of my first real stage performing and it was really fun, and kind of where I learned I belong on stage – not in a musical play, but in a band.
I got into the choir when I went to middle school, and I loved it because my choir teacher was really nice and super supportive, and helped me to find my voice and the confidence to sing in front of an audience. There are a few videos that keep popping up from five or so years ago of me singing the National Anthem before choir and band concerts. And I look back at those and see how far I've come, and it's really kind of amazing because I used to not be confident at all in myself, and you can tell when you see those videos. But you can notice the difference between then and now, when you see me out there strutting my stuff on stage, doing whatever I feel like.
The choir class was what really got me into singing in the first place, and it kind of blew up from there. I got introduced to the School of Rock when I went to see my cousin perform in the School of Rock house band at some bar. He was the drummer, and I saw all these kids getting up on stage and doing their thing and I thought to myself, "That's what I want to do. I can do that!" But before that, I was the one who wanted to be the next pop star – the next Miley Cyrus, and then I saw and heard live rock music being played by kids like me, and it all changed for me because it was just so much better. So that's when I decided I wanted to be in a rock band and I enrolled in School of Rock and lo and behold, I met the girls who are in my band.
McKinny: So you guys actually met at the School of Rock in Scottsdale, Arizona?
Dolezal: Yes, we did!
McKinny: Tell me about going to the School of Rock and meeting the girls in your band. How did that all come about?
Dolezal: Meghan, Alex and I were in the "house band." There are basically three groups in School of Rock – one for the real beginners who don't yet play an instrument and are learning that or are novices with their instrument – that's called "Rock 101." And then there's the Performance Program, where every four months they have a performance of songs that they've learned over that period of time – it's basically like a music recital with rock music. And then there's the "House Band" which is an eight month program for kids who can play an instrument and want to learn how to play with others in a really professional, but fun band environment. They put on live performances in clubs and play other events where the kids rotate in and out of the various instruments if they wanted to try other instruments out.
I even tried playing bass a few times, and I was even taking bass lessons for a while, but then I switched to the guitar and didn't really need to take any lessons for that. So Alex, Meghan and I learned a bunch of covers and performed them together for a while before we formed Doll Skin.
In her junior year at high school, Meghan wanted to get a bunch of girls together to do a battle of the bands that was being held at her high school, and at first we were like, "We're just gonna do this and see what happens." And then unexpectedly, we won and a whole bunch of people seemed to like us, so we figured we should just keep doing this. It was fun because we felt like we had a lot of support from everyone and we just kept going around Phoenix, and then we played a bunch of shows out of the state. We did the Battle of the Bands again the next year and we didn't win it, but that was when we started to have a conversation with David Ellefson, who is now our manager.
McKinny: How did the conversation with Ellefson come about, and what was it like to have him producing your first full-length album, In Your Face (Again!)?
Dolezal: Well, he was the celebrity guest judge at the battle of the bands we took part in at Meghan's high school because his son went to the same school as Meghan. We didn't even know he was going to be there when we signed up for it; it wasn't advertised that he was going to be a guest judge. So we performed at the competition, and after our performance they went down the line of judges who said what they thought of the performance and why they gave the scores they did, and so far, so good with our scores. And then they got to David, who basically said, "Hello, I'm David Ellefson, the bassist for Megadeth…" and already we were grabbing each other's shoulders, thinking "Wait, what'd he just say?!" And when he said, "I give you girls 10 out of 10! You were amazing!" We all just about died. We were all so shocked because, as I said, we literally had no idea he was even going to be there, let alone judging the competition.
So the kind of support we got from him from the start was really awesome. He kind of watched us, kept an eye on our progress for about a year as we played shows around the area, and then we did a battle of the bands the next year, and he contacted us saying, "Hey can we have a meeting? I want to talk about managing you guys." It was so crazy! So he got us hooked up with recording friends, and at first we were only going to record two songs for a demo, and the guy he hooked us up with to record told us he wanted to hear more, so then we just kept writing more and recording more, and that's how In Your Face happened. And then we re-released it as In Your Face (Again!) so that we could add more material to it and re-mix it to make it a better sounding record, and lo and behold, that's how it was released.
McKinny: Who did you record the album with and where was the album recorded?
Dolezal: We recorded with John Aquilino (guitarist of 80's hair metal band ICON fame), and he has this multi-million dollar studio in Mesa, Arizona called The Platinum Underground that he actually had built underground. It's so massive and it's totally state of the art. We were one of the first bands for him to record down there, and we were all learning together as a band about recording an album. We'd never recorded a full-length album before, and so having that kind of experience was so crazy because it was like a super-amazing studio with bedrooms for us to stay while we recorded, and there were two giant TVs, and we hung out with one of his kids, his young son, Valens – he's a couple of years younger than me, so he hung out and watched us record and hung out with us between recording. It was a really amazing first recording experience; John was really easy to work with.
Before all that, we had recorded this little demo with the director of School of Rock, and it seems like that was forever ago! They'd put up a few mics in the practice studio at School of Rock and it was nothing like working in the recording studio with John. Recording In Your Face (Again!) with John at The Platinum Underground studio was actually our first time in a real recording studio.
McKinny: So what's the plan with the new album?
Dolezal: Well, we just finished recording the new album, Manic Pixie Dream Girl a few months ago, and that came out on June 16th, and we're working on touring and doing promotions for the new album. We'll be touring on that album for the foreseeable future. I'm so, so excited, it's like our baby! I just couldn't wait for it to come out and show the world what we'd accomplished. I feel like we've grown so much since In Your Face (Again!), you know. And it shows in our music, and it shows in our performances, and it shows in how we've put this album together. I'm just so excited because it sounds so different and so cool!

McKinny: How would you describe your music, your style?
Dolezal: That's one of the hardest questions to answer really, because we don't like to try to fit into any particular genre. We try to play what comes naturally to us, to play whatever we're feeling because after certain tours we may be feeling more into heavy sounds, or if we tour with a punk band we'll definitely lean towards writing more punk.
We all listen to different kinds of music, you know? Meghan (Herring, 20 – drums/backing vocals) listens to a little bit of everything – she's like a walking, talking encyclopedia of music; but Alex (Snowden, 18 – lead guitar/backing vocals) listens to a lot of classic rock and classical music, jazz and shit, so she's kind of all over the place, too. Nicole (Rich, 19 – bassist/backing vocals), she listens to what I guess you could call "girly music," but then she listens to a lot of local bands around Phoenix that are kind of like surf punk, which is cool – even though there's no beach here (chuckling). And then I listen to a lot of heavier music, I guess you could call it. So our influences come from all over the place, and you can really hear that in our music, especially on the new album.
McKinny: What is your creative process like? Is there a main songwriter in the group, or do you collectively come together to write your music and lyrics?
Dolezal: Meghan, our drummer writes almost all of the lyrics. I've tried to write lyrics before, and I wrote a couple of the songs on In Your Face (Again), but lyric writing is just not my forte. But I write almost all of the melodies, and then I help write a lot of the guitar parts, but as a group we all have equal parts in writing songs – there's no single song where only one person did all the writing; we all put in our own little tastes and influences. It's really fun to sit with the band for hours just writing, figuring out what sounds good.
Alex is really smart when it comes to theory, so whenever we're stuck we're like, "What theoretically works with this?" because we have no fucking clue, you know? (Laughing) But we work really well together, and we got lucky finding each other. It's not even that we just write well together, because we work really well when it comes to traveling together, existing in a small space for long periods of time together. We're really good at solving problems and not fighting and stuff, so I feel we've gotten really lucky with our overall compatibility because it's basically just a large, four-way relationship, you know? It's hard to find four people who get along, especially four girls, so it's good!
McKinny: What's your favorite thing about being in the band and what's the worst aspect of it?
Dolezal: I didn't even finish high school. I took my GED halfway through my sophomore year. I wanted to at least finish my sophomore year, but we were going away for three months, and high school was just the devil, so I think it's a good/bad thing, in that I look back on it and I don't regret that I didn't have to deal with more finals, glad I didn't have to deal with more school. But then I look back on it and think, "I really wish I had learned more biology, studied more chemistry because I really like science. I really flourished at school when it came to learning; I really go out of my way to learn things that I'm interested in – besides music – and I just recently went to see some of my friends graduate, and it made me think about it, but I'm really glad that I didn't give up what I have now so I could finish high school. You know, you win some, you lose some.
McKinny: I understand that you guys were part of the Vans Warped Tour.
Dolezal: Everything about it. Even though it was hard work, even though it's hard to keep doing it every single night – going out there and setting things up, it was so much work, and I loved it so much! It's something that I've wanted to do for so long, and now that I did it, it's everything I wished for. I was especially excited about being part of the Warped Tour because there were a lot of bands on the tour that I really respected and enjoyed.
I'm really excited to have met them and to be able to hang out with them on a mutual musician level.  Because when you're on Warped Tour everyone just hangs out together. I've met a few of them already before, but that was as a fan and not as another touring musician. Granted, I'm not at the same level as most of them yet, but we still had the same mutual respect. I heard someone say on Pandora or wherever say about Warped Tour that it's like a summer camp for musicians. You hang around all day, doing what you love, and it's a lot of hard work at the end of the day, but it's fun, and you enjoy what you're doing and who you're doing it with. I'm really sad that this time around we were only on the tour for a week, but we made the most of it and made as many new fans as we can!
McKinny: The good thing about playing on a tour like Warped Tour at your age is that you don't have to deal with the BS you have to when playing at a 21 and over club – rules like "you can't be in the club until you're ready to play, can't be in the club without a chaperone." But it's also there to keep you from indulging in underage drinking and other potential trouble.
Have you girls talked to each other about drugs and alcohol and your careers before going out on tour?
Dolezal: Oh yeah. Even if we did drink, we'd be very responsible if it comes to that. We've all talked about it, and we've set ground rules for that: "If the situation arises, NO drinking before shows! And if it comes up that we were able to – not saying that we do or would, but sometimes in real life underage drinking happens – we know how to be responsible, and not get in trouble, or at the very least not do anything that's going to put anyone in jeopardy. We don't really go to parties, we honestly don't want to go to parties, and we don't feel the need to indulge in the "rock star lifestyle," so to speak. We're all pretty clear on that subject, and I don't think that will ever become a problem for any of us. We have really great support with our friends and families, too.
McKinny: That's smart! One of the biggest problems, I'm sure you're already aware of, is that throughout music history, and not just in rock and roll – Hank Williams died from an overdose of drugs and alcohol in the back seat of his car back in the 1930's, so it's nothing new or endemic to only rock and roll. But drugs and alcohol are probably the biggest reason that bands, or people in bands, get into trouble and fail. And it's great to hear you say that you understand that from the outset and aren't even interested that sort of nonsense.
Dolezal: Yeah, we've all talked about it and realize that we have something really good and none of us wants to mess that up. Honestly, there's been a few times where we've had shake each other and say, "Dude, stop it! You're being stupid right now. Don't be stupid, so just stop it!" And I feel that we've got good enough support behind us, and good heads on our shoulders to realize when we're wrong, you know? We watch each other's backs and count our lucky stars.
McKinny: On to a more pleasant topic! As a vocalist, how do you prepare yourself before a show?
Dolezal: I'm still figuring out what's perfect for my voice and what's not to prepare for a show. It kind of depends on where I'm at; if it's more humid outside then I don't really have to worry about it that much, because the humidity will help keep my throat from getting sore. If it's dry out, I make sure I drink a lot of water before a show to hydrate my vocal chords, but I don't really have a vigorous vocal warm-up before shows. If anything, I'll do some squats, lunges or whatever to warm up my body, to get the blood flowing. I've tried a couple of times to do serious vocal warm-ups before shows and it ended up making my voice really tired, because I'm just talking a lot throughout the day which is already warming up my vocals, so warming up before a show just really tires me out. I'm still trying to find out what works best for me. Heavy foods don't work before a show, either. One time I ate some pizza before a show, and I regretted it instantly, so I keep things light before a show.
McKinny: Have you ever experienced stage fright before a show, and if you have, how did you deal with it?
Dolezal: Well, for me, whenever I get nervous before a show, I don't get hungry before a show if I'm nervous. So if I'm nervous before a show I'll stop and think, "Wait a minute. I haven't eaten anything today!" So then I'll get on stage and I'll get light headed later on because I haven't eaten all day, so I guess I must've been nervous. It's not really a big thing for me; it doesn't rule my life at all when it comes to shows. This one time at one of my first performances, I'm standing side stage before doing a School of Rock show and I started thinking, "Oh my god! There's a bunch of people here!" It was just a bunch of parents and friends, but I was freaking out a bit over it. But I got over it really quickly because as soon as I got out on stage I just forgot about everything and did everything I could on stage to make it the best performance I could.
Whenever I get a little nervous before a show I stop and think to myself, "I'm about to get up on that stage and do whatever the fuck I want to do for however long they're going to let me do it, for however many people are in this room. They're here to see me, to see the band." I've always understood that if you're not going to have fun up there, no one else is going to have fun, either. So what's the point if nobody's going to have fun? If you're doing everything you can on stage to put on the best show you and the band can do, and everyone's having fun, that's all anyone can ever ask. Besides, there are three other girls on stage with me, so if anyone screws up, we notice it – the crowd probably won't, but we do and we laugh it off and just keep going. We've all gotten really good at playing through the odd mistakes or dealing with technical issues, and just doing what we can, no matter the circumstances. It builds character!

McKinny: What is your band's routine before a performance? Do you guys warm up together before a show, do jumping jacks, or just relax back stage? What's your pre-show ritual like?
Dolezal: We usually don't have a dressing room, we're usually just together on our RV, but if the show's a little 'iffy' and there's like five people out in the crowd and we feel like we really need to try hard to get pumped up for it, we do a bit more warming up than we otherwise would. But before most shows we'll get in a huddle and we'll sing "Waiting Room" by Fugazi. It gets us going, and if the crowd hears us, it gets them going, so we just get together to help each other get pumped because sometimes there are those shows where nobody's feeling excited – we've been playing for two months already, or the crowd is smaller than we'd like, so we're just, "You know what? Let's get pumped and have a good fucking time!"
So we huddle up, scream-sing "Waiting Room" five times and then we get up on stage and just have a good time with it! There have been a few times where it's been awhile between shows, or we're just stressed and maybe aren't feeling as limber as we should… So we don't have a real set routine, except singing "Waiting Room," is definitely something that we do quite often. We always make sure that when we go on stage that we're giving the fans our best. That's really important to all of us.
Band Links
Website: http://www.dollskinband.com/index.php
Facebook: https://www.facebook.com/dollskinband/
YouTube: https://www.youtube.com/user/dsrich
Twitter: https://twitter.com/dollskinband
Instagram: https://www.instagram.com/dollskinband/