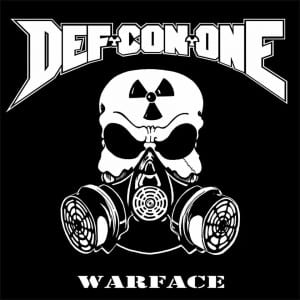 Def-Con-One's influences cover a wide variation of music from old school rock to modern metal and proper punk music, Bloodstock Festival actually described Def-Con-One as coming across like a bar fight between Machine Head, Slayer and Pantera so these guys are in good company. What Def-Con-One has tried and always will try to achieve is to write songs that they simply cannot buy. To fill the void…of the unattainable, why copy something? It's been done. This band only wants to sound like one band……their band! DEF CON ONE!
The song subjects of Def-Con-One are wide spread.
"March of the Dead" is all about the mundane futile journey working the 9 till 5 lifestyle and seeing your dreams being crushed and simply settling to exist instead of living a life. The track march of the dead has a guest solo on it from Mike "Mykvs" Hickey, we called him up and said "hey do you fancy laying down a solo on a track for us" and he said "hell yes" straight away. We think its killer having a guy who has played with Venom, Cathedral, Carcass and Goatreign on our tune.  And mike has laid down a bad ass killer solo.
"Warface" confronts the age old subject of the bully, standing up for what you believe in and not backing down, not being defeated in the quest for being independent, for being different.
"Feeling Cold" is a dark, consuming song of loss, of deceit and later on in the song, of enlightenment and discovery of one's self.
"Blood" confronts the subject of drug addiction and its effects on people's lives.
Def-Con-One pulls on their real life experiences to write their songs, to make the content of the lyrics believable, tangible and allowing the listener to relate to them.
There are no individual writer's in Def-Con-One. Everything is written as a collective, taking into consideration everyone's thought process and ideas and this exists in not only the music but also the lyrics. We feel being in a band is like being in a gang, a brotherhood if you like. We look out for one another, we have "each other's backs"
There are no egos in Def-Con-One, (well, until we hit the stage and then the gloves are off) it's all four of us contributing to make it what it is.
The recording of the album "WARFACE" was done in Def-Con-One's very own studio The Room of Doom. We came to the conclusion that instead of trying to get our thought process over to a sound engineer and producer of how we wanted to sound, we would do it ourselves. This also gave us the time to experiment with songs and sounds in the recording process at no cost. (nothing worse than getting your songs back and it's all wrong in the mix and you can't afford to fix it) This, like the song writing, was done as a collective, bouncing idea's off each other for the good of the song and not the individual which is what we are all about. Making sure everybody's views are taken into consideration. It allowed us to play with the songs and it enabled us to harness the true power of what we had written. To harness the power of Def-Con-One!