On the road with Exhumed
by Matt Harvey
Part I …
Exhumed has never been a band to shy away from playing live, and since we've gotten back in action, that has held more truly than ever. Since the release of "All Guts, No Glory" last summer, we've played 150 shows, not to mention 12 before the record came out. We've done 75 so far this year, starting with a one-off gig in Los Angeles for the Relapse / Scion showcase, and then embarking on European, UK, American, and Canadian tours straight after. Oh, and we actually ended up canceling 5 shows in Brazil due to problems getting our visas. So 2012 has been pretty damn busy.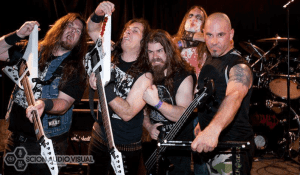 Starting off with the Scion show in LA, Relapse stacked a very mixed bill, featuring their new signings Royal Thunder, a gloomy southern doom rock unit with a front woman with pipes of steel. Their EP was great, but unfortunately I was really busy catching up with friends and didn't really get to see much of their set. Revocation was next, a tech death / thrash band with chops to spare. They are brutal road-dogs and played a sphincter-tight set. Black Tusk was next, kind of a sludgy Southern-fried Stoner doom act. Their music is great, and they are seriously fun guys to party with. It was a bit of a weird crowd that day, as our fans and Revocation's had a lot of common ground, but Black Tusk and Royal Thunder were maybe not to the taste of a bunch of death / thrash / grind kids waiting to punch each other on a Saturday afternoon. By the time Black Tusk was wrapping up, kids started chanting "Exh-umed, Exh-umed, etc." between their songs, which was rude, but definitely flattering. We are a band that never does one-off gigs, so I'm always a little nervous about playing cold- I like to rehearse for a week and then start playing a bunch of shows in a row. I always feel like we don't really hit our stride for about four shows. We had a good friend of ours behind the sound board, Alejandro from Nausea, Dia De Los Muertos, etc. and also, not coincidentally our rep at Fernandes guitars (yes, that is a plug!), so the sound was killer onstage and the energy from the crowd was definitely there. Until security started clamping down, we had lots of stage divers, which helps me have a good time for sure. It was weird playing at five in the afternoon or whatever time it was, but it was kind of nice to get the show done early. We headed back to our uncharacteristically swanky hotel down the street, the Grafton (thanks Scion!) and showered, changed and headed for the after party at a different bar. The party continued until about 5am when I finally caved in and crept off to catch some z's and wait for the inevitable hangover to descend.
We had already been denied visas by the Brazilian consulate at this point, who warned me that if I applied for the wrong visa again, I would be banned from Brazil for ten years. Needless to say our experience at the consulate was less than enjoyable. We used the unexpected week off to get a bunch of shit done, though – like buying a van, which was huge. So Mike (Hamilton, our peerless percussionist) and I were very busy while Rob (Babcock, bass and vocals) and Wes (Caley, guitar and vocals) presumably were drinking pina coladas and eating bon bons in the comfort of Southern California. At any rate, the time came to hop on our flight to Spain to undertake the first proper leg of our 2012 tour cycle – a run of headlining dates with Rotten Sound and Magrudergrind appropriately titled "Grind Over Europe".
In the 90s, there had been two "Grind Over Europe" tours, the first featuring our friends in Haemorrhage, Dead Infection, and CSSO, and the 2nd featuring Hemdale, German grinders Nyctophobic, and (surprise!) Exhumed! I had always thought those lineups were classic and wanted to do something similar. We couldn't have asked for a more brutal, in-your-face pacakge. Magrudergrind specialize in one-to-two-minute bash-a-thons of unbridled fury with a decidedly punk edge, our labelmates from Finland, Rotten Sound generate a Swedish Death-Metal infused grinding racket that has earned them the reputation of being one of Europe's most intense Grind bands. Usually when we tour with Metal / Death Metal bands, we feel like the odd band out, being the only band with punk influences, but on this tour, I felt like the other bands pretty much made us sound like Dokken! Mind you, I do love Dokken, so that wasn't so terrible, but it was interesting being the "least punk" band on a tour for once! We were greeted at the airport by the same driver we had on the last tour, a wonderful Czech gentleman named Mikael Svindelka. He's a great driver, has killer taste in music, takes us sightseeing when possible, and puts up with our foolishness, farts, and slovenliness. He actually was recommended to us by Land Phil of Municipal Waste / Cannabis Corpse – thanks dude!
Anyhoo… Our first night in Barcelona was insane. I was beyond jet-lagged, had already lost my iPod on a connecting flight we barely made due to airline delays, and we of course got trashed the minute we hit the club. We arrived the same day as the first show, so no time to adjust to the time change, get acclimated, nothing. The schedule was so tight because we originally were allowing time for the Brazilian dates which were canceled, but the result was that we arrived mere hours before our set. We were pretty much thrown straight to the wolves. The energy in the room was great though, and the first show went really well – much better than most of our European shows last year, which was a relief. The next day in Almeria, the madness continued with a trip to the local metal bar (those are a thing in Europe) after the show ending in more alcohol-fueled stupidity on our parts. Seville was more of the same.
I think by the time we reached Lisbon in Portugal, I was finally starting to get adjusted to being on tour and the time change. I remember curtailing the intensity of the partying a bit in Portugal, getting it back down to somewhat manageable levels. The sound guy in Lisbon told us his favorite band was W.A.S.P., so we treated him to a partial rendition of "Wild Child" during our sound check. The place we played in Lisbon was tiny and right on the water and the promoter was one of the nicest guys you could ever meet. He insisted on having us try some local seafood (it was delicious) and the backstage was full of all kinds of local delicacies and crazy appetizers. The next day we played in Porto, another city right on the water (I guess all of Portugal is pretty close to the water if you get down to it) that Rob and I managed to get out and explore a bit and take some nice photographs of the local scenery. Either that night or the following one in Santander, we raged extra hard in the hotel room and Keijo from Rotten Sound ended up taping a hotel telephone to his head. Finns are dangerous with their gin and bubble water!
For some reason, every time we've come to Europe since last year, we've only done one show in France. And it is invariably a good show. Last year our show in Strausbourg with Cephalic Carnage was the best show of the tour. This show, in Toulouse was also killer. It was at a youth center type place, but judging by the posters there, they have tons of hardcore shows there. The food was great (French food is delicious – best bread and wine ever!) and the show was too. The jet lag was still killing me, though. I was actually caught taking a nap in the balcony / backstage area during rotten sound's set. We ended up having two shows in Switzerland, which was weird. Swiss people are … how do I say this? Generally pretty reserved. The whole country is clean and beautiful, but very sterile. The audiences the first night however, was the exception that proves the rule. The show was in a town called Sursee, and was noteworthy for a few reasons. Firstly, it was a good show in Switzerland, secondly we hung out with a bunch of American Air Force folks who were nice enough to bring us some Cool Ranch Doritos and Double Stuff Oreos, and thirdly, a very nice young lady asked us if we could help her propose to her beau during "The Matter Of Splatter". I'm a sucker for a good ol' fashioned happy ending, so I brought the guy onstage and called him out on being with his girl for eight years and not proposing yet. Needless to say, they left the show engage. We don't just melt faces, we melt hearts as well. We managed to do some sightseeing the next day in Martigny at a nearby medieval fortress which was cool, and our hotel was really swanky, so a good time was had by all, probably even the very polite and typically Swiss audience. From Switzerland, we headed South to Italy for a show in Milan. Last year, Rome had been one of the highlights of our tour, Milan was a different story. The show was in a weird club in the middle of an industrial area, and the vibe just wasn't happening that night. It was good to catch up with old friends from Brainwash and Cripple Bastards though.
After Italy, we were heading into the home stretch, Eastern Europe. There's something about Grindcore and Eastern Europe that just goes together. We hit Zagreb in Croatia first, and despite a considerable amount of difficulty actually finding the venue, not the least of which was due to Croatian customs officials, when we finally arrived, we found a huge spread of delicious food and excellent beer, followed by a packed house of maniacs to play to. We hadn't played in Croatia for years and years, and it had obviously been way too long. Feeling good, we headed to play our first show in Hungary. Budapest was a truly gorgeous city, incredibly cheap, and full of extremely beautiful women. I would move there in a heartbeat. The show was excellent, actually sold-out and the energy in the room was awesome. Unfortunately, the promoter turned out to be kind of a shitbag, and some confusion over getting paid in Euros vs. Hungarian Forints led to an alcohol-exacerbated shouting match between pretty much everybody and a lot of confusion. The next day, we got out into the city for a bit of sightseeing, which was cool. Originally, we were scheduled to play in Romania, but the show ended up getting canceled and we added a door deal show at a local metal bar in Vienna. In only a week and a half, the promoter managed to get over 100 people in the door, and we had a great time. That show was more like a party than anything, and everyone relaxed a little and as usual, drank way too much. The next day was further east, in Slovakia.
I always get Slovakia and Slovenia confused, but we had played Slovenia in '11 with Cephalic Carnage, which was one of the better shows of that run. Slovakia ended up being killer as well. Like I said, Eastern Europe, man! The last two dates of this leg were in the Czech Republic, which has always been one of our strongholds. The Prague show was packed, and locals Gride were awesome. The last show was in Ostrava, which still has the total Eastern bloc vibe going on. Boxy Soviet-era apartment complexes are everywhere, and there is a lot of urban decay. Regardless, the show was near capacity and fully raging. At one point there were so many stage divers during our set, there was an actual dog pile on the stage. I caught up with friends from Malignant Tumor, and Wes discovered one of his new favorite bands: Nuclear Vomit. Shots were gulped, beers were downed, and it was bro-hugs all around as the Rotten Sound dudes departed for an early flight. We stayed in a sweet time-capsule of a hotel. The Magrudergrind lads and us were literally the only occupants of an extremely Soviet, extremely 70's hotel replete with faux wood paneling, bizarre light fixtures and long-empty conference and banquet halls. It was actually kind of spooky, if you're into that sort of thing. We spent our last night together listening to old-school hip-hop and getting toasted. We piled in the Magrudergrind van to catch a ride to the small village where our old friend Curby of Obscene Productions lives. After bidding the Magruder duders a fond farewell, we arrived in a tiny Czech town with five days to kill. We spent a couple days at Curby's house with his longtime girlfriend and their three kids. It was nice to relax, bathe regularly, eat vegan food (Curby is a militant vegan, and serves only vegan food at Obscene Extreme festival every year), and just sit and watch TV, even if we couldn't understand anything they were saying. After a couple of days of vegging out, we headed to Pardubice, to hit the Pilsner Urquell pub and watch the football (I know we call it soccer over here) match. The next day it was off to Cesky Krumlov to see one of the fanciest castles in the country and visit my old friend Vlakin from Czech grinders Ingrowing. We hit the Budweiser (here they call it Chechvar beer due to copyright restrictions) brew restaurant and had a great time bar-hopping. The bartender in the next bar was actually a huge Exhumed fan, and hooked us up with free drinks and a bunch of t-shirts for the pub, which was awesome! Finally we headed to Prague for a day of tourism before we flew out to Helsinki. Curby was an excellent host / tour guide, and we headed for Scandinavia well-rested and ready for some Northern comfort.
We had only played a festival in Northern Finland previously, so we really didn't know what to expect. The venue, Virgin Oil Co. was extremely nice, great stage, helpful staff, excellent food menu, and pretty big. I always get worried playing someplace for the first time when it's a nice club and pretty big – the opportunity for failure in that scenario is huge. This time however, everything worked out great. The openers, Cannibal Accident and Torture Killer were both good dudes and good bands, and the place was filled out quite nicely. We had a great time, and it was actually kind of nice to be playing shows again – having a few days off was actually a bit weird. The following day, we left our very nice hotel and headed out into the mid-March cold to get on yet another plane – this time to London Heathrow.
If you ever wanted to define a cluster fuck of an airport, it would have to be Heathrow. Luckily, getting in actually wasn't too bad, after having our work permits cleared by customs. We had the night off and grabbed our bags and gear (we didn't hire the van and driver until the next day to save a couple bucks) and headed to airport Ibis hotel, which was a bit nicer than we had expected. England is great, but it's fucking expensive, even worse than the rest of Europe, especially since the pound is stronger than the euro, which is stronger than the dollar. The next day we were picked up by the affable Mat Hocking, who had been our driver last year when we did a couple festivals and a handful of shows with Atheist. In fact, Mat actually met his girlfriend on our tour in Paris. Between that and the Swiss marriage proposal (there was one during our show in Rochester last year as well), it's safe to say that Exhumed is a band that helps everyone except ourselves in the romance department. This would be our first time playing in most of the cities on the UK leg of the tour, but Britain is such a small country, the drives were mercifully short for the week we were there. We kicked it off in Bristol, where we met up with the Anaal Nathrakh guys, who were doing the four shows in England with us. For whatever reason, they wouldn't be accompanying us to Ireland. Bristol was a fun gig, the local openers were a great grind band called Merciless Precision that played with us the following night in Cardiff (in Wales). The Cardiff show wasn't quite as good as Bristol, I'm sure the fact that it was on a Monday didn't do us any favors, but we were on the road that night to catch the ferry to Ireland.
Having never been to Ireland, I was a little underwhelmed by just how British it was. But people did have charming undecipherable accents there. I was also surprised to not see redheads everywhere. But what can you do? Belfast was a lot of fun, and we even had time to do some sightseeing the next day, including downtown and a lot of the area where the IRA violence took place back in the 80s. Unlikely as it sounds, we actually grabbed a burrito for lunch before heading to Dublin that wasn't half bad. As soon as we hit the club in Dublin and loaded in, we took off to see the statue of Thin Lizzy bassist Phil Lynott, which was about a fifteen minute walk away. We hit the pub where the statue was and had a few beers before heading back for the show. The show was okay, nothing spectacular, but we had a good time partying at the bar with the kids before driving for another early boat ride back to Britain. We met up with the AN boys again in Manchester for a good show, and our second to last before heading back to the good ol' US of A. The run ended on a high note in London, with a nice packed room of maniacs having a what Mick Harris would have described as a "Total Holocaust Doss". Unfortunately, our flight left early the next morning and we were unable to party in London on Saturday night… Weak. At any rate, we boarded our flight after some excessive baggage fees courtesy of the assholes at Air France and headed home for four days off before starting our "Bowels Of Goreporate America" run.
Wes lives in Arizona, Rob lives in Orange County, and Mike and I live on the Central Coast, so Wes headed to the Grand Canyon state while the rest of us arrived at LAX after watching hours of airplane movies. Mike and I drove three and a half hours north to snatch a few days of being at home in our own beds, and get a bunch of Wes' stuff out of storage to drop off at his house before the first show in Tempe. After three days of rest, we met up with our indispensable driver, Dylan (aka Dr. Philthy) grabbed a U-Haul trailer, piled our shit in the back, hopped in our newly purchased van and hit the road (but not before I bought a new iPod – I can't handle being in the van for too long without one). We picked up Rob on the way and then headed to Wes' pad in Mesa, AZ the day of the show to pick him up along with our sound guy, Brian Hopp, who also plays guitar in Cephalic Carnage. After getting all of us in the same place once more, we headed to the venue. Unfortunately, the show had been moved only days before due to a shooting at the club it was booked at (great to be back in America!). The new venue was not only much larger (and too large for this show) but did not serve alcohol. Strike two… For some reason, our shows in Phoenix have been really spotty, and this one was not all that great. Not sure what happened, but regardless, we got to hang out with our old friends Ryan, Matt, and Grace from Landmine Marathon and get severely drunk in the parking lot, which made the night a good time regardless. We also met up with our tour mates for the Cannibal Corpse tour, Abysmal Dawn and Arkaik, both from SoCal. The next day we were due in El Paso, so we piled into the van and headed east into Tejas.
I was surprised we were playing El Paso on this run (basically a few shows on the way to the Cannibal Corpse tour), since all three bands were scheduled to play there again in three weeks with Cannibal Corpse. The promoter was a nice guy, and he actually told me he wanted to book that show, but another club beat him to it, so he booked us, Abysmal Dawn and Arkaik as a "fuck you" to the other venue. Not sure what the logic there is, but we ended up having a pretty decent show regardless. There were some die-hard Exhumed fans there that night, and we had a blast hanging out with everyone after the show. As June began, we drove across Texas, one of my least favorite drives in America, but at least the following day, we had a good time in Houston. Before the show, we had a soccer game with the Abysmal and Arkaik guys that was a lot of fun and a serious bro-building experience. The show in Houston was also killer with a dedicated group of seriously die-hard Exhumed fans that was nice. The next day we headed for the big easy. We had actually turned down this show, but somehow the promoter never got the message from our agent, so he had still been promoting it. After some brief deliberation, we decided to play. After hitting a WalMart in the morning and filling our cooler with foodstuffs, we headed to Louis Armstrong park for lunch in the open air. Then we headed to the French Quarter for some relaxation before load in (New Orleans shows always have really late load ins, around 7 or 8 in the evening) – what could go wrong? Well, we all arrived at the venue already heavily intoxicated. Sammy from Goatwhore bought Rob a few shots, and I decided to take a nap. By the time we hit the stage, I was the most sober person in the band (never a good thing) and barely made it through half our set, before it was clear to me that we were all plowed to the point of being inoperable. Luckily the show was pretty sparse, and like I said, we were actually thinking that we had canceled it weeks ago, so we wrapped things up pretty quickly and regrouped to the van in the middle of the pouring rain and a severe thunderstorm as we headed east.
By the time we hit Panama City, Florida, things were a lot more sober. We woke up and I hit the pawn shop next door and got some new reading material for tour. The venue was attached to a restaurant that was pretty good, and the show went much, much better than the preceding night's debacle. Everyone was getting excited to meet up with Cannibal Corpse the next day in Jacksonville Beach and spirits were on the rise. The show in Jacksonville was killer, and it was good to see the Cannibal dudes and their crew again. It also was the first day of many, many, many consecutive days of surviving cold cuts and Budweiser.
You can see Exhumed on the Summer Slaughter tour!