San Francisco Bay Area native David Victor, didn't start playing guitar until he was 16, but by age 18 he was performing with both original rock bands and rock cover bands throughout Northern California. He graduated with a degree in Computer Science from California State University East Bay in 1989, and proceeded to financed, write, recorded and produced his first commercial release called PROOF THROUGH THE NIGHT. David continued to perform throughout the late 80's and early 90's until 1999 when he decided to head to Los Angeles to explore the Southern California music scene.
In 2011, while performing in an LA based Boston tribute band called Smokin',  a YouTube video of one of his performances caught the eye of Boston founder Tom Scholz.  Before he knew it, David found himself sharing lead vocal and guitar duties in the band he had been a fan of and covered for many years. David joined Boston for both their 2012 and 2014 North American tours and also appeared at Boston's first show in the city of Boston in over 20 years, when opening the "Boston Strong" benefit for the victims of the Boston Marathon bombing. He was also the lead vocalist on Boston's #1 classic rock single "Heaven on Earth" from their 2014 album "Life, Love & Hope". During his time on tour with BOSTON, David was honored to sing such hits as "Peace Of Mind", "More Than A Feeling" and the #1 single "Amanda".
These days, David performs as guitarist and lead vocalist with PLATINUM ROCKSTARS (a multi-artist classic rock tribute show band) and BOSTYX, a tribute to the music of BOSTON and STYX, both of which he co-founded.
I had a chance to catch up with David just before he starts a very busy summer of shows with both Bostyx and Platinum Rockstars.
Dennis Gast: Having also grown up in Northern California myself and been a part of the local rock scene during the 80's, I am curious about local bands you may have been involved with during the mid 80's and if you may have hit the same clubs as I did with my old band. Tell me a bit about your musical endeavors during this period and the Bay Area club scene during the 80's.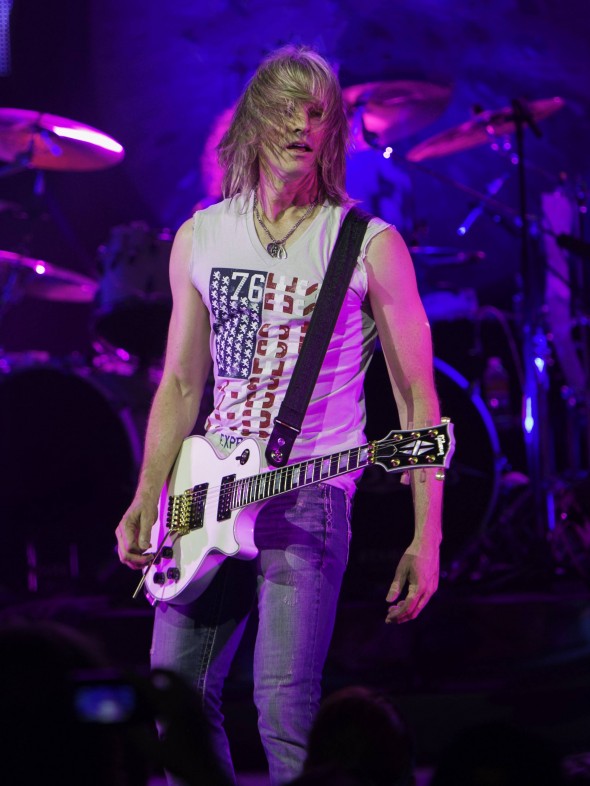 David Victor: I grew up in Walnut Creek, CA and my first real gig ever was in Danville, CA at "The Stage" probably in 1981 or so. I played in a Top-40 band for a few years called "Secrets" which was a very good band, run very professionally and we worked a lot, 5-6 nights a week. Then I bounced around in various bands until I started a band called "Victor" in 1988 or so…we played out and about for a couple of years at local clubs like the Omni, Stone in San Francisco, etc. We were sort of a heavy power-pop four piece. A great, very talented group of guys. Around 1996, I formed another original band called VELOCITY with a few local guys, and I wrote and produced an album of my original music called Impact. The album was released here in the U.S., Japan and in Europe on MTM Records. One radio station in Salt Lake City, UT started playing the album and the phones went nuts. Three singles from that album went to #1 on this station called K-ROCK and we ended up playing out in Utah a bunch of times. For that summer in Salt Lake City, Impact was outselling Metallica's Load. It was pretty sweet! Of course, Clear Channel later bought just about every radio station in existence and dispensed with rogue radio stations that played indie artists. It was sure fun while it lasted!
Gast: Who was your biggest influence growing up, both vocally and musically?
Victor: I actually didn't start playing guitar until I was 16. I had older sisters, so there was never much sort of "dude hard rock" around the house. I missed a lot of early rock influences and just listened to basically Top-40 and soul music. Fortunately, the 70s were a golden age for rock 'n roll. I loved tons of guitarists like Eddie Van Halen, Michael Schenker, Gary Moore, Scott Gorham of Thin Lizzy and Ronnie Montrose. Thin Lizzy was the best live rock band I've ever seen! No one could touch Eddie for dexterity and sheer rock 'n roll inventiveness, while Michael Schenker was just so lyrical and amazing. As for vocalists, I loved Sammy Hagar, Steve Perry, Phil Lynott and John Waite. But overall, for putting together a great show, getting the audience to freak out and writing great tunes, I'd probably have to say Rick Springfield was my overall biggest influence at the time. I thought that guy just had an amazing, visceral delivery. He was also a great showman and I've never in my life seen more girls freaking out than at the Concord Pavilion in the summer of 1982. I mean, his band was tight and rockin' with the incredible Tim Pierce on guitar and Brett Tuggle on keyboards. I thought: well, would you rather appeal to dudes or would you rather appeal to the ladies? That was why I got into rock 'n roll in the first place!

Gast: Did you come from a musical family?
Victor: No one plays an instrument or sings in my family, though they are all amazing painters and artists. I was terrible at that sort of art and I wanted to have my own thing. One of my sister's boyfriends came by one day in 1976 and was strumming some chords on an acoustic guitar – it might have even been "More Than A Feeling" since that was the same year – and I was blown away. I asked him how long he'd been playing and he told me "Two weeks!" I was hooked. I was very fortunate to have a great first guitar instructor, Karl Seppala. That first teacher can really set the right or wrong tone for you. After Karl, I had a few good teachers and a few miserable ones, until one day I finally realized that I knew a ton of theory and could play a little, but I didn't really know how to jam, ya know? That wasn't until I started listening to Eddie Van Halen, Ronnie Montrose and of course Michael Schenker and UFO…figuring solos and rhythms out from those records. Looking back on that, it was a really fun time in my life, learning about how to listen and how to play, and realizing this whole world was opening up. It was funny, because I didn't start singing until much later, probably 20 or 21, when I started to realize how hard it was to find good vocalists. So I came to this whole musical thing pretty late in life. I guess that if you love something, you can dive into it and learn it at any age.
Gast: I am sure you have answered the question about how you got the Boston gig countless times, I am more curious on how that experience affected your career and how and why you ended up parting ways with the group?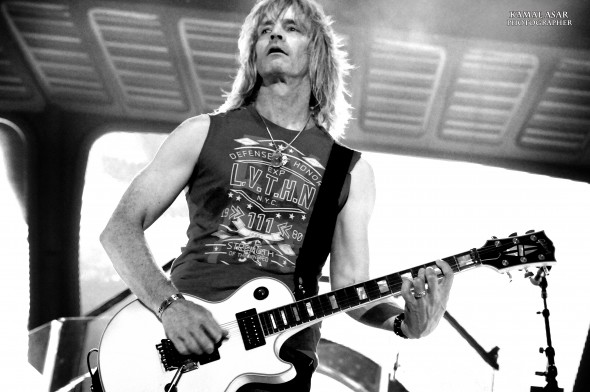 Victor: They saw me on YouTube and said "Sign that kid up!" Well, that's close to the truth. They did see me with a BOSTON tribute band I was in, singing the song "Smokin'" and I got a call from BOSTON's management. They wanted me to come out to Massachusetts and record a demo for the upcoming BOSTON album "Life, Love & Hope" called "The Way You Look Tonight". After hearing me sing that day, Tom Scholz asked me to join BOSTON. I was thrilled beyond words! That was in 2010 I believe. "The Way You Look Tonight" was a really low song for my range so I had a bit of a struggle with it. Tom records the demos in his own vocal range and then – well, you'd better try to sing it as well as you can. And here I'd thought being in BOSTON was going to be all about being in Brad Delp's range! Later in 2011 I recorded another song called "Heaven On Earth" which ended up being the lead-off single from the album. The single got some nice airplay on U.S. rock radio and actually went to #1 on the classic rock charts in early 2014 – so I sang lead on a #1 hit with BOSTON!
When we played live, BOSTON's lead vocalist Tommy DeCarlo and I would trade off on lead vocals depending on the song. Not surprisingly, it's entirely up to Tom Scholz to decide everything in that band, especially who sings what and when. Tommy sounds as close to Brad Delp as anyone ever will I think, so for me to sing any of it was truly an honor. While on tour in 2012, I sang my favorite BOSTON song "Peace of Mind", as well as the chorus of "More Than A Feeling" and the #1 80s single "Amanda" as well as a couple of other leads, and of course tons of harmonies. There are a lot of vocal intricacies going on in those songs that aren't obvious. It really was a learning experience. While in BOSTON I did the 2012, 2013 and the first leg of the 2014 shows. The whole thing was an amazing trip, starting from hearing those chords played on acoustic guitar on my front lawn to performing that same song in front of thousands of people every night. Being in BOSTON was great and my only regret is that while I was with the band, we never played in my home state of California. Then again, I get to play BOSTON songs in California all the time with my band Bostyx! These guys can really play and sing too – Bostyx is an amazing band.
Gast: The "Tribute Band" thing seems to be very popular, how did the Platinum Rockstars concept come about?
Victor: I noticed the tribute band thing happening when I lived in LA. Tribute bands are everywhere, and some of them are pretty amazing. But I always thought doing a tribute to only one band was really limiting. I played in a Boston tribute band, and when we'd have gigs that were more than 90 minutes long, we'd just run out of songs that the average rock 'n roller knew. I mean we'd start the show with "Rock 'n Roll Band", then in order to pace the whole show the second song would be "It's Easy", which is a song I didn't even do with the real BOSTON! Then again, I loved going deep into the catalogs to give fans the less-heard but still great songs. So I figured it would be fun to do one band that did legit tributes to all these different bands like Bon Jovi, Boston, Journey, Def Leppard, Foreigner, etc. That was Platinum Rockstars. In the beginning we'd all run off the stage, change clothes and come back on and do 3-4 tunes, run off again, change again…lather, rinse, repeat! It was a tremendous amount of work. Then one show when we didn't have a dressing room, we just got up on stage and rocked, and we realized that the audience didn't really care about the dress-up thing anyway – they just love great music, played well! So that band has continued and we've added another band, Bostyx – All the Hits of Boston & Styx to the lineup so we could get into these two great bands' catalogs. And there's no dress-up. It's the best of all possible worlds and the people really seem to dig it.

Gast: Being a member of a tribute band myself, I have been in numerous heated conversations about original bands vs tribute/cover bands within the local music scene. As someone who does both, what is your take on the differences with the two and why the "Tribute Band" thing seems to be so hot right now?
Victor: I think concert-goers like tribute bands because they kind of know what sort of musical experience they're going to have, as opposed to a traditional cover band, where you never really know what you're gonna get. Promoters love tribute bands because they can say "blah blah, a tribute to JOURNEY" and then all people see is the word "JOURNEY" and it gets them to show up.
Gast: Can you look back on one specific moment or performance and say, "that was the best experience I have ever had" and if so, please elaborate?
Victor: That's easy! Performing with BOSTON at Boston Strong for the Boston Marathon bombing victims in 2013. We opened the show in front of 20,000 at Boston Garden and at the end we all got up with Aerosmith and did a massive sing along on "Come Together". I was privileged to meet some of the incredibly strong folks who were injured and it was just such an amazing night. I love doing charity shows because it's about something much bigger.
Gast: No doubt you have shared the stage with countless other musicians, who were some that stick out in your mind as sort of WOW, I can't believe I just played with_________ moments?
Victor: At that Boston Strong show I was onstage singing with Jimmy Buffet, New Kids on the Block, Aerosmith and Steven Tyler of course, Extreme…it was a whole slew of Boston-area superstars. I had to tell my fiancé who was seeing me perform for the first time with my mug on a 50 foot Jumbotron, "You know honey, they're not all going to be like this!" And now she knows – yeah, they're not all like that!
Gast: What is your go-to listening music? What would we find queued up in your iTunes or in your car?
Victor: If it's for listening pleasure, I love artists like Thin Lizzy, Maroon 5, Bruno Mars, Bryan Adams, Robin Trower, Jessie J, UFO…lots of old-school and lots of current popular music. Jessie J blows me away, all the things she can do with her voice. "Mama Knows Best" is just sheer perfection. It's like Eddie Van Halen except with vocals.
Gast: If you could select one artist, living or deceased to play/perform with, who would that be?
Victor: Definitely Phil Lynott and Thin Lizzy, if I can perform with the whole band! They were just the quintessential rock stars. I saw Thin Lizzy when Scott Gorham had a busted leg, and he just sat on a stool and rocked out better than anyone I've ever seen running all around the stage. The vibrato and note choices of those two guitarists, especially Gary Moore and Scott Gorham, were the best I've ever heard in a rock band. So tasty and vibey!
Gast: If you weren't a musician, what would you be?
Victor: Well when I'm not playing music, I run my own software consultancy, as if there could be anything further from rockin' out! I've been running Boomcycle now for over 10 years. I love the detailed yet creative work of software development, building things that help people do their jobs and I'm always meeting interesting people. Right now we're doing some work for a company that's developing cutting-edge technology for the Internet of Things – wireless extensible hardware and sensors that can perform a tremendous number of functions. It's a great time to be interested in technology, that's for sure. Running my own business gives me the freedom to still play music because I can work from the road, no problem.
Gast: What does the future hold for David Victor?
Victor: It's an exciting time right now because we're developing an all-new rock-based show which we plan on making the biggest show we've ever done. It requires lots of planning, creating and energy, but when we pull it off it will be the coolest thing we've ever done. There's a long way to go, some money to raise and we're still in the planning stages but we hope to have it on stage by 2016 so it shouldn't be too much longer to wait. We might debut the show in the bay area which would be amazing. I wish I could say more about it but we're keeping it under wraps until it's fully funded and ready to roll.
To learn more about David and where you can catch him perform this summer with either Bostyx or Platinum Rockstars vistit:
https://platinumrockstars.com/