FOR IMMEDIATE RELEASE: July 1, 2014
SYMMETRY IN BLACK OUT NOW!
Sludge merchants CROWBAR will embark on a brand new slab of headline dates throughout the U.S. with guests HAVOK and REVOCATION. Kicking off on September 11th in Birmingham, dates span from coast to coast before wrapping up in mid October. This is the first tour in the states supporting the band's most recent LP, Symmetry in Black. General on sale is Friday, July 4th. VIP packages will also be available, read here for more info.
Symmetry in Black was released back in May and sold over 4,000 copies in its first week of release, the highest of any LP's in the band's 25 year career, beating out its predecessor Sever the Wicked Hand released in 2011. Symmetry in Black has recieved quite the critical reception to boot. Metalsucks states, "It's no surprise that it's excellent, but what is a surprise is just how excellent it is." With Windstein's focus entirely on Crowbar for the first time since the band's inception, the anticipation was higher than ever leading up to its release leading internet giants LOUDWIRE  to declare, "Windstein's singular focus pays off."
Lastly, tastemakers INVISIBLE ORANGES go as far to say that the band "deliver their trademark style of passionate and despondent hardcore-influenced sludge metal with ruthlessness and grace, crafting a masterful album." The crushing signature sound of Crowbar is at its peak on Symmetry in Black, the band's most diverse yet cohesive release.
Watch the "Walk With Knowledge Wisely" Video Here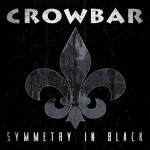 1. Walk With Knowledge Wisely
2. Symmetry In White
3. The Taste Of Dying
4. Reflection Of Deceit
5. Ageless Decay
6. Amaranthine
7. The Foreboding
8. Shaman Of Belief
9. Teach The Blind To See
10. A Wealth Of Empathy
11. Symbolic Suicide
12. The Piety Of Self-Loathing
CROWBAR IS: Kirk Windstein – (Guitar / Vocals), Matt Brunson – (Guitar), Tommy Buckley – (Drums), Jeff Golden – (Bass)