Commitment: Achieve what you want as a musician
by Rich Redmond (part one of five)
Hey folks! Do you want to be a better musician? Do you want more gigs? Do you want more overall happiness in your life?
Well then, try my "CRASH" concept on for size. CRASH is an acronym for Commitment-Relationships-Attitude-Skill-Hunger. The CRASH Course For SuccessTM is a true philosophy for living with five main principles that I have developed over the years. I would like to share them with you!
This is part one of a five-part series. I hope you enjoy it.

Commitment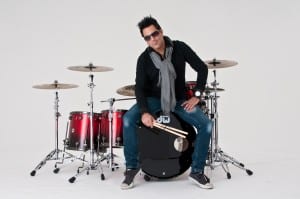 The first principle of our CRASH philosophy for success is commitment, which can be defined as "true dedication to something." Any musician who has had any staying power will tell you that the music industry is a brutal business and requires a massive amount of dedication to navigate it. This dedication can be applied to both your musical skills and to the business associated with cultivating a successful music career.
In my travels, I get to see many musicians of all ages and levels of ability perform. By constantly observing, I notice many musicians lack commitment in their musical approach. How many times have you seen musicians play with a lifeless style? Their playing lacks energy, drive and that special "wow" factor. It's as if they're staring at their watch, waiting for the gig to be over so they can rush home to warm up a frozen dinner and watch re-runs of "The Big Bang Theory."
Commitment means giving yourself over to the music-making process and the whole experience — actually being in the music. Make intentional choices to drive and lift the music. More than anything, a performance starts in the mind. Are you in the music or are you thinking about the stresses of life (domestic issues, bills, schedules)?
Let the music take you away to a special place. By making that commitment, the performance and the music become more rewarding and meaningful. That commitment starts with the first click of the drummer's sticks to the final sustainment of a power chord.
I always think in these terms:
Am I using proper tone and articulation?
Am I playing great time and making things groove and feel great?
Is my playing relaxed and flowing?
Am I using all of the colors available on my instrument?
Am I listening to all of the musicians, especially the lead vocal?
Am I playing in a way that makes it easy for the whole band to play together?
These are very important questions to ask. Also, be sure to record your gigs on audio and video. You will see and hear your level of commitment instantly!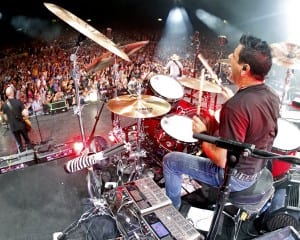 We only have so much time on earth, and our whole life experience can be taken away at any moment. Combine that with the thought that if you are actually playing music professionally or semi-professionally, you are in rare company. About 0.01 percent of people in the world who play a musical instrument get to do it on a truly professional level. I told myself very early on in my career, that I would always play at 100 percent. I would always serve the music, listen, lift the other players up and make it a fun experience. Basically, I always try to "play my ass off." Making a choice to have this committed approach will always keep the phone ringing.
Being committed to your craft means being prepared for any opportunity that comes your way. After college, I was determined to make a name for myself in the music business. I reached out to everyone I knew in the music business to see if anyone knew about auditions in major markets. A friend turned me on to a "gatekeeper" for a major artist. I got my audition tape to that person, and he liked what he heard. I was invited to a "cattle-call" audition but had to cover the costs of my flight, transportation, lodging and food. I knew this would be pricey, but I was committed, and I wanted the gig!
I was asked to learn five songs. I did, plus I charted out another 50, the artist's entire catalog! That way, if they called any other songs, I would be prepared, and I could set myself apart from the rest of the pack. I did not end up getting that gig, but every person I met that day ended up turning me on to other major auditions. I never got those jobs either, but I learned that the winning drummers all lived in Nashville. Ah ha! This was a light-bulb moment. I had to be in Nashville.
I reminded myself of my commitment, so I gave my band two weeks' notice, packed up everything I owned and moved to Nashville. I knew very few people, had no gigs and had saved very little money. I was armed only with my abilities, my confidence and my commitment to reach my goal.
You have to have goals. A life without goals will leave you wandering aimlessly with no direction. When I arrived in Nashville, my goal was to become a top-call (at the top of the call list) touring and session drummer. I am still working on that goal 15 years later, and it's never ending. I've survived hard times when I had to supplement my drumming with odd jobs like waiting tables and substitute teaching. I could have packed my bags and left a million times, but I didn't. Doors were slammed in my face over and over again, but I had two things: A dream, and a commitment to see it through. Nothing is more powerful than a dream (perhaps love, but that's another article).
On the very first night of my arrival in Nashville, I went on the town. I crashed parties, shook hands and let people know I existed. I realized that I needed to be persistent. No one was going to hand it over to me on a silver platter. I had to earn it.
I've played wedding gigs, bar mitzvahs, corporate parties, pool parties, dance halls, strip clubs, honky-tonks, supermarket grand openings … I've even kicked jokes for comedians and magicians! At the end of those gigs, I would ask my bandmates how things were feeling and how I could improve my playing. Constructive feedback is great fuel for your commitment.
To have a career in music, you have to believe that failure is not an option. You need commitment. In navigating my career for the last 20 years, I have never stopped moving forward.
Never stop! I realized the importance of practicing constantly, taking lessons, recording myself, listening to tons of music and constantly improving.
Another factor to remember is that there are hundreds of qualified musicians in the larger markets scratching and clawing for available work, so there is never a need to look outside of those cities for incredible players. The best way to guarantee success is to relocate to one of those markets and start cultivating sincere, lasting relationships.
You have to be where the action is. Geography is important. You may have to move to a Nashville, NYC, or LA to get the gig. The chances of getting a gig and then relocating are slim to none. You have to be where the gigs are. Period. About 99 percent of people who want to accomplish great things are unwilling to take chances. It's great to want to do something, but if you have (a burning desire) to do it, make that commitment and follow through.
Making music defines me as a human being. It's truly how I express myself. Knowing that I get to play the drums every day gets me out of bed with a huge smile on my face. Most successful people will offer the same advice. Make a commitment, fuel it with conviction, passion and persistence — and watch your dreams become a reality. Conceive, believe, receive.