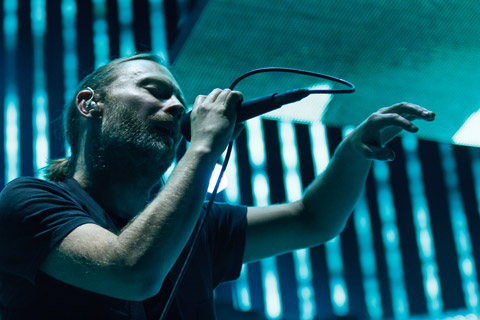 Radiohead ousted the Devils from their home arena last week for two sold out shows at the Prudential Center in Newark NJ.  As the entry lines began to coil themselves around the arena on the evening of the second show, the audience was already teeming with excitement, speculation, and reflection on the previous night's performance.
To see so many fans drop their hard-earned pennies on two consecutive nights is a true testament to not only the dedication of Radiohead fans, but to the power of the group's music, which was on full display for the duration of their two-hour set on Friday.  The majority of the set was unsurprisingly culled from the band's latest record, The King of Limbs. While the record polarized fans upon its release with its heavy emphasis on electronics and subtly complex rhythms, dissenters were forced to reconsider following the live renditions of these tracks.  Frontman Thom Yorke was in his usual fine form, bopping, skipping, and jumping around the stage, but the real interest here was in the rhythm section. Two drummers backlined the stage, along with bassist Colin Greenwood. The crew flawlessly recreated the subtle rhythms of the band's latest work and added new and welcomed flourishes to some familiar tracks.
The remainder of the set was heavy on new tracks and selections from the band's In Rainbows and Kid A records.  Anyone expecting a greatest hits set from Radiohead would have to look elsewhere.  One track from the band's classic OK Computer was performed (Paranoid Android on Friday, Karma Police at Thursday's show), while The Bends was completely left off of the set.  As engaging as the group's performance was, it was not without its flubs.  Fan favorite "Idioteque" suffered from an ill-timed synth break, resulting in an "Ah, fuck it" from Yorke and his subsequent departure from the stage.  After a brief break, the band returned in fine humor, performing two encores, culminating in an excellent rendition of "Everything in its Right Place." Radiohead return to our area on June 13 in Camden.