COLDCOCK Whiskey Presents RADIODRONE with Hoobastank
EVENT INFORMATION:
Thursday, April 30, 2015
The Coach House – 33157 Camino Capistrano, San Juan Capistrano, CA
Tickets: $30
Doors: 6:00 PM; Show Time: 8:00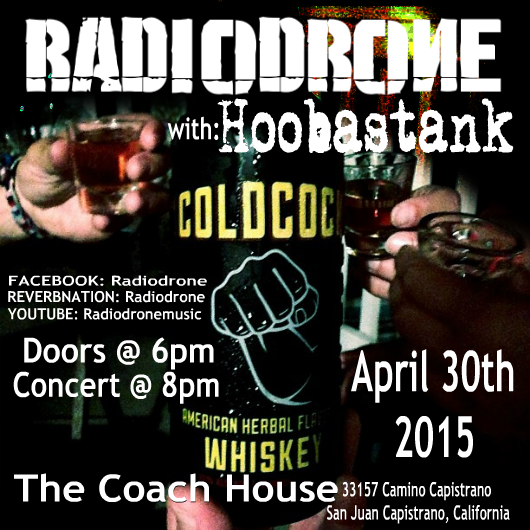 About RADIODRONE:
RADIODRONE– Hailing from Orange Country California created in the 1st quarter of 2014, RadioDrone is part schizoid Five Finger Death Punch on the heavy edge, part Foo Fighters rock with the commercial aspects and part hard grooves(Nu-Metal); RADIODRONE seamlessly barrels from churning head banging riffs to skyscraping chorus' and back again with smooth radio made transitions and underground power. They are equally able to dial down their bluster into deft moments of crystalline beauty when the mood takes them there.
RADIODRONE has released 2 songs that are equal to the best top radio singles, "Want it Back" and "NeverLution" that can be found on Reverbnation: http://tinyurl.com/ma4dfek
both songs are a gut-punching blend made all the more powerful by a keen lyrical sophistication and philosophical undertone which separates them out from their contemporaries with an Americana back bone and a rebellious big government undertone, you can see their first released video on YouTube: http://alturl.com/psu9z RADIODRONE, has done a fantastic job with mainstream radio friendly vocals with thought provoking lyrics with modern Nu-Metal grooves.
About COLDCOCK Whiskey:
COLDCOCK American Herbal Flavored Whiskey is available throughout the United States and select areas of Canada. To find a location that carries COLDCOCK near you visit www.coldcockwhiskey.com and click through to the "Where To Buy" section. #takeyourshot
COLDCOCK Whiskey is touted by countless bands and artists and famous personalities such as DATSIK, Pepper, The Expendables, Eyes Set to Kill, Sevendust, Attila, Drowning Pool, Upon a Burning Body, Texas Hippie Coalition, Mushroomhead, Nonpoint, All That Remains, Jamey Jasta of Hatebreed, Sam Bettley of Asking Alexandria, Dan Jacobs of Atreyu, Big B, Terravita, Smile Empty Soul, The Supervillains, The Vegabonds, We Came As Romans, Bobaflex, Warner Drive, Beebs and Her Money Makers, Fatally Yours, Blue Felix, Comedian Don Jamieson, Tattoo Artists Steve Soto and Paul Booth, Graffiti Artist RISK, and many more.
Established in 2012 and based in San Diego, California, Zeiler Spirits LLC is the producer of COLDCOCK American Herbal Flavored Whiskey.  The spirits importer was founded by liquor and entertainment industry veterans, musicians and action sports athletes who have collectively created some of the world's most exciting lifestyle events and cross promotions.  COLDCOCK American Herbal Flavored Whiskey is 100% aged American bourbon blended with a variety of herbs, including green tea, hibiscus, ginger, eucalyptus, cinnamon and gingko.  Currently available in 22 states and Canada. COLDCOCK American Herbal Flavored Whiskey is 70 proof  and sold in 750ml and 50ml bottles. For more information, please visit www.coldcockwhiskey.com
COLDCOCK American Herbal Flavored Whiskey, 35% Alc./Vol.  Zeiler Spirits LLC, San Diego, CA. Drink Responsibly.