September 25 – November 1 (Weekends) in Villa Park, IL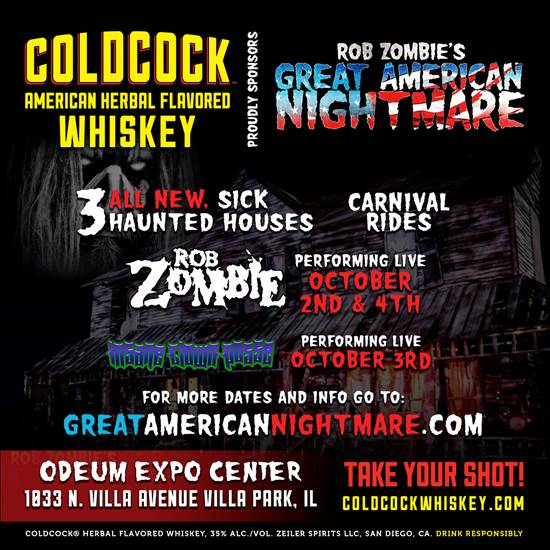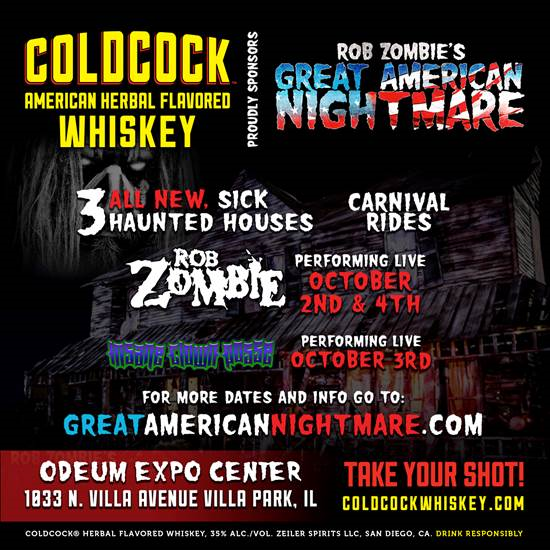 Herbal Flavored Whiskey is proud to be an official spirits sponsor of ROB ZOMBIE's Great American Nightmare, beginning September 25th and running through November 1st on weekends at the Odeum Expo Center in Villa Park, IL (Rob Zombie performs October 2nd and October 4th and Insane Clown Posse w/ P.O.D., Stitches and more on October 3rd). COLDCOCK will be sold at all bars, including special COLDCOCK shot stations and at the on-site booth. Come hang out with us!
"This is our third year sponsoring Great American Nightmare and it's great to be back at it with some of our favorite bands like Insane Clown Posse, P.O.D., and partners like the Odeum in Villa Park," states Rick Zeiler, CEO of COLDCOCK Herbal Whiskey. "COLDCOCK Herbal Whiskey will flow all weekend long so come out and TAKE YOUR SHOT with us!"
For more information on the event and tickets, please visit www.greatamericannightmare.com.
For further information, go to http://battle.coldcockwhiskey.com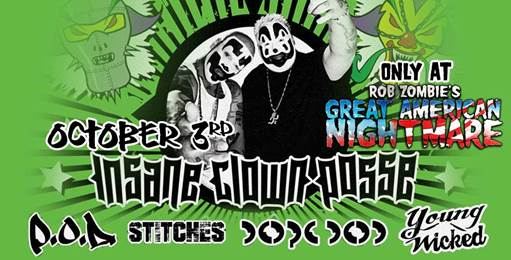 About COLDCOCK:
COLDCOCK American Herbal Flavored Whiskey is the world's first and only herbal whiskey and is a fast growing shot brand in the spirits industry. COLDCOCK  is touted by hundreds of bands, artists and personalities such as DATSIK, Pepper, The Expendables, Eyes Set to Kill, Sevendust, Attila, Drowning Pool, Upon a Burning Body, Texas Hippie Coalition, Mushroomhead, Nonpoint, All That Remains, Jamey Jasta of Hatebreed, Sam Bettley of Asking Alexandria, Dan Jacobs of Atreyu, Big B, Terravita, Smile Empty Soul, The Supervillains, The Vegabonds, We Came As Romans, Bobaflex, Warner Drive, Beebs and Her Money Makers, Fatally Yours, Blue Felix, Comedian Don Jamieson, Tattoo Artists Steve Soto and Paul Booth, Graffiti Artist RISK, and many more.
Established in 2012 and based in San Diego, California, Zeiler Spirits LLC is the producer of COLDCOCK American Herbal Flavored Whiskey.  The spirits importer was founded by liquor and entertainment industry veterans, musicians and action sports athletes who have collectively created some of the world's most exciting lifestyle events and cross promotions.  COLDCOCK American Herbal Flavored Whiskey is 100% aged American bourbon blended with a variety of herbs, including green tea, hibiscus, ginger, eucalyptus, cinnamon and gingko.  Currently available in 22 states and Canada. COLDCOCK American Herbal Flavored Whiskey is 70 proof  and sold in 750ml and 50ml bottles.
COLDCOCK American Herbal Flavored Whiskey, 35% Alc./Vol.  Zeiler Spirits LLC, San Diego, CA.  Drink Responsibly