Phoenix Hard Rockers CO-OP, featuring Dash Cooper, son of legendary Rock icon Alice Cooper, are preparing to release their self-titled LP 6/15 in US via EMP LABEL GROUP, 6/29 in Europe via ELLEFSON MUSIC PRODUCTIONS/SPV. The album features guest appearances from Alice Cooper on "Old Scratch", and Aerosmith guitarist Joe Perry on "Howl". The band has also announced an ALBUM RELEASE PARTY for the LP, Saturday, 6/16 at CLUB RED in Phoenix.
CO-OP has released a full-streaming-audio video for their new single, "Howl", featuring a guest appearance from Hollywood Vampires/Aerosmith guitarist Joe Perry.
"HOWL" ft. Joe Perry:
YouTube: https://www.youtube.com/watch?v=dek94UOVk6A
Facebook: https://www.facebook.com/emplabelgroup/videos/1693893377346999/

Additionally the band released a lyric video in May for their hit single "N.O.W", which hit #5 on the (US) Mediabase Classic Rock chart.
Filmed and edited by Melody Myers (Escape The Fate, Drake Bell, Marc Rizzo, Combat Records), the "N.O.W." video, which just surpassed 10,000 views on Youtube, also features an intro cameo from vocalist Dash Cooper's father, legendary Rock icon Alice Cooper, an actual song introduction from Cooper's nationally syndicated radio show NIGHTS WITH ALICE COOPER, where the song is in full rotation as a "Future Classic".
N.O.W.
YouTube: https://youtu.be/tyDM3kYotEg
Facebook: https://www.facebook.com/emplabelgroup/videos/1656790724390598/
Co-op 1500×1500
Tracklist:
1. N.O.W.
2. Old Scratch (ft. Alice Cooper)
3. Howl (ft. Joe Perry)
4. Desert Dreams
5. Theme For Ignorance
6. Sleep
7. Condemned
8. Secret Scars
9. Never Whisper The Truth
10. Overdrive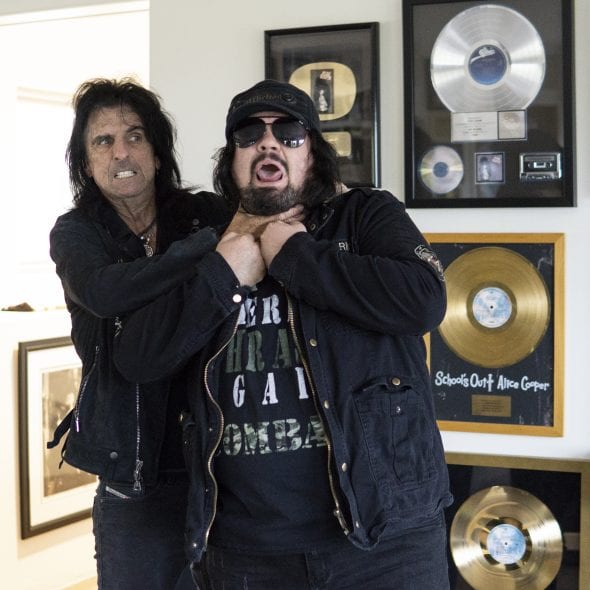 Says Alice, "One thing that Dash's band has that I absolutely love, is dynamics. I told them one time early on, I said, "Guys, right now you have great parts, but everybody is playing at the same time. You have no dynamics, it's one big solid line of blast, and I can barely hear the vocals." The very next time I heard them play, they figured out how to make it dynamic, where they'd go down to one guitar, doing a chug, with the vocals going, and they would come right in with a B section, with everybody, and it was so powerful. And I said, "guys, you have no idea how hard it is to do that." But they did it on every song. And they still do it."
He adds, "It's really great. Even on the radio show I said, "I'm not just playing this because it's my son's band, it's playing because I really like this." I really like this music. It's a band with some fire."
No strangers to performance, since forming in 2014, with a current lineup featuring Dash Cooper (Lead Vocals) Jeremy Tabor (Guitar), and Justin Swartzentruber (Bass), CO-OP quickly amassed a following in the local Phoenix scene. Despite just rounding the corner into their full-length studio debut, CO-OP are already seasoned Rock veterans, having opened massive shows for the likes of Motley Crue, Hollywood Vampires, and KISS, and played backup band to the likes of Alex Lifeson from Rush, Don Felder of The Eagles, and of course Alice Cooper (in addition to frequently performing as Alice's backup band, and Alice coming to jam at CO-OP shows, the band recently played halftime at the Phoenix Suns game where they performed Cooper classics "School's Out" and "I'm Eighteen", with co-vocals by Alice and Dash) . Not bad for a band who hasn't even released a record yet.
In 2017, the band signed to EMP LABEL GROUP, the label of David Ellefson of Megadeth, and released an EP while setting out to work on their full-length debut.
Says Ellefson, "Alice Cooper took Megadeth out on our first big tour, and we've always had a great relationship. Alice wrote the foreword to my book MY LIFE WITH DETH. So it's been really exciting to be able to bring that relationship full circle and work with Dash and CO-OP, who have grown into an incredible Rock band."
2017 also brought the band on their first tour with One Eyed Doll, and labelmates Doll Skin, and the spent the first half of 2018 doing a mix of headlining dates and support for FLAW.
For More Information:
All Photos Taken by: Melody Myers