Cowboy Songs, Patriotism and Politics
Charlie Daniels will soon be celebrating his 80th birthday. That's a big milestone for anyone to reach, even in this time of modern medicine, health and fitness gurus, and tofu burgers… But Charlie Daniels is celebrating his 80th birthday in a manner more befitting a man of his legendary stature, by hosting the 2016 Tennessee Volunteer Jam at Nashville's Bridgestone Arena in November, along with a few of his closest friends: Chris Stapleton, Travis Tritt, Kid Rock, Larry the Cable Guy, and many more special guests soon to be announced, as well as plenty of surprise guests popping in on the night of the show.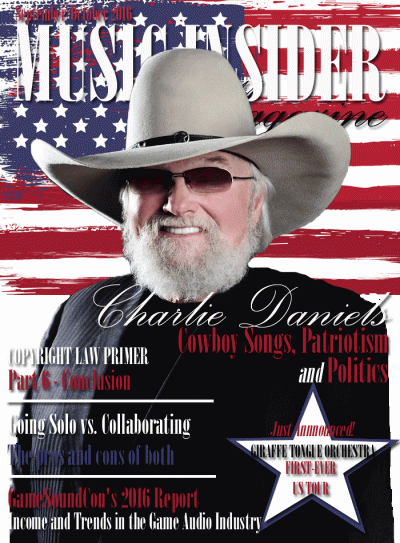 You'd think that the concert would be enough for Charlie's 80th birthday celebration, wouldn't you? Not for this hard-charging good ole boy from Wilmington, North Carolina. No, siree! Along with his Volunteer Jam concert, Daniels is releasing a new acoustic album that features some of the most beloved cowboy songs of all time — with a Charlie Daniels twist, of course. The new album is called "Night Hawk," and it's a collection of ten cowboy songs that are some of Daniels' favorites that are straight from the cattle trail.
I had the honor and privilege to sit down and speak with Mr. Daniels about his new album, and what it means to him to be able to bring these revered cowboy songs to his fans in a manner befitting his love for the genre. We also spoke about the upcoming 80th Birthday Volunteer Jam, his supportive foundation for military veterans, and the current political climate and upcoming election in November, as only Charlie Daniels can define it.
Brian McKinny: Let's talk about your new album. Why is this album so special to you, and what made you decide to record and release this project now?
Charlie Daniels: Gosh, twenty years ago at least, I guess — maybe longer… But I have loved that (song), it's one of my favorite cowboy songs, and I have wanted to record it. But it's such a unique song that it wouldn't fit too well on one of our regular albums. So I decided to set it up with all these cowboy songs — my favorites — until I got to the point where I had enough for an album. We finally got to that point, and we recorded it.

McKinny: Did you record this album in Nashville?
Daniels: We recorded at my studio. I have a studio in Wilson County outside of Nashville. We've been recording there for years, and we've been adding equipment over time, and it's become a pretty doggone good studio out there. Nobody records there but us, so we just leave the drums set up, everything can stay the way we left it during the last session, so we can walk in there and be ready to roll in a couple of hours, once everything is set in the control room; it's really the most convenient, efficient manner for us to record. I don't have to watch the clock; I don't have to drive 30 miles to get home after a session at two o'clock in the morning.
McKinny: Tell me who's playing on the album? Is it your regular band, or did you get outside musicians to play on it?
Daniels: It's just myself, actually, and three of my guys. We wanted it to be acoustic — it's kind of "back porch" music, if you will. It's like a ranch hand type of thing with just a few players, and a little more intimate, because of what it would have been with the whole band – drums, keyboards, etc. Basically, we went in and picked these songs as we went — "hey, let's try this, or let's try that…" until we could get enough of them to fill an album. I'm pretty happy with it, I'm pretty happy with the material. Like I said, there's things on there that I've been wanting to do for a very long time, and I finally got around to doing it. Good things come to those who wait, I guess!
McKinny: As you said, projects like this can take a long time to come to fruition, especially when you're targeting a special niche genre, in this instance, cowboy songs. I've enjoyed listening to all those old cowboy songs since my dad used to play them for us at home when I was a kid growing up. But most of what people think is "cowboy culture" comes from Hollywood, and the movies and TV Westerns, and that's not real cowboy culture.

Daniels: Yeah, this is a whole other thing. This is more working cowboy songs. Of course, there's a song on there that mentions guns and that sort of thing; all that sort of traditional stuff. But there's a song on the album called "You Can't Beat the Damned Old Machine," and it's just an old cowboy talking about how the West had changed since he was a young man, with the land all being fenced off, civilization creeping up on him, and how his world had changed because of it, and all of a sudden there's no place for a man like him. I mean, you just can't beat the damned old machine!
There's another song, the title track, "Night Hawk." It's one of my very favorite songs, and it's a story of a bunch of guys driving cows, looking for water, and a guy rides up and says he's looking for a night hawk. It's just a story about traveling at night. And then there's "Big Balls in Cow Town" and "Stay All Night," which are probably two of the most classic cowboy dance songs of all time. Stay All Night (Stay A Little Longer), that's a Bob Wills type song, like something you'd hear at a barn dance, and we just put it all together and really enjoyed doing it.
McKinny: I noticed you have "Ghost Riders in the Sky" on the album. Is this going to be a more traditional rendition, or is it scaled back from the big production treatment that song usually gets?
Daniels: Nah, it's pretty straight, especially since we've done it with acoustic instruments. It's kind of hot; I mean, it's got some hot acoustic guitar parts on there that are pretty smoking for acoustic guitars, but there's no way, I don't think the traditional ways it's been done before with bands like The Outlaws — it's quite a bit different from that. It's kind of our way of going about doing it in a different manner and style.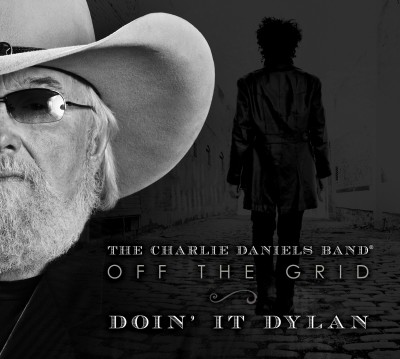 You know, I did a whole album of Bob Dylan tunes a while back, and we're all so familiar with Dylan songs — we've heard them done by so many other artists over the years, and I wanted to do them completely different. I once did a Dylan song and treated it like it was CDB song, like it was something that we had written; just did it our own way. This cowboy thing is kind of the same in that regard; it's songs that we went into the studio with — ideas that we bounced around off each other, trying things different ways until we found something we liked, and then we just went with it. The whole album feels that way, and I think it just worked for us, that method of writing, arranging, and recording.
McKinny: There have been a lot of changes happening in country music in the past decade or so, with much more of the new music expressing pop culture and pop music influences. It's nice to see some country artists such as yourself releasing albums that are more roots-oriented than a lot of what's out there today. Was this a conscious decision on your part with the release of Night Hawk to do something different?
Daniels: Well, this is definitely that way. This is cowboy roots; there's nothing very modern about it. The material doesn't lend itself to being done in a modern way — it's more of a throwback to a simpler era, with a few old cowboys sitting out in the middle of nowhere around a campfire, or a crusty old cowboy talking to someone at a train station just because he's lonesome.
There's a place I used to go to down in Texas called the Four Sixes Ranch that raises legendary Quarter Horses and Black Angus cattle, and I've gone down there to do what they call "Spring Work," where they go out and brand the cattle. And there's so much land in our part of the country, where you are in Arkansas and where I live in Tennessee, that the rule of thumb for cows is one acre of grazing land per head of cattle. But out there in Texas, I mean, wow. It's just unbelievable how much space there is, so about the only way you can gather 'em is to get out there on horseback and get 'em out in the middle of nowhere. You literally go out — well, it's done by pickup truck nowadays as much as on horseback — but you'd go out with the chuck wagon, and you'd live out there on the trail. You'd take your bedroll, and you'd have a cook out there with the guys to take care of feeding them and keeping up camp. You'd get up in the morning, grab your horse, saddle him up and go out to a certain area to find your cattle and bring them in and brand them. That still goes on, and it's the practical way of doing it — everything can't be mechanized.
So it's a way of life that still goes on with these working cowboys, and with these songs, that's the kind of mood I wanted to create. There's still that cowboy way of life that's very much alive, and there's still a lot of good people doing it, and this is their music.
McKinny: It sounds like a really great kind of tribute to the cowboy way of life. I don't think that too many people realize that these cowboys are also the ones that help feed the nation, just as much as any dairy, corn, rice, soy or wheat farmer. Their job is just as hard and just as important as any financial manager, IT consultant, lawyer, or marketing genius. They're the guys who literally put meat on the table.
Daniels: Oh yeah, that's absolutely correct. Man, I'm so glad I did it, too. I went out with these guys in Nevada one time, and I went out with the guys in Texas, and it's fascinating because it's so different from our part of the country with the lush grass and plentiful water that we don't have to have all that acreage. When we think about raising cows, we think about getting a couple of 50-acre pastures and put a hundred head of cattle in it, and you've got no problem with rounding them up. But out there in the wide open West, you're talking about thousands upon thousands of acres, with canyons, mountains, and ravines — all kinds of places for cattle to get off to, and it's quite a job! It's a hard day's work, but it's really fun because it's so unique to me; a way of life that I had admired and to have actually been able to participate in it was such a pleasure. It was eye-opening to me, and I really enjoyed it. I'm also glad that I was able to do it when I was young enough to keep up with it, physically. That kind of solitary lifestyle really gives you a whole different perspective on things: you don't have TV, radio, you don't know what's going on in the world and it doesn't make any difference, anyway. You're just out there doing your job with a bunch of guys you see in the morning at breakfast time; you see them at lunch time, and again at suppertime.
After the day's work is done, you sit around drinking coffee and telling stories before heading off to your bedroll. It's really neat — you run into some real characters; people who have stories to tell about cowboy life and other things… It's a real Americana experience, and one I'm so glad I got to witness firsthand. I learned so much from those professional cowboys; it was a real learning experience for me.
The whole album is really a tribute to a lost breed, a solitary way of life. We wanted to keep it simple, because we didn't want to lose that flavor of sitting on the back porch or around the campfire with two or three guys, just telling the story.
McKinny: So with your concerts, are you going to be doing things acoustically?
Daniels: No, we'll still be going full-bore with the whole band. In fact, I probably won't be able to add any of these new songs to the show for a while because we just don't have the time to rehearse. Right now we're in the middle of our hard core concert season, and we just don't have the time to break the songs down and rehearse them to put them into the set, but rest assured, we're still going balls to the wall with our regular concerts.
McKinny: I see on your concert schedule that you'll be out in my neck of the woods in November at The Mansion in Branson, Missouri. That's a great venue. Have you played there before?
Daniels: We've been there in Branson doing shows for the last two or three years. We've played a couple of time there where we stayed for more than one day. I don't like doing that — I like one day in and one day out. But we've been playing at the Oak Ridge Boys Theater in Branson the last two or three years now. They're such good guys, and it's a really nice venue. I'm so glad they went into the Hall of Fame this last year, it was such a nice thing to have happen; they really deserved it.
McKinny: Speaking of the Hall of Fame, you were inducted into the Country Music HOF this year. What did you think about that?
Daniels: Go figure, right? Well, you know, that's the one you absolutely have no control over. The voting membership, nobody can lobby for, because the voting membership is kept secret. You know, it was such a surprise, I mean I still haven't learned to live with it, yet. I keep thinking I'm going to get a phone call from someone over there, saying "Charlie, I'm really sorry, but we've made a mistake, you're really not in the Hall of Fame, we mixed you up with somebody else…" Not really, but it's almost that unbelievable to me. It's a real honor to be inducted.
McKinny: Well, you're in some incredible company with fellow inductees this year, the inimitable Randy Travis and legendary producer and record company exec, Fred Foster. That's got to make it special as well.
Daniels: Yep, two thirds of this year's class in wheelchairs, man. I'm saying that to be positive about it, especially with Randy. It's hard for him, talking and walking; it took everything he had to walk up to that microphone with his lovely wife to say "Thank you." It was such a touching moment.  We played the… Hell, I call it the "CMA this/that Festival" — the real name's so convoluted nobody uses it… Anyway, we brought Randy up on stage just as a walk-on, and the crowd in that stadium just loved him. You could see and feel it from the crowd, and Randy, too. He's the real deal. You could see how wonderful it was for him to realize that people still remember him, still love him for all he's done. I was able to introduce him at the concert, and it was just great to be able to be part of it. I keep telling him, "Man, you're going to be okay, you're going to come back." Pray for him, if you will. He deserves it.
McKinny: When something like that happens to someone like Randy Travis who is so universally loved, it really drives home the fact that something like the stroke he suffered can happen to anyone of us, at any time, and that we can't forget people just because something happens to them that may make us feel uncomfortable about our own future, or our own vulnerability as human beings. I know you are all about making people feel special who may be in rough waters, and you especially support our military and our veterans. Tell me about the project that you're involved in that helps veterans readjust to civilian life back home.
Daniels: We have an organization called "The Journey Home Project", and its main mission is to assist men and women, most of which are coming back from their service in war zones in Afghanistan and Iraq, to make the adjustments to get back into civilian life. It may seem simple to people who have never done that. But the kind of life, especially those who were in combat zones getting shot at and dodging IEDs, you put them folks right back into civilian life, and there's some adjustments that they need to make; needs they have.
Our government is doing a lousy job of taking care of these guys and gals of attending to their medical and educational needs, and all the other things that need to be done, so that's where we come in. We made a substantial contribution of having a Veteran's Center at Middle Tennessee State University. They have a pretty good-sized veteran student population enrolled there, and these guys walking on campus there after returning from overseas service and being among the regular student population  is like men walking among boys, or women walking among girls. I mean, college kids are mostly concerned with things like who they're going to date this week, and these guys and gals have been dodging bullets and stuff, so they really don't have that much in common, except maybe their age. So this Veteran's Center gives them a place to go to where they can be together, spend time together with fellow veterans. And we also have video conferencing facilities, health care specialists there if anyone is experiencing any mental health issues, they can talk to someone there.
We do job placement there; we help people buy furniture; we help them get college educations — whatever the need happens to be that we have the money to do it with, and we can do it, we take applications and have a board meeting, and once we decide to do it, it gets done. We're trying to help these good people reintegrate back into society with the compassion and support they need. A lot of people are making the efforts to help our veterans — there are a lot of good people who support our vets that are making life for these people who sacrifice so much on our behalf just that much easier for them, and I'm honored to have some small part in that with all those wonderful people trying to do something about it.
McKinny: I was at last year's Volunteer Jam show at the Bridgestone Arena in Nashville. I'm a really big fan of Blackberry Smoke, so I just wanted to thank you in person for inviting them to be a part of the show — it was my first opportunity to see them perform live, and boy did they sound great! So thank you!
Daniels: Well, we wanted them on, we wanted badly to have them on the show. We're doing it a little different this year. What happened last year, I know you know this with all the artists we had on, was that we sent invitations out, and of course what usually happens is that a lot of people can't accept the invites for various reasons, but usually it's because of already scheduled shows they're doing. But we started getting RSVPs, and it was just so many people accepting, and it was so crazy busy that we only had time for people to do one or two songs. So what we're doing this year is less artists and more songs from each. We've got Larry the Cable Guy, who's always a hoot, and we've got Kid Rock, Travis Tritt, Chris Stapleton, and we'll have some people that we're not naming yet, and some special guests that'll pop in as well. So it's going to be a really nice show, a big event, and that's happening in November on the 30th. We're also celebrating my 80th birthday that day…
McKinny: I can't believe that you're 80! You sure don't look or act like it!
Daniels: I can't believe it, either! Seems like just last week I was 50, and all of a sudden I'm 80! I'm happy; I'm happy to be 80. I'm just happy to have been at this for so long and still in good health.
McKinny: I know you love the road and playing music for folks all over, and after all these years performing out on the road, how do you cope with the road, and some of the monotony that being on the road can bring?
Daniels: There's no monotony to touring for me, actually. It's all still exciting to me. I do it because I love to be on stage in front of people; I love to entertain people. I'm addicted to it. That's the reason I'm here, that's the fascination for me, what it's all about. If I ever got to the point to where I felt I was not doing a good show, if I felt like I was putting on a sub-standard show, or that my health was preventing me from feeling like I was doing a good job, I would quit. But man, I'm still doing it, and thank God I've still got a voice left, and I'm just living the life, and that's what keeps me going.
McKinny: Let's switch gears for a moment because you've been very outspoken about your views on social issues and politics in particular especially about things like the Second Amendment and freedom of speech issues. What are your general observations and opinions on the way this current presidential election cycle has played out, and what do you think the ramifications will be, one way or the other?
Daniels: I think that the stakes are the highest they've been in a long time. I think that we have a pretty clear cut decision to make as far as some of the rights that people like you and me treasure — if you're hunting, fishing, and like the outdoors, and if you enjoy your personal freedoms, I think we have a very real danger of the Second Amendment being tampered with, much more so than it already has been.
You know, what the scary thing about it is to me is one of the things people don't think too much about, of course they've made a big deal about in this election, is the Supreme Court. Once they do something, once they make a decision, it's done. We could wake up one morning and hear that they've ruled one way and that they're going to come and confiscate your firearms; or that you can't own anything larger than a .22 caliber rifle, or you can't own handguns… And once they do it, it's done, without as much as a vote from the people. What do you do then? What do you say, where do you go for recourse?
So the best thing you can do to keep that from happening is to elect people who promise —of course, the danger there is that people's promises aren't always good —but our best bet is to elect people who promise, and have a track record of protecting the Second Amendment. And to be honest with you, I just don't see that in the Democrat Party at all. I see danger, and I think right now that the whole thing has become a three-ring circus, and I think it's time for the both of them to get their fingers out, and to stop messing with the Constitution, and to start addressing the issues that we all care about.
We've heard enough about Hillary Clinton and Donald Trump to fill the Grand Canyon. I mean, come on! What I want to hear, and what I think the American people want to hear from these candidates is not what they SAY they're going to do about these issues that are facing our country, but tell me HOW they're going to tackle these problems from a realistic standpoint. What are they going to do about the almost twenty trillion-dollar national debt? How are they going to pay it back? Tell me about what you're going to do to rebuild our military, which is at its smallest since before the Second World War. What are they going to do about entitlements?
How can we continue to keep putting out so much money on programs we can no longer afford, while we're not taking proper care of our veterans who've earned the right to our help? What're you going to do about the coal industry, and why does Hillary want to destroy an entire industry that could help make us energy independent and create jobs for people in the coal producing regions of the country like West Virginia, Pennsylvania, and Ohio? What are you going to do? TELL ME what you are going to do. Tell me HOW you're going to do it. I don't want to hear anymore about Hillary Clinton's email. I know she screwed up, and I know she needs to pay for that. But I don't want to hear about it anymore. Time is getting short. I want to hear some real solutions from both candidates, because that's what's important right now.
If I were running, I'd say something like, "Listen, we've said enough about each other. I don't know what he's going to do, or she's going to do. But what I am going to do to fix America." Then I'd lay out my plan in plain, simple terms so that everyone could understand exactly what I meant when I say I'm going to rebuild our military, or I'm going to make us energy independent, or I'm going to help our economy create new jobs through less government regulation, or I'm going to encourage corporate expansion and growth through cutting corporate taxes, or this is how I'm going to repeal and replace the disaster that is Obama Care.
Now can you imagine what would happen if a candidate actually did that, and laid out their plan to fix the problems we face for all the American people to see? The last time a candidate did that was Ronald Reagan, and he won the election in a landslide. He stood up there, told people what he was going to do, and he did it. These politicians promise things that they have no idea on how to deliver, and the American people are just fed up with it. I want to hear something real from our politicians. Gimme something, man!
This country is starving for leadership.  There's no reason a group like ISIS should even exist, if we had leaders who knew what they were doing, what the score is, they would all be dead. The only reason that they exist is that the world does not get together, there's no leadership; nobody to respect and to stand up — they don't care what Obama says in any speech — they don't believe him, anyway. They think he's a liar, and they believe he's gone soft on Muslims, and I think he has, too. It all boils down to a country and a world that is starving for leadership – American leadership. If someone stands up and starts acting like a leader, it would be so great.
I don't know what the hell's going to happen, I really don't. But I know that four more years of what Obama has done, the hole he has dug for us… I mean, most people can't even comprehend just how much money $20 trillion dollars is. That's a number with eleven zeros behind it. We're talking about a number that sometime in the near future will take 100% of our GDP to just pay the interest on our debt. When that happens, what's going to happen to the Dollar? What's going to happen to our economy, with the rampant, runaway inflation that will be sure to follow? People just don't realize how big the problems are that we face, because they're not looking at that. Somebody's got to do something, or we aren't going to be here much longer as a nation, especially if it's left to the current bunch of people up in Washington, DC.

McKinny: It's a horrible, frightening thought when you try to wrap your mind around the fact that what we owe as a nation, and what we're doing — spending more than this country has in the previous 100 years in the last decade. I mean, we're talking about a time since 1900 when we got through the Great Depression, fought two World Wars, the rebuilding of Japan and Western Europe after WWII, then fighting Communist expansion in Korea, Cuba, Vietnam, Laos, Cambodia, South America, the Middle East and Africa —and we're STILL spending our nation's future like a high school kid at the mall with a stolen credit card!
Daniels: How many people do you think in this country see the fiscal problems we face as you just laid them out now? Because a lot of the politicians and the liberal media are telling us, "Oh that's not a problem. We can take care of that." And, a lot of the people want to believe it, because the alternative is just too scary or too hard to contemplate.
McKinny: What are your thoughts on the current situation with race relations in this country? Do you believe that there is systemic racism still in this country as people like Barack Obama, Jesse Jackson, Al Sharpton, and Hillary Clinton would have us believe, or is the problem based in something else?
Daniels: The president is a black man. A great many of the top athletes in America are black men and women. We have black entertainers, black congressmen and congresswomen. We have black governors, black CEOs of Fortune 500 companies. Minorities in America have accomplished great things, and have done so in all walks of life. But people need to stop giving credence and listening to the likes of the Jesse Jacksons and Al Sharptons of the world. Those are people whose entire reason for being is to stir the pot, create dissention and animosity where none existed before. If the problem doesn't exist, they'll create it. They're nothing more than plantation owners of today. They're carpetbaggers.
Basically, what they're telling people in the minority communities is, "Oh, you're not capable, and it's not your fault. It's someone else's fault. Someone else took it away from you." They're not telling people what they need to hear, which is the truth, and the truth sounds a little something like, "Hey, it's out there, go get it." You may have to work a little harder to achieve what you want, but look at what so-and-so's doing — look at what this minority congress person, or this minority business person, or this minority scientist is doing. Look at these successful people. Where in the hell do you think they came from, and how did they get to where they are? It takes hard work and dedication; sacrifice. But they went to school, they got the education and the grades, and they made something of themselves. So pull your pants up so we can't see the crack of your ass, show some personal pride and a little bit of work ethic, and you can start working towards being whom and what you want to become." Those successful people, minorities or otherwise, they all went to work on themselves. They got the education, they worked on their personality and their social skills, they stopped trying to speak and act like gangsters, and they went to work to build a career for themselves. So you've got to ask yourself this: where do you want to be twenty years from now? You're going to either be dead or in a prison cell if you keep on going like you are now.
That's what the truth sounds like… But nobody is talking like that to those who need to hear it, and something has to be done to change that. And not just minorities – white people, too. We're all in the same boat.
Stay connected with Charlie Daniels Band: