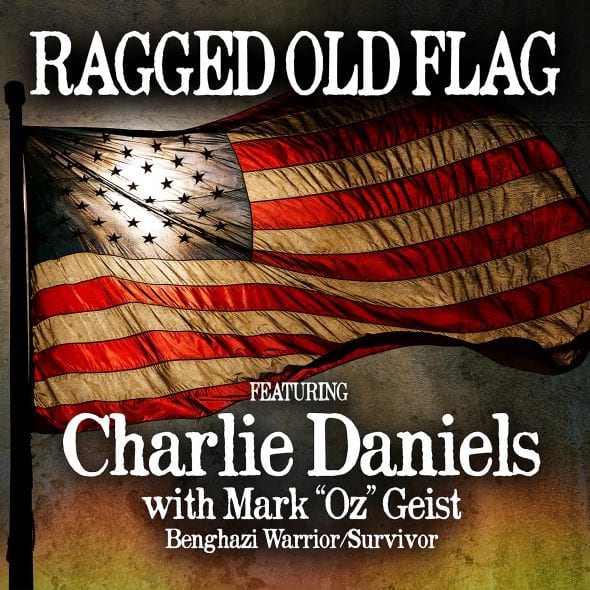 View video of "Ragged Old Flag," produced by d corlew films HERE.
NASHVILLE, Tenn. – Country Music Hall of Fame member, Charlie Daniels is showcasing his love of the Red, White, and Blue once again in his latest recording that will be available for sale digitally on July 4th via iTunes, Apple Music, Google Play, Amazon. In addition, a new video produced by d corlew films and featured on CMT.com has been released to celebrate the song.
Daniels version of the Johnny Cash standard "Ragged Old Flag," also includes vocals by Mark "Oz" Geist, Benghazi Warrior/Survivor and co-author of the autobiography "13 Hours: The Inside Account of What Really Happened in Benghazi."
"The 'Ragged Old Flag' project was very personal to me," said David Corlew, "Ragged Old Flag" Video Producer and Charlie Daniels Manager. "When you have the opportunity to create images for a piece that was written by Johnny Cash, performed by Charlie Daniels- and its content consists of what is closest to my heart: our warriors- present and past, our country, and our flag- it really can't get any better."
Daniels founded his charity The Journey Home Project in 2014, managed by Board Members David Corlew, with Joe and Mercedez Longever. The Journey Home Project sees its mission as connecting donors to veterans' organizations that do the most good. They identify the centers, organizations and programs that can best serve our soldiers and families in their journey to reintegrate back to civilian life, on life's terms.
For more information on Daniels' latest projects, visit www.CharlieDaniels.com. To learn more about how to support The Journey Home Project, visit www.thejourneyhomeproject.org.
About Charlie Daniels:
With a career spanning nearly 60 years and exceeding 20 million in sales worldwide Charlie Daniels is the quintessential southerner with a healthy dose of wild west cowboy. For decades, he has connected with his millions of fans in the varying genres of music that reflect his steadfast refusal to label his music as anything other than the "Charlie Daniels Band" sound — music that is now sung around the fire at 4-H Club and scout camps, helped elect an American President, and been popularized on a variety of radio formats. Having celebrated multiple GRAMMY® Awards, CMA Awards, ACM Awards, BMI Awards, GMA Dove Awards, CCMA Awards, his list of accolades is broad; the latest being the newest inductee to the Country Music Hall of Fame. Several of his albums have been RIAA Certified Multi-Platinum® and he has achieved a platinum-selling single in his iconic fiddle-ridden hit, "Devil Went Down To Georgia." An outspoken American patriot and strong supporter of the U.S. military, his talked-about Volunteer Jam concerts are world-famous musical extravaganzas featuring artists like Lynyrd Skynyrd, Ted Nugent, Trace Adkins, Alabama and others, all on one stage for one purpose – to raise funds for our U.S. military. Daniels 80th Birthday Volunteer Jam in 2016 raised funds for The Journey Home Project, a non-profit veterans assistance organization which he co-founded. For more information on Charlie Daniels, please visit www.charliedaniels.com.
About d corlew films:
d corlew films was formed in 2005 by manager/publisher, David Corlew, a 40-year music industry veteran. d corlew films is a multi-faceted film services company. Since its inception, the company's specialty has been concert/documentary projects as well as documentaries that tell the stories of the interview subjects in a highly personal and intimate way, focusing on the men and women of our Nation's military.
About The Journey Home Project
The Journey Home Project is a not-for-profit organization that assists other not-for-profits in securing funds to help causes that benefit veterans of the United States Armed Forces. The Journey Home Project was founded in 2014 by Country Music Hall of Famer Charlie Daniels and board members: David Corlew, Ed Hardy, Joe Longever and Mercedez Longever. Conscious of the need to assist our nation's veterans, they have set out to partner with organizations that do the most good, with the least overhead. Working in tandem with these organizations, The Journey Home Project is making a difference in the lives of American patriots.
Source: Webster PR