Stream/Download "Bizarre Love Triangle"
https://ffm.to/cavo-bizarrelovetriangle
Find all things CAVO withe the LinkTree below:
WATCH CAVO – "Bizarre Love Triangle" – From CAVO covers Vol. 1 EP:

CAVO released their cover of New Order's "Bizarre Love Triangle" to all major platforms via TLG/INgrooves.
"New Order have been one of my favorite bands since I was a kid so when we started talking about songs from the 80s to put our own spin on, I immediately started thinking about one of their songs. 'Bizarre Love Triangle' is obviously a classic song, but to me it's always represented the writing and live peak of that band, so it felt like one that would be really fun to put the CAVO spin on.
I've always felt our band had a similar group effort vibe like New Order with the way each instrument shines in our songs. Whether it's Brian's upfront and unique bass lines, Chris' creative and out of left field guitar parts, or Casey's unique voice and crafty lyrics, they all come together to make something special and all it's own. A group effort if you will. 4 people who come together musically and it creates this sound. That's what I always loved about New Order growing up, and it's always been something I love about our band as well," says Andy Herrin.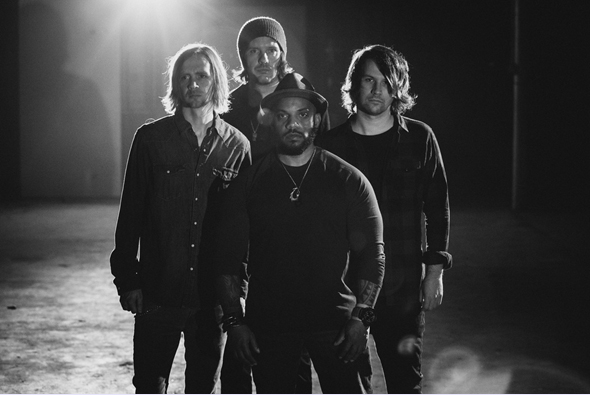 The creative force of Rock/Alternative from St. Louis is still creating and releasing new music. Humble beginnings to major label success to where they are now seems like a whirlwind but a lot of bands find themselves in these spaces. Bassist Brian Smith says "We are still a band releasing music we want to release and we hope people dig what we are doing". Drummer Andy Herrin adds, "Every EP or record we do won't be like one previously released and we have a lot of music to share and create." "The great thing about the four of us in Cavo is that we've always been fully committed to this band," explains bassist Brian Smith. "Even if we haven't been in a spotlight for a bit and we have other projects going on, our bond is as tight as ever, and we've never stopped releasing music. We love writing together, playing together and just being together as friends, and that's why we've been able to keep going together as long as we have."
Cavo has teamed up with independent distributor TLG/INgrooves to expose all of these new crafted songs to a broader global audience. The band has released several songs from the first of 6 planned EPs. Three original and three cover EPs. The first original EP is titled The Shakes with songs "Not Over You", "Dizzy" and the self-titled track "The Shakes" currently released and "Synchronicity II" and "Drive" from the bands CAVO Cover vol.1 EP also released. Casey adds "We are almost finished with our second original EP and after that we start work on the second covers EP." "It's just a really cool creative thing we have here and we are really excited to share what we are doing with everyone," adds Chris.
It's safe to say the CAVO boys are simply writing and recording new material and plan to release tons of new music in 2023 and for unforeseeable future!
For More Information Please Visit: