Drumming heavy before heavy was cool
by Ray Rocha, editor, Music Insider Magazine
Music Insider Magazine hooked up with "the world's greatest drummer," Carmine Appice to discuss everything from working with Kelly Keeling to playing with Vanilla Fudge, Rod Stewart, King Kobra and Cactus; his new snare drum; the who's who of rock; and what's wrong with the digital age.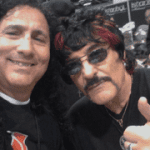 As with iconic artists like Appice, the conversation was colorful because he is involved in many projects. He is an institution: Appice was drumming heavy before drumming heavy was cool.
Recently, Appice played drums on the song "Perfect Day" on a Keeling tribute CD called "Tune in to Mind Radio." The CD has five songs by Keeling and features many artists in addition to Carmine Appice: Anthony Z'sler, Tony Franklin, Kenny Wayne Shepherd, Charlie Gilbert, Marty Paris, Park Sipes, Mike Qualls, Dallas Holder, Greg Cerenzia and Steve Goatley.
Here's the latest in Appice's world.
MIM: How did "Perfect Day" come about?
Carmine Appice: The song "Perfect Day" was written by me, Kelly (Keeling) and Tony Franklin. Perfect is a song written for my Guitar Zeus Band in about 1997. Kelly wrote most of the song. It's a great track. I did the drums, and I am happy with my performance on the "Tune in to Mind Radio" record. We did the recording in many different places and never met during the recording.
MIM: How do you like recording in the digital age?
Appice: We just did a new King Kobra Album like that. We were all in different cities, recorded our parts and then sent them to Germany to be mixed and mastered. The video footage is all being edited in Spain. Now that is the great stuff about computers. The bad stuff is that it is killing everyone's sales.
MIM: About the new King Kobra CD, it looks like Michael Voss mixed it.
Appice: He did, for the second time. He did an awesome job. That should be out late spring or late summer. We may even do a few shows. We may do the Rocklahoma show in May or some others.
MIM: It would be great for King Kobra to do some shows.
Appice: Yeah, it would be great. We shot a video in Vegas. It was fun and didn't turn out too bad. If we do some shows, we will play all the great songs, "Hunger," "Breakin' Out," etc. The video and album both look and sound great. It may be available on YouTube now. Michael Voss is an awesome mixer. He played some on the album as well. He knows how to get the King Kobra Sound —  so full, rockin' and natural. The drums are on analog and sound so much fuller than drums in Pro Tools. I really only record with Pro Tools when I am forced to do so. I prefer analog.
We have a new Cactus album, and I was forced to use Pro Tools. I would love to redo the drums in analog. There is no depth to the digital drum sound. With a snare drum, it is really noticeable.
MM: You are still endorsing the D Drums, right? Talk about your new snare coming out.
Appice: I have a snare out, a Carmine Appice Brass, 5-1/2, Signature Snare. It's a great sounding drum. I also have a "mid-line" drum set coming out. It's the Carmine Classic Kit. It's geared toward teenagers and new players and is modeled after the kit I played with Rod Stewart. I also have the Carmine Shake Cymbal out. Everybody who hears it loves it.
MIM: You are working on a new book. This I've got to read. Tell us about it.
Appice: I signed a book deal with VH1 books. The guy who helped Nikki Sixx (Ian Gittins), with his book is co-writing it with me. He is a tremendous writer. When VH1 read my manuscripts and stories, they suggested him right away, and I believe he will do a great job. We met, hit it off and already have about 12 hours of interviews and 200 pages of stories from over the years. I am looking for the first part of the book, any day now.
Unfortunately, I have to have another shoulder surgery, the same rotator cuff surgery I had on my other shoulder a few years ago. It's all from playing drums. The upside is that I will have the time to work on the book. I can't drum, and I will be working on the book while recovering.
MIM: You always stay so busy with recording, playing live and clinics and more. What can we look forward to in 2013?
Appice: Well, it was going to be very interesting doing some Drum Wars shows with my brother in the U.S. and Canada. Cactus was going to do shows in the U.S., then a tour of Europe, but everything is being pushed back due to the surgery. In May, we hope to start in with the Drum Wars shows, some King Kobra shows and the Cactus shows. I even have some Vanilla Fudge shows possibly in June.
I am working on a speaking tour, also, The History of Rock. I grew up in the best era of music. While I was starting my career and coming up, so were some of rock's biggest icons: The Beatles, Jimi Hendrix, Janis Joplin, The Doors, Led Zeppelin, Cream, The Who, The Stones, Jeff Beck, Sly Stone.
MIM: That's a who's who of Rock.
Appice: I am making a parallel (in the tour) to what was happening in rock at times in my career. It is inspiring, entertaining, historical and informative. Starting with the 60s, like when Revolver came out. To me, that's when the Beatles became cool. Prior to Revolver, they just weren't cool, you know? Before that they were okay. I mean "I wanna hold your hand" was pretty gay.
As a musicians' musician, I studied all the great drummers, classical, jazz, latin. When Revolver came out, it just blew me away. On that record, there were so many innovations: backwards recording, orchestral recording and more. So I parallel mine and Vanilla Fudge's career and first album with what was happening at the time. I remember our record was like no. 5 or so, and we could never get past Sgt. Pepper, which had a ton of innovation.
Then, there was The Who, Cream and Jimi Hendrix. I think those drummers and I influenced many other drummers. I was the only American! So I talk about Hendrix' innovations, like the wah wah and all that. I talk about knowing the bands, funny stories, my career and how it intersected with all the innovations at that time. I talk about living through the 60s and 70s and all of the craziness. I do a question-and-answer part after, then if drums are available, I play a bit and do a meet and greet. My girlfriend does an interview section also, with a presentation. It's very cool. We are working on scheduling this in different locations.
MIM: You re-released some books recently?
Appice: I found some old books I wrote when I was packing to move recently — that I wrote in 1974. I showed one to Hudson Music, and we added to it and came up with a really good book. It is troubling that it is available on the Internet for free, though. It's hard to get anything going and make a profit when so much is ripped off, downloaded and available for free.
MIM: Yeah, there are some pros and cons to the digital age.
Appice: I know. I am losing thousands because of assholes who scan my books and put 'em on the Internet for free. Who does that? It's just terrible.
MIM: How did you get your star at the Rock Walk between Buddy Rich and Gene Krupa?
Appice: I am a friend of the Guitar Center, and the Drum Off they do, originally was called the "Carmine Appice Drum Off." Now it's the Guitar Center Drum Off. I did the last one in '85 or '86, I think. I had a drum set in the window of the Guitar Center for 10 years. They asked me if I would come in and be inducted along with Alex Van Halen and Ginger Baker; and Buddy Rich, Gene Krupa, John Bonham and Keith Moon who have passed. Gene and Buddy were my idols, and of course the others are all great drummers. I have a picture of it somewhere. It will probably make it into my book.



MIM: I attended of few of those Carmine Appice Drum Offs when I lived in Hollywood. They were great. Can you talk about the "When Rod Was God" shows?
Appice: It's an idea I came up with in Europe a while back. It's a total show with the energy, look and feel from the 70s. Rod doesn't do those songs anymore. I just saw him in a Christmas show, and he sounds totally different. Those high notes are so hard to hit. Phile Chen, Jim Cregan, Billy Peek and Gary Grainger should all be on board. We should have something together in 2013.
MIM: At NAMM 2013, while recovering from shoulder surgery, Appice told us about his Rockaholics Metal Fan Camp. Vinny and Carmine will hold a weekend seminar with their friends telling stories, jamming and just hanging out. This will be near Woodstock, New York. For more info, email Carmine at info@panacea-ent.com, and he will make sure you are on the VIP pre-registration list.