NAMED BEST SHOW IN LAS VEGAS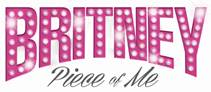 Britney Spears' Massively Successful Headlining Residency Show Also Voted "Best Bachelorette Party" By Readers of the Las Vegas Review-Journal
LAS VEGAS, NV (March 30, 2015) – The fans have spoken. International superstar Britney Spears' wildly popular headlining residency show, "Britney: Piece of Me" at Planet Hollywood Resort & Casino, has been voted "Best Overall Show" and "Best Bachelorette Party" by readers of the Las Vegas Review-Journal. The awards further cement Britney's title as a true Las Vegas entertainment icon, and mark another milestone for what has been an incredible, record-breaking show since it opened in Dec. 2013. Adding more cause for celebration this year, Britney will debut her new single with Iggy Azalea, "Pretty Girls," on May 5.
Dazzling fans with show-stopping performances for more than 15 years, it should come as no surprise that Britney's Las Vegas show was voted the best in the city. The extraordinary production is a compilation of more than 20 of Britney's worldwide hits, including "Baby One More Time," "Oops I Did It Again," "Toxic," "Circus," "Womanizer" and "Slave 4 U." "Britney: Piece of Me" is the most cutting-edge pop concert experience ever produced for Las Vegas, featuring a four-piece band, 14 dancers, elaborate sets, unforgettable costumes, state-of-the-art, never-before-seen technology and one of the largest indoor video and projection installations in the world.
Additionally, since "Britney: Piece of Me" has become a "must see" experience for bachelorette parties in Las Vegas, the show was also rightfully voted "Best Bachelorette Party." The AXIS, the theater where Britney performs, is part nightclub and part theater, setting it apart from any other venue in Las Vegas. The theater's innovative dance floor and exclusive table and bottle service provided by Drai's Management Group set the perfect scene for a bride-to-be and her friends to kick off their night of celebration in style.
In addition to her fans, critics from around the world have been raving about Britney's show since it debuted:
"Las Vegas may never be the same now that Britney Spears has started a residency in Nevada's Sin City."
Alan Duke, CNN.com
"Britney Spears' return to the stage … was nothing short of a spectacle." 
Courtney Subramanian, Time
"The girl still knows how to put on a show."
Mark Gray, People Magazine
"Wows with a rapid-fire collection of her greatest hits."
Sophie Schillaci, MTV.com
"With elaborate sets and showy choreography, the pop star's Vegas kickoff electrified."
Marco della Cava, USA Today
"She single-handedly brought the spectacle of a touring arena show into a nightclub-like theater and pulled off the gamble with a flawless performance."
Robin Leach, Las Vegas Sun  
"A non-stop hits bonanza"
Keith Caulfield, Billboard
"You can say a lot of things about Britney Spears — but you can't say she doesn't work, b**ch … Pulling off a 90-minute, 23-song tour de force …
You're going to want to make the trip to Vegas over the course of her two-year stint."
Laura Hertzfeld, Entertainment Weekly
Tickets to the following performances are on sale now:
April 2015: Wednesday, April 15; Friday, April 17; Saturday, April 18; Wednesday, April 22; Friday, April 24; Saturday, April 25; Wednesday, April 29
May 2015: Friday, May 1; Saturday, May 2; Wednesday, May 6; Friday, May 8; Saturday, May 9; Wednesday, May 13; Friday, May 15; Saturday, May 16; Wednesday, May 20
August 2015: Wednesday, August 5; Friday, August 7; Saturday, August 8; Wednesday, August 12; Friday, August 14; Saturday, August 15; Tuesday, August 18; Wednesday, August 19; Friday, August 21; Saturday, August 22; Wednesday, August 26; Friday, August 28; Saturday, August 29
September 2015: Wednesday, September 2; Friday, September 4; Saturday, September 5; Wednesday, September 9
General ticket prices range from $59 to $229, plus applicable tax and fees, and may be purchased online at BritneyPieceofMe.com or in-person at the Planet Hollywood box office. Prices for VIP packages vary depending upon the show date. All shows begin at 9 p.m.
PLANET HOLLYWOOD RESORT & CASINO
Planet Hollywood Resort & Casino is the centerpiece of the famed Las Vegas strip, with 2,500 beautifully designed guest rooms and suites showcasing some of the best views in town, and endless options of unparalleled shopping, distinguished dining, popular entertainment and a bustling nightlife. Planet Hollywood encompasses more than 100,000 square-feet of gaming, several lounges, eleven restaurants including Gordon Ramsay BurGR, KOI, Strip House, Pin-Up Pizza, the award-winning Spice Market Buffet and LA's Pink's Hot Dogs, and the Planet Hollywood Spa by Mandara. The resort is home to one of pop music's biggest superstars, Britney Spears, and her show, "Britney: Piece of Me," as well as comedian Jeff Dunham and his residency show, "JEFF DUNHAM: Not Playing with a Full Deck." The property is encircled by Miracle Mile Shops with more than 170 specialty stores and restaurants. For more information, visit www.planethollywoodresort.com. Find Planet Hollywood on Facebook and follow on Twitter.