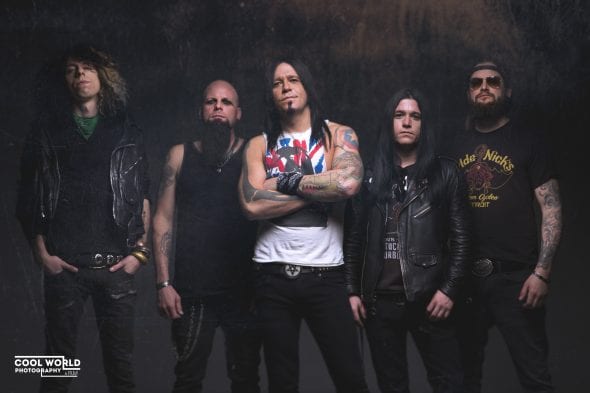 BOBAFLEX is making quite the reputation for themselves as one of the hardest touring bands in the country, playing 154 shows in 2016. The band has built their reputation for high-energy live shows through their relentless touring. The McCoy brothers, front men Shaun and Marty —both on guitar/vocals — formed the band back in 1998 in their home town of Mason, West Virginia, near Point Pleasant on the Ohio/West Virginia border.
This geography is important because the McCoy brothers are actually direct descendents of one the most infamous historical feuding families in American history:  the notorious McCoy Clan of the Hatfield and McCoy feud, which began in the heart of the Tug River Valley in Appalachia shortly after the end of the Civil War, allegedly over a stolen pig and the feud continued for more than a century. This makes for interesting back story, to say the least. The other current members, whose back stories are less historically notable for feuding, are Dave Tipple (guitar/vocals), Jymmy Tolland (bass), and Tommy Johnson (drums).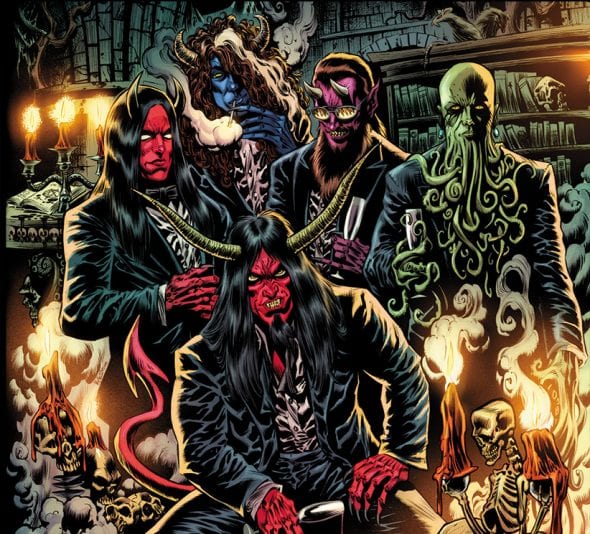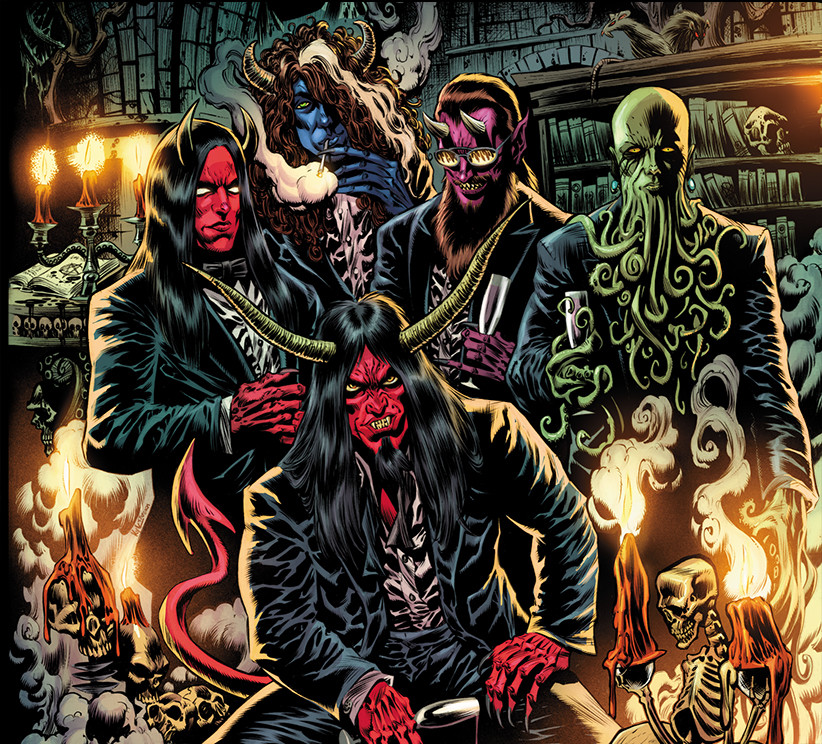 Bobaflex released their 8th studio album "Eloquent Demons" on August 25th, 2017. This is also the first release on their new label, Thermal Entertainment. BOBAFLEX released their first single of the new album, the interesting choice of recording a cover of Pink Floyd's "Hey, You," back in March of this year, prior to the album's full release in August. The second single released by the band, again before the full album, was the track "Long Time Coming" on August 1st, and it quickly became one of my favorite songs off this new album.
My normal format for doing music reviews has been to review every individual song on an album, but lately I've come to the conclusion that on albums such as this, where there are no stinkers, no "filler" songs on this album — they're all excellent on this album — that I'd pick the ones that stand out the most and are most deserving of airplay and your undivided attention, in my humble opinion.
Eloquent Demons contains ten new tracks, and this album is stuffed full of some great guitar riffage, extremely catchy and groove-oriented hooks and melodies with very strong lead vocals and vocal harmonies, in addition to some seriously heavy and hard bottom-end bass and drum work. The standout tracks on this album — the songs that have that something extra that gives them a greater listenable quality, or a hook that sticks in your head over the rest are "I Am A Nightmare," Long Time Coming," "Say What You Will," "Real Sadness," "Off With Your Head," "Hey, You!" and "Reckless." As I said, there are no filler tracks on this album, and with six out of ten tracks that immediately stand out above the rest, that's better than most other bands could ever hope for.
I Am A Nightmare starts things off with a great combination of everything BOBAFLEX has always done well: mixing harmony vocals, heavy riffs and great lyrics with serious, radio-ready hooks. The lead guitar is highly focused and well executed, and this is but one of many tracks that features some truly blistering guitar leads. The vocals are done so nicely that they rival the venerable UK icons, Queen for their quality.
Long Time Coming is one of those songs where there's no doubt in the listener's mind why this was the second single released from the new album. The guitar hook of this song is so catchy as to be contagious! The melodies are equally as captivating to go along with some smart lyrics that infer a modicum of religious and political themes that stretch and float throughout the entire album, but particularly in this track with lyrics like "What if God don't believe in us?"
Say What You Will is one of my favorites on the album, featuring some of the band's best lyrics and extraordinary vocal harmonies, with feverish guitars surrounded by one of the most melodic leads I've heard in years. The bass riffs are as tasty as the straight ahead drum works of Tommy Johnson. Bravo to the rhythm section for driving this whole chaotic amalgam through to the end.
Real Sadness starts with the vaguely doom signaling sounds of guitars and devilishly melodic and dark sounds reminiscent of Alice in Chains — just enough for such a hat tip to make Jerry Cantrell proud. The dark despair of the lyrics are countered nicely by the sickly sweet harmonies and muscular guitars that quietly slip into a beautiful clean tone in the breakdown before they return to the chaos of the verses. This is dark and sweet and bitter, and sounds like a dessert for your ears. Delicious!
Off With Your Head is another track that should start to get gobs of airplay if there is any justice in this pay-to-play radio world of ours. It's a strange ballad in that it's commercially viable instrumentally and vocally, yet the lyrics are as hard rock as they can be. "I'm so sick of this place, so sick of your face. Didn't want you to stay, but you won't go away… And this whole time I'm thinking, Off With Your Head!" I love a well-written hard rock pop ballad, and this one is as good as they get.
What can be said about BOBAFLEX's cover of venerable prog-rock band, Pink Floyd's "Hey, you!" from their classic album, The Wall that hasn't already been said, except that it was a brave thing to cover such an iconic song from such an iconic band? Many bands have tried to cover other such iconic songs without the success that BOBAFLEX has had with this one. They did such a masterful job of maintaining the feel and authenticity of the song while adding a heaviness and hard rock edge that didn't exist in the original that they succeeded in their quest to make this iconic song their own. I actually prefer their version to the original as it lends itself to more of an anger that should have existed in the original where only a sense of self-pity had been before. This is a masterful rendition of a great song, and it should help make a bigger mark on the music industry for this already deserving band that hasn't been there yet.
Reckless, the last track on the album stands out in that it is an obvious song of insolence and defiance against an industry that would have had them put it all away and pack up years ago. It's their "fuck you" to a music industry that makes a habit of eating their own, saying in no uncertain terms that this is a band that is in it for the long haul, and they're here to stay. If nothing else says that in this album, this track surely does. I for one am glad that they've stuck it out through the lean years and tough times and they've come back every time, bigger and better than before. I think this album is definitely in the running for one of the top albums release this year so far.
To pick up your very own copy of one of the best albums this year, you can visit their store by clicking HERE or by going to Amazon.com.
WEBSITES:
http://www.theofficialbobaflex.com/
https://www.instagram.com/therealbobaflex/
https://twitter.com/bobaflex
https://www.facebook.com/Bobaflex/
https://www.youtube.com/user/theofficialbobaflex/featured