FOR IMMEDIATE RELEASE
Music collaboration network taps proven PR agency to amplify awareness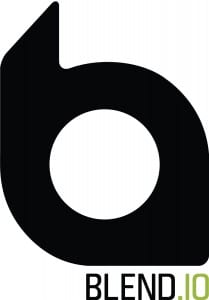 NYC (May 6, 2014) – Blend (http://blend.io), an open online network where music creators come together to share and collaborate on tracks, has partnered with Music Marcom, a PR and marketing agency focused on the music and audio space, to grow awareness for Blend's product and brand within it's core audience.
Blend was started by Alex Kolundzija and built at betaworks in New York City by music loving and producing technologists. With Blend, musicians and producers share in-progress tracks and songs to connect with other musicians and collaborate or "blend" each other's works. As a social network, Blend allows musicians to showcase and promote their music, discover interesting projects, follow other Blenders, and provide feedback. However, Blend extends the social concept to include music creation by providing a platform for music producers to collaborate directly with one another in their preferred DAW file format. While other networks focus on publishing completed music, Blend is focused on creating and collaborating while projects are in-progress.
"Music creation today often includes messy email threads and quirky hacks by the industry's most determined," says Kolundzija, Founder and CEO. "And even though music creators are so passionate about sharing and distributing their work, there isn't really a community for them to share it in. Yes, countless products have been built to help people discover, share, and listen to music – but we feel that music collaboration has been left out of the digital revolution."
Blend is working with cutting-edge musicians, such as Moby, Mad Zach and most recently with Erin Barra, who has made available the stems from five of her originally produced tracks and is encouraging other artists to remix and re-imagine her work. A remix initiative will run on Blend for three weeks, with the best remixes to be featured on the follow-up remix EP "Redefined".
Music Marcom is now in their 10th year of providing PR and marketing services to the music product and pro audio markets and sees Blend as a perfect fit for anyone creating music with technology. "Blend has made collaboration an extension of a musician's DAW of choice rather than a separate, cumbersome process," adds Brian McConnon, Managing Director of Music Marcom. "This streamlined workflow has lead to amazing collaborations between musicians around the world."
Blend's long-term vision is to enable collaboration for all musicians, but is currently focused on electronic music with support for many of the top DAW file formats. Users of Ableton Live, Maschine Garageband, Pro Tools and more can share and work in native project files, eliminating the hassle of importing, exporting, and converting formats.
For more information, please visit http://blend.io.
Media Contact:
Music Marcom LLC
Martina McConnon
martina@musicmarcom.com
Phone: 610-577-4982
www.musicmarcom.com