with The Nearly Deads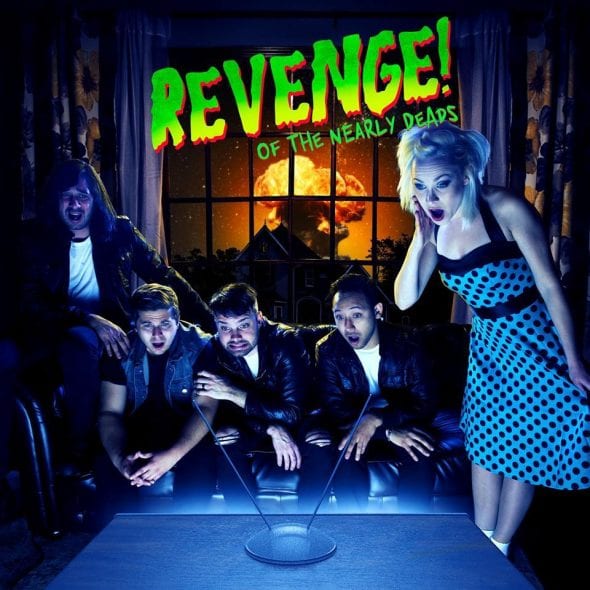 Long Island, NY Hard Rock band Blameshift have announced they will co-headline a tour this fall with
The Nearly Deads that will be sponsored by Strüng. The tour will kick off on October 12 in Stanhope, NJ and then conclude on November 2 in Nashville, TN.
Blameshift premiered the music video for their single "Monster" through VEVO earlier this year. The video directed by Eric Schneider coined the hashtag #iamamonster, showing the dirty path of a dollar bill, making a monster out of everyone it encounters. The video now has over 121,450 views on YouTube.
The band released Heart of Stone in mid 2016 while touring with New Years Day, Sylar and My Enemies and I. Before that Blameshift had been touring straight for nearly 8 years, logging over 1 million miles on the road, playing everything from the Vans Warped Tour to American Airlines Arena.
As an independent band Blameshift has accomplished more than they could have ever imagined. They have landed endorsements with the biggest music companies in the world like PRS Guitars, Sennheiser, GHS Strings & Bogner Amps as well as COLDCOCK Whiskey, Venue Magic and Sullen Clothing. They have toured alongside and shared the stage with bands like Pop Evil, Adelita's Way, Sick Puppies, Straight Line Stitch, 12 Stones and Black Stone Cherry to name just a few. They've lived in Los Angeles for months at a time, writing and recording songs with producer and mentor, Erik Ron (Issues, Set It Off, New Year's Day) and have landed dates on the Vans Warped Tour. Their music has been played on TV shows on MTV, Oxygen, E! Network and more. Their songs have charted on Active Rock Radio Charts and has been played on Sirius XM as well as hundreds of other radio stations nationally and internationally.
DOWNLOAD Blameshift's EP "HEART OF STONE" NOW ON ITUNES!
https://goo.gl/DyU5jr
Rising Nashville rock band The Nearly Deads have released their hotly-anticipated new EP, Revenge of the Nearly Deads, on vinyl, CD and digitally for purchase and stream via Kobalt Music.
Led by the inimitable vocalist Theresa Jeane along with Steven Tobi (guitar), Kevin Koelsch (bass), Javier Garza Jr. (guitar) and Josh Perrone (drums), The Nearly Deads are one of the hottest, rising rock bands to come out of Nashville.
The band's amalgam of powerful pop vocals and aggressive alternative rock music combined with their love of all things geek and messages of positivity and empowerment creates a truly unique style that's garnering attention from media and fans around the world. Their lyrics inspire and motivate with themes of moving on, taking control of your life, and being unapologetically true to yourself.
The band are fans of movies, video games and other pop culture media and like to reference their favorites in their music, videos and merchandise. This is something their fans, who are referred to as "zombies", love about them and it has helped them make a deeper connection to them. With that said, the band had viral success of their zombie fueled video for "Never Look Back" at over 7 million views!
TND have toured with bands In This Moment, Butcher Babies, Upon A Burning Body, Stitched Up Heart, Eyes Set to Kill, and opened for Halestorm as well as All American Rejects. They have also played Warped Tour, Summer Fest, Rock Fest, Journeys Back Yard BBQ and Pride Fest.
The band who has several successful campaigns reaching well over their goals, is currently gaining massive traction with their smash hit song "Diamond In The Rough," while their video for "Evil Ways" is already at over 600k views.
Revenge of The Nearly Deads on CD or Vinyl NOW @
http://www.thenearlydeads.merchnow.com/
Purchase the new EP Digitally @
https://itunes.apple.com/us/album/revenge-of-the-nearly-deads-ep/id1244727628
The Wake The Dead Tour
Oct 12 – Stanhope, NJ – Stanhope House
Oct 13 – Pittsburgh, PA – Diesel Concert Lounge
Oct 14 – Westland, MI – Token Lounge
Oct 15 – Mentor-On-The-Lake, OH – Music LynXX
Oct 17 – South Bend, IN – Cheers
Oct 19 – Braidwood, IL – Top Fuel Saloon
Oct 20 – West Allis, WI – Rosco's
Oct 21 – Fort Atkinson, WI – Hijynx
Oct 22 – Rolla, MO – Shots
Oct 24 – St Louis, MO – The Firebird
Oct 26 – Omaha, NE – Bourbon Saloon
Oct 27 – Kansas City – TBA
Oct 28 – Tulsa, OK – The Vanguard
Oct 30 – Fort Worth, TX – The Railclub
Oct 31 – Little Rock, AR – The Rev Room
Nov 1 – Knoxville. TN – The Open Chord
Nov 2 – Nashville, TN – Rocketown
Blameshift is:
Jenny Mann – Vocals
Tim Barbour – Guitar/Vocals
Mike LaRoach – Bass
Jeff Maurer – Drums
The Nearly Deads are:
Theresa Jeane – Vocals and Keys
Steven Tobi – Lead Guitar
Kevin Koelsch – Bass
Javier Garza Jr. – Rhythm Guitar
Josh Perrone – Drums
For More Information Please Visit:
https://www.facebook.com/blameshift/
https://www.instagram.com/blameshift/
OFFICIAL MERCH STORE:
http://www.blameshift.bigcartel.com/
https://www.facebook.com/thenearlydeads/
http://www.instagram.com/TheNearlyDeadsofficial
OFFICIAL MERCH STORE:
http://thenearlydeads.merchnow.com