Big & Rich Video "Look At You" Nominated in the "Duo Video of the Year" Category for 2015 CMT Music Awards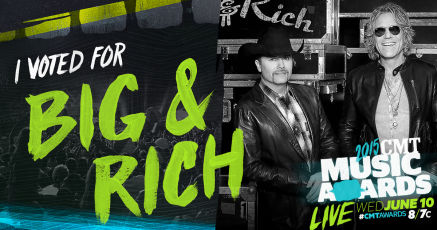 Fan Voting Available Now Until June 7th; Winners Announced June 10th During the 2015 CMT Music Awards
NASHVILLE, Tenn. (May 15, 2015) – If there were ever a duo in country music to understand the impact a loyal fan base can have on a career, it is Big & Rich. The two hell-raising cowboys have always done things a little differently, breaking the boundaries of music and earning the title of all-around "entertainers" from peers in every genre, all thanks to their fervent fans who take a stand and support their every move. Those same loyal fans have spoken once again, garnering the duo a fan-voted nomination at the 2015 CMT Music Awards for "Duo Video of The Year," with "Look At You."
The CMT Music Awards are fan-voted, and anyone registered with CMT.com, Facebook or Twitter, can vote once per category until 11:59pm June 7. Winners will be announced on the network on June 10 during the 2015 CMT Music Awards, which airs live from The Bridgestone Arena in Nashville. To cast your vote, visit http://www.cmt.com/cmt-music-awards/vote/duo-video-of-the-year.jhtml.

"CMT and our fans broke us with 'Save A Horse' and they continue to recognize our music and support it with ferocity and favor," John Rich commented."We're very excited to be nominated!"
Big Kenny continued "How awesome! It's sure feels good to be nominated! Thank you to all the fans, and thank you to CMT for continuing to be such a huge part of Big & Rich. This rocks!"
The duo hit the scene more than a decade ago, and recently launched their own label with the debut album Gravity. The album's debut single and lead track, "Look At You," shows a softer side of the duo, and the concept music video includes smoky performance footage and is set in the party scenes of Las Vegas. It was directed by award-winning director Trey Fanjoy, who has also directed videos for artists like Miranda Lambert, Alan Jackson, George Strait and many more.