WITH THE WORLD PREMIERE OF THE "GRAVITY QUADRILOGY,"
PREMIERING SATURDAY, FEBRUARY 14 ON CMT
Country Superstar Tim McGraw Makes Special Guest Appearance in Video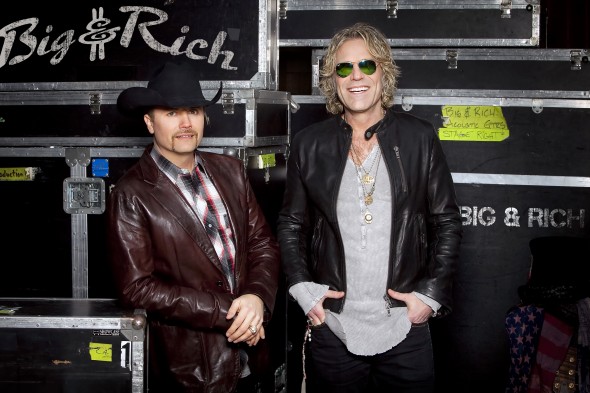 NASHVILLE, Tenn. (February 11, 2014) – Just in time for the most romantic day of the year, The Gravity Quadrilogy, a special 15-minute video featuring four Big & Rich songs from their latest album, will make its world premiere on Saturday, February 14, 2015 at 6 a.m. ET/PT on CMT. The Gravity Quadrilogy will re-air on Saturday at 8 a.m. ET/PT, as well as Sunday at 6 and 8 a.m. ET/PT, and can be seen on CMT Pure, the CMT Artists app and CMT.com.
Created by director Trey Fanjoy, the four-song, commercial-free video depicts a blossoming love story set in Las Vegas. The songs which set the tale — all from Big & Rich's latest release, Gravity — include "Look At You," "Lovin' Lately," "Brand New Buzz" and "Gravity." Country superstar and actor Tim McGraw makes a special guest appearance in the Quadrilogy, playing the role of a wise bartender doling out advice to a heartbroken young man.
<iframe src="http://media.mtvnservices.com/embed/mgid:uma:video:cmt.com:1164585/cp~vid%3D1164585%26uri%3Dmgid%3Auma%3Avideo%3Acmt.com%3A1164585″ width="512″ height="288″ frameborder="0″></iframe>
For more information, visit: www.bigandrich.com.
About Big & Rich:
Big & Rich is comprised of Big Kenny and NBC's "The Celebrity Apprentice" winner John Rich. The multi-platinum hit duo have garnered multiple Grammy, ACM, CMA and CMT Music Award nominations, and were recently nominated as the 2014 ACM Vocal Duo of the Year. The first single, "Look At You," from their newly released studio album, Gravity, broke the top 10 on the country chart in November. Their current single, "Run Away With You," is now hitting radio airwaves. The country superstars' first studio album, Horse of a Different Color, includes their hit infectious single, "Save a Horse (Ride a Cowboy)." Other hits include "Comin' to Your City," "8th of November" and their No. 1 hit, "Lost in this Moment." Meanwhile, "Comin' to Your City" is nearing a decade as the theme song for ESPN's "College GameDay."
www.cmtpress.com
About CMT:
CMT, a unit of Viacom Inc. (NASDAQ: VIA, VIAB), is the leading television and digital authority on country music and entertainment, reaching more than 92 million homes in the U.S. CMT and its website, CMT.com, offer an unparalleled mix of music, news, live concerts and series and is the top resource for country music on demand. The network's digital platforms include the 24-hour music channel, CMT Pure Country, CMT Mobile and CMT VOD.