NJ Modern Metal Favorites to Release "Generations" EP on April 14, 2015
Pre-Order "Generations" EP Now for $6.00!
Performing at a Venue Near You – See Below for U.S. Tour Dates
Stream 'ED 209 vs. The Staircase' Here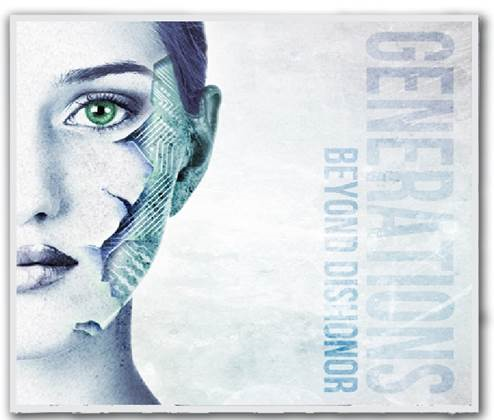 "…one of the hardest-working bands on the east coast." – LegendaryRockInterviews.com
Hailing from Trenton, New Jersey, resident favorites BEYOND DISHONOR have spent the last few years making a worthy name for themselves – not just locally, but nationally. After what seems like an eternity of anxiously awaiting its release, fans will be able to own a copy of the band's highly-anticipated Generations EP on April 14, 2015. Generations is available for pre-order now via the band's Big Cartel page in several package options, including additional posters, t-shirts, snapback hats, and more.
Drawing inspiration from pop culture, primarily in the form of movies, television and gaming, is one of countless ways BEYOND DISHONOR has cultivated their devoted fanbase. Their 2011 full-length, Travesty, is a well-received concept album drawing from band favorites Se7en, Ghostbusters and Full Metal Jacket. In similar fashion, Generations features pop culture references evident in song titles like 'ED209 vs. The Staircase' (RoboCop) and 'What Clayton Bigsby Doesn't Know' (Chappelle's Show).
Watch the "Breaking Bad" Themed Music Video for 'Heisenberg' Here:
Directed by Mitch Martinez (LetLive, Norma Jean)
Watch the "Heisenberg" Drum Cam Video Here:
Generations boasts production credits from producer Andreas Magnusson, known for his work with The Black Dahlia Murder, August Burns Red, and others. BEYOND DISHONOR combines eclectic styles and ranging influences to create music that is heavy and aggressive enough for the most hardcore of fans, yet rhythmic and groovy enough to be accessible to those on the fringe. In a featured write-up, Heavyblogisheavy.com said, "The music lands on the good side of the contemporary metalcore/deathcore spectrum, for fans of early Born of Osiris (sans keyboards) or Within the Ruins."
In support of the upcoming release of Generations, BEYOND DISHONOR will set out on a 14-city U.S. east coast tour. Catch the band performing their energetic set at a venue near you – just one of the many reasons why they have been selected to support nationally-recognized artists such as Whitechapel, The Acacia Strain, Within the Ruins, Veil of Maya, August Burns Red, Born of Osiris, Unearth, and numerous others.
BEYOND DISHONOR TOUR DATES:
4/10 Concord, NH @ Tandy's Top Shelf
4/11 Revere, MA @ Sammy's Patio
4/12 Allentown, PA @ Planet Trog w/ Young Graves
4/14 Catonsville, MD @ Shepard Space w/ Phinehas
4/15 Silver Spring, MD @ Immanuel's w/ My Ticket Home, Phinehas, Shai Hulud, and Mouth For The South
4/16 Lynchburg, VA @ Liberty Skate Park w/ My Ticket Home, Shai Hulud, and Mouth For The South
4/18 Trenton, NJ @ Championships Bar and Grill – CD RELEASE SHOW!
4/19 Albany, NY @ Bogies w/ Every Passing Dream and Invoker
4/20 Rochester, NY @ California Brew Haus w/ My Ticket Home and A Wake In Providence
4/21 Brooklyn, NY @ St. Vitus w/ A Wake In Providence
4/22 Philadelphia, PA @ The Theatre of the Living Arts w/ The Color Morale, Slaves, Vanna, and Favorite Weapon
4/24 Cleveland, OH @ The Foundry w/ Along Came A Spider
4/25 Lancaster, PA @ Launch Music Conference
4/26 Clifton, NJ @ Dingbatz w/ Along Came A Spider
In the state of New Jersey and even nationally, BEYOND DISHONOR asserts one of the strongest DIY success stories in a very challenging genre. The band churns out a staggering amount of annual shows and promotions without any label, booking agency, or management assistance. BEYOND DISHONOR is endorsed by COLDCOCK Whiskey, Dark Horse Percussion, Broken Goblet Brewing and Fakelife Clothing, a company dedicated to bringing awareness to global poverty, and all proceeds from their sales help to fund loans to small business entrepreneurs in developing countries.
BEYOND DISHONOR is:
Reese Dunlap – vocals
Wesley Ingraham – guitars
Mark Salmon – guitars
Bryan San Martin – bass
Mike Lock – drums
Vinny Keohane – drums (touring)
For more information BEYOND DISHONOR, please visit these websites:
www.facebook.com/beyonddishonor
www.twitter.com/beyonddishonor