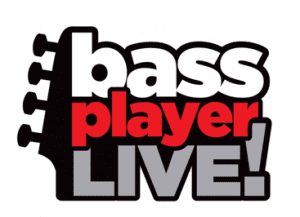 NOVEMBER 9 & 10 IN HOLLYWOOD, CA
ANNUAL MUSICIANS' EVENT TO FEATURE
NOVEMBER 9 BASS PLAYER LIVE! CONCERT AND AWARDS SHOW
PRESENTED BY HARTKE
AT THE FONDA THEATER IN HOLLYWOOD
EVENT WILL HONOR BLACK SABBATH'S GEEZER BUTLER
PLUS THE STRAY CATS' LEE ROCKER
AND "YOUNG GUN" AWARD RECIPIENT TAL WILKENFELD
AND FEATURE ALL-STAR LINEUP OF MUSICAL GUESTS INCLUDING
COREY TAYLOR, ZAKK WYLDE, KERRY KING, CHARLIE BENANTE,
FRANK BELLO, DAVID ELLEFSON, REX BROWN & MORE!
Bass Player Live! 2013 is scheduled for November 9 and 10 in Hollywood, CA. The annual event will feature musician clinics and exhibitors at S.I.R. Studios and will be highlighted by the November 9 Bass Player LIVE! Concert & Awards Show presented by Hartke. This all-star concert will take place at the historic Fonda Theatre and will honor heavy metal legend, Black Sabbath's Geezer Butler and rockabilly bass legend Lee Rocker, while jazz-rock phenom Tal Wilkenfeld will be presented with the "Young Gun" award.
Tickets are on sale now at http://bassplayerlive.com. Weekend package tickets that include the concert and awards show along with all clinics and exhibits are available for only $90. Tickets for the Bass Player LIVE! Concert & Awards Show can also be purchased separately as follows:
Day Pass for Saturday OR Sunday – $37.50
Day Pass for Saturday AND Sunday – $52.50
Bass Player LIVE Concert general admission – $42.50
Bass Player LIVE Concert balcony seat – $45
All Inclusive Day Pass for both Saturday and Sunday, plus a general admission concert ticket – $90
Note: Each Day Pass purchase includes a complimentary subscription to Bass Player magazine.
The Bass Player LIVE! concert will feature an all-star band of rock luminaries performing with Black Sabbath's Geezer Butler, including: Lee Rocker (Stray Cats), Billy Sheehan (The Winery Dogs, David Lee Roth), Blasko (Ozzy Osbourne), Buzz Campbell (Lee Rocker), Charlie Benante (Anthrax), Corey Taylor (Stone Sour, Slipknot), David Ellefson (Megadeth), Frank Bello (Anthrax), JD Deservio (Black Label Society), Kerry King (Slayer), Rex Brown (Kill Devil Hill, Pantera), Rudy Sarzo (Blue Oyster Cult), Tal Wilkenfeld, Zakk Wylde (Black Label Society), and more. Doors for The Fonda Theatre open at 6:30 PM on Saturday, November 9 and the concert begins at 7:30 PM.
The Bass Player LIVE! clinics and exhibitors will be located at S.I.R. Studios on Sunset Blvd. in Hollywood, CA on Saturday, November 9 and Sunday, November 10 from 11:00 AM – 6:00 PM. Bass players of all ages, levels and styles are invited to attend.
"Bass Player LIVE! is the biggest and baddest bass event of the year," says Bass Player editor Brian Fox. "And this year's lineup is our heaviest yet. When it comes to hard rock bass playing, Geezer Butler wrote the book. That he continues to perform with every bit the raw intensity of his early days in Black Sabbath is an inspiration for players of all ages and all styles. With the Stray Cats, Lee Rocker took the upright bass—already one of the coolest instruments ever—and somehow made it even more hip, slapping the snot out of it to codify the sound of rockabilly bass. To our ears, Tal Wilkenfeld personifies the bright future of rock bass. From her work with Jeff Beck, Herbie Hancock, and Joe Walsh to her fleet-fingered solo work, Tal's refreshing fusion of jazz, soul, funk, and rock is something we've had our ears and eyes on for a long time now. We're thrilled and honored to have these three artists anchor an evening of amazing performances."
The daily schedule of clinics & panels is as follows (subject to change):
Saturday, November 9
10:30-11:30 AM
Room A: David Ellefson (Megadeth) & Frank Bello (Anthrax)
Room B: Carlos Del Puerto, Jr. (Bruce Springsteen, Sting, Chris Botti)
12:30-1:30 PM
Room A: Lee Rocker (with guest guitarist Buzz Campbell)
Room B: Billy Sheehan (Winery Dogs, solo artist)
2:30-3:30 PM
Room A: Michael Manring (solo artist)
Room B: Artists to be announced soon
4:30-5:30 PM
Room A: Changing Face of L.A. Session Bass
Room B: Janek Gwizdala (solo artist, Randy Brecker)
Sunday, November 10
11:00 AM-Noon
Room A: Nathan East (Toto, Fourplay, Eric Clapton)
Room B: Artists to be announced soon
12:45-1:45 PM
Room A: Jerry Jemmott (Gregg Allman, Aretha Franklin)
Room B: Artists to be announced soon
2:15-3:15PM
Room A: Conversation Series Hosted By Hartke With Rex Brown (Kill Devil Hill, Pantera), Billy Sheehan (Winery Dogs), David Ellefson (Megadeth) & Frank Bello (Anthrax)
Room B: Hadrien Feraud (Chick Corea, John McLaughlin)
4:00-5:00PM
Room A: Nate Watts (Stevie Wonder)
Room B: Artists to be announced soon
Additional musicians expected to attend Bass Player LIVE! include: Ariane Cap (Lara Price), Bakithi Kumalo (Paul Simon), Bernhard Lackner (solo artist), Brandino (Robbie Krieger), Brian Bromberg (solo artist), Chris Chaney (Jane's Addiction), Damian Erskine (Gino Vanelli), Divinity Roxx (Beyoncé), Igor Saavedra (solo artist), Jeff Hughell (Six Feet Under), Jimmy Earl (The Jimmy Kimmel Show), Juan Alderete, (The Mars Volta), Mike Merritt (The Conan O'Brien Show), Phil Chen (The Doors), Ready Freddie Washington (Steely Dan), Scott Reader (Kyuss), Sean Hurley (John Mayer), and Tim Lefebvre (Rudder), among others.
facebook.com/bassplayermag
twitter.com/bassplayernow
youtube.com/bassplayermag
About Bass Player Magazine:
Owned by NewBay Media, Bass Player Magazine is the deepest source of inspiration, information, and instruction for players seeking mastery of the low end. In print, online, and in person at Bass Player LIVE!, Bass Player is at the core of a dynamic and diverse musicians' community. After more than two decades of delivering spot-on artist interviews, product reviews, and music transcriptions, Bass Player influences the musical growth and gear choices of more bassists than any other competing media network.
About NewBay Media
NewBay Media is positioned at the center of the world's most dynamic industries—Music, AV/Pro Audio, Consumer Electronics/Gaming, Video & Broadcast, and Education. We connect and inform millions of constituents in these industries through our award-winning content, integrated media capabilities, and high-profile network-building and informative events.  NewBay proudly serves some of the broadest BtoB professional and music enthusiast communities in the world through over 60 print and digital publications, 100 integrated web and mobile applications, 75 conferences and conventions, custom marketing services and e-commerce capabilities.  Find out more at www.newbaymedia.com.
About Hartke
Hartke revolutionized bass amplification in 1985 when founder Larry Hartke created a unique aluminum cone driver that produced a bass tone with broader dynamics than had ever been heard before. Since then, Hartke has developed a wide range of amplifier and speaker models for various instruments, and has introduced their unique sound to a whole new generation of musicians from all genres. Their success can be attributed to Hartke's reputation for quality and excellence, making them one of the largest producers of bass amplification in the world. Find out more at www.hartke.com.
Bass Player LIVE! Publicity Contact
Kristine Ashton-Magnuson/Ashton-Magnuson Media
kristine@am-media.net; (818) 996-2496