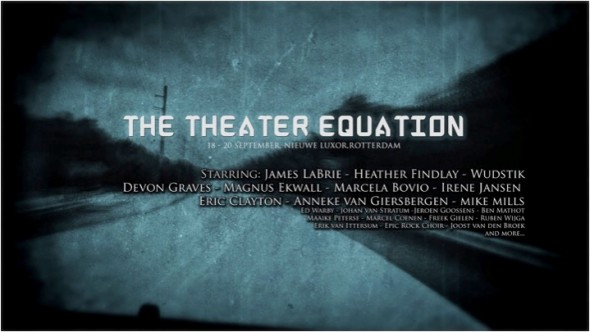 Nearly 6000 Ayreon fans from 49 different countries will flock to Rotterdam (NL) this September to witness the once-in-a-lifetime theater production 'The Theater Equation' based on Ayreon's The Human Equation. The album's original vocalists James LaBrie, Devon Graves, Heather Findlay, Eric Clayton, Marcela Bovio, Magnus Ekwall and Irene Jansen will reprise their roles on 18th, 19th and 20th of September in the nieuwe Luxor theater. Rounding out the cast are Ayreon veterans Wudstik, Anneke van Giersbergen and Mike Mills.
For years fans of Arjen Anthony Lucassen's rock operas have begged for a live performance. The creative team of Shadow Freaks, a theater production company lead by Lucassen's former manager Yvette Boertje, now answers that call by staging a fan favorite; 'The Human Equation'.
The Human Equation tells the story of comatose man who battles his emotions that have come to life in a frightening and bizarre world: his own mind. After a 20-day emotional rollercoaster ride filled with good and bad memories, shocking revelations and hope-filled desires, the man has to make a decision: wake up or die?
The band features some of Lucassen's finest guest musicians: Ed Warby, Johan van Stratum, Jeroen Goossens, Ben Mathot and Maaike Peterse. Joost van den Broek is music director and arranger for the band that also features Marcel Coenen, Freek Gielen, Erik van Ittersum and Ruben Wijga. The Epic Rock Choir, assembled especially for this show, will bring an extra dimension to this production as a finishing touch.
The Theater Equation's spectacular cast, band, stage design and costumes promise to turn this production into the prog event of 2015! The first three shows sold out so fast, that a fourth (and final) show was added later. Tickets for this show are available now via www.thetheaterequation.com.
SHOW DATES:
18 September (SOLD OUT)
Showtime: 20.00hrs
19 September (TICKETS AVAILABLE)
Showtime: 15.00hrs
19 September (SOLD OUT)
Showtime: 20.00hrs
20 September (SOLD OUT)
Showtime: 15.00hrs
CAST:
James LaBrie as 'Me'
Devon Graves as 'Agony'
Heather Findlay as 'Love'
Eric Clayton as 'Reason'
Magnus Ekwall as 'Pride',
Marcela Bovio as 'Wife'
Irene Jansen as 'Passion'
Anneke van Giersbergen as 'Fear',
Jermain van der Bogt (Wudstik) as 'Best Friend'
Mike Mills as 'Rage/Father'
Nienke Verboom as 'Nurse'
Peter Moltmaker as 'Doctor'
Anita van der Hoeven as 'Mom'
BAND:
Ed Warby: Drums
Jeroen Goossens: Flutes and woodwinds
Johan van Stratum: Bass
Maaike Peterse: Cello
Ben Mathot: Violin
Marcel Coenen: Guitars
Freek Gielen: Guitars
Erik van Ittersum: Keyboards/synths
Ruben Wijga: Keyboards/synths
Epic Rock Choir
PRODUCTION TEAM:
Shadow Freaks b.v.
Yvette Boertje: Producer/Director
Arlette van Ravenswaaij: Executive Producer
Laura ten Hoedt: General Manager/Vocal Director
Joost van den Broek: Music Director
Arjen Anthony Lucassen: Special Advisor to Shadow Freaks b.v.
More information can be found at:
Website: http://www.thetheaterequation.com
Facebook: https://www.facebook.com/thetheaterequation
Arjen Lucassen Online
www.arjenlucassen.com
www.facebook.com/ArjenLucassenOfficial
www.twitter.com/arjenlucassen
INSIDEOUTMUSIC online:
www.insideoutmusic.com
www.youtube.com/InsideOutMusicTV
www.facebook.com/InsideOutMusic