WITH FLURRY OF ACTIVITY
ALBUM STREAMING NOW
BAND PARTICIPATING IN REDDIT AMA ON SEPTEMBER 17
HEADLINE TOUR LAUNCHING THIS WEEKEND ALONG WITH REVOLVER INSTAGRAM TAKEOVER
"DO YOU KNOW WHO YOU ARE" VIDEO PREMIERING MONDAY, SEPTEMBER 21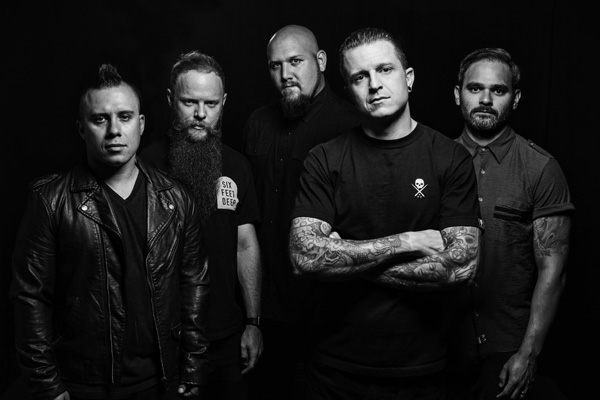 (New York, N.Y.): Fresh off an incredible set at last weekend's RiotFest in Chicago, Atreyu are gearing up for this week's release of Long Live, their first album in several years, with a flurry of exciting activity. The album is out September 18 via Search + Destroy/Spinefarm Records.
The return has been documented with press coverage in Alternative Press, Revolver, Loudwire, Bro Bible, OC Weekly, The Chicago Sun Times, and much more.
Fans can enjoy an early listen to Long Live, which is currently streaming with commentary at VEVO.
Atreyu will also embark on a headline tour this weekend, including two shows in their native Southern California before they traverse the rest of the country. Fans all over the U.S. are hungry to see the band perform onstage again and they will be getting what they want on this trek!
Fans can get an inside look at Atreyu's release weekend as the band will be taking over Revolver's Instagram feed. Be sure and follow along!
Lastly, the video for "Do You Know Who You Are," which is built around the poignant message of knowing who you are and what you want to be, will see its premiere via Loudwire on Monday, September 21.
In case there were any doubts, Atreyu's hiatus is completely over and the band is back in fighting shape. Long live Atreyu!
LONG LIVE (SEPTEMBER 18, SEARCH + DESTROY/SPINEFARM) TRACK LISTING:
Long Live
Live to Labor
I Would Kill/Lie/Die (For You)
Cut Off the Head
A Bitter Broken Memory
Do You Know Who You Are
Revival (interlude)
Heartbeats and Flatlines
Brass Balls
Moments Before Dawn
Start to Break
Reckless
FALL 2015 HEADLINE TOUR DATES:
9/18 | Pomona, Calif. | The Glass House*
9/19 | Sacramento, Calif. | Ace of Spades*
9/20 | Los Angeles, Calif. | Troubadour*
10/2 | Pontiac, Mich. | Crofoot Ballroom**
10/3 | Louisville, Ky. | Louder Than Life Festival***
10/5 | Toronto, ON | Opera House**
10/6 | Montreal, QC | Corona Theatre**
10/7 | New York, N.Y. | Irving Plaza**
10/9 | Boston, Mass. | Paradise Rock Club
10/10 | Philadelphia, Pa. | Rock Allegiance***
10/11 | Baltimore, Md. |Baltimore Soundstage*
10/12 Norfolk, Va. | The Norva*
11/14 | Orlando, Fla. | Kink Music Festival***
*Support From Unearth + Wovenwar
**Support from Beartooth + Wovenwar
***Festival Appearance