'The Black' tour
With a new lead singer Denis Stoff from the Ukraine, Asking Alexandria has the freedom to make the music they have always intended. One week into their six-week tour for their fourth album, "The Black," I met with drummer James Cassells on the band's tour bus.
Asking Alexandria opened for Bullet for My Valentine on February 6, 2016 at the Joint in Las Vegas to promote the new album set for release in March. Before the show, Cassells and I had the opportunity to talk about what inspires the band, how they found their new lead vocalist and what the future holds for Asking Alexandria.
Jeni Blue: How did you become a member of Asking Alexandria?
James Cassells: I was playing in a local band in North Yorkshire (England) when Ben Bruce, founder and lead guitarist of Asking Alexandria, was out scouting for members. He saw me play, and said, "He's the guy I want to play drums with." I have been with the band for seven years.
Blue: How did the band decide on the genre of music?
Cassells: We just picked music that we like to learn. Modern-day metal is what we were into, and it's what was cool.
Blue: What kind of music was your inspiration?
Cassells: All sorts really. Everyone in the band likes different things — some of the guys like to listen to the blues, classic rock, 80s metal, electronic music — we are all over the place I suppose.
Blue: Do you have a favorite band?
Cassells: I don't know if I can really put my finger on my absolute favorite. It depends on what mood I am in. Pretty much all music, if I want to jam along and sing some tunes with my friends. I'll listen to a classic rock song or an 80s ballad, but if I'm in the mood to go out and party with my friends, I'll listen to something newer, something with a dragon beat.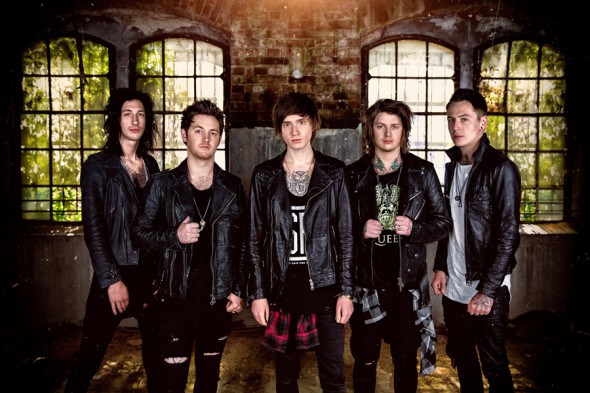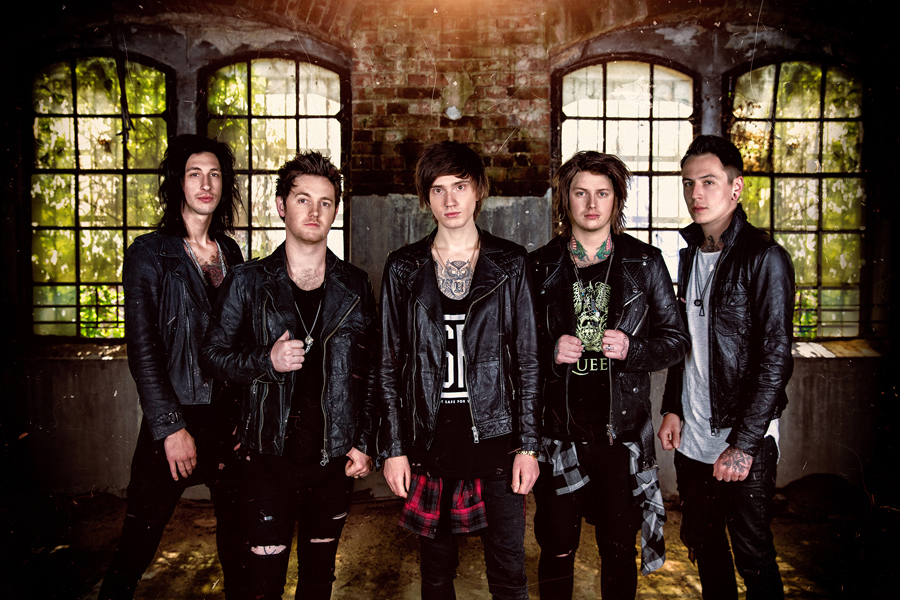 Blue: How would classify your music? I noticed when I went on Amazon to find your CD, it was in the pop/rock category.
Cassells: They called us pop/rock? (Laughs) that is actually amazing! I want to find a link to that. Oh my god, that's just weird. I need to make a fucking mental note of that. I actually classify us a modern metal, because whenever anyone says "We're in a metal band," people think they've got long hair, leather and spikes all over their shoulders and shit. That isn't us. We like to look nice.
Blue: Ben Bruce started Asking Alexandria. Where did he come up with the name and can you elaborate on it?
Cassells: It just sounds cool (laughs). We got asked this question so many times when we first started. We used to make up stupid answers, but, no, there is no Alexandria. It's just cool.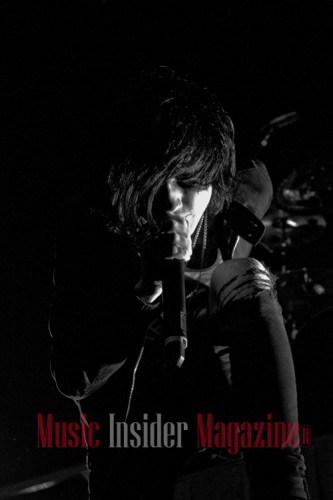 Blue: How does your fourth album differ from the past three, besides having Stoff as the new lead singer?
Cassells: With our last album "From Death to Destiny," I loved that record to death, but we had to try and make sacrifices in our writing to please our old vocalist (Danny Worsnop). We wrote those songs for him, so that he would sing them and be happy with an album. Whereas with "The Black," we could actually do what we wanted, and since Denis is into the same stuff that we are into, it was just an easier album to write and was a very organic process. It's the album we wanted to release previously.
I went to Ben's house for just a few days to hang out and we wrote three or four songs. It was ridiculous how quick it took; it was easy, because we were having fun. It was freedom. It wasn't like, "Oh wow, we've spent a few hours trying to write this tune and is he going to like it?" We were always trying to please someone else. There's none of that now. It's super easy and fun.
Blue: On the topic of your new lead singer, is his last name Stoff or Shaforostov? I've seen it printed both ways.
Cassells: His real name Denis Shaforostov. English speaking people can't pronounce it at all. Stoff is a shortened version of that. His first name is really pronounced De-Neece.
Blue: You discovered him on You Tube?
Cassells: He definitely got quite a bit of YouTube fame covering our songs, singing, playing guitar and shit.  He did good covers; he's a great singer. He was in a band called Make Me Famous which was signed to our record label, Sumerian Records. The band was in a similar genre to us and definitely took a lot of influence from us, but it didn't work out, so Denis started a band called Down and Dirty — again, which was also heavily influenced by Asking Alexandria — but it was a lot more evolved, and Denis had grown into a different style and was writing better songs, in my opinion. When we had the loss of Danny, we were like, "Well, Denis is still signed to Sumerian, and we could reach out to him very easily."
Blue: So you didn't know him yet?
Cassells: Not really, but when we played Russia, we met with him and his other band mates. We hung out and had some drinks when we played in Moscow, and we liked the kid, he was cool! Down and Dirty was his band — he wrote and did everything. When we asked him to join, he said, "This is an opportunity of a lifetime, and I'm quite happy to dissolve my band and join yours, because, why not? This is like a dream for me!"
The switchover for him was super easy. It took no time at all for him slide right into place with us and be the fifth member we needed.
Blue: How are the fans dealing with the having a new singer and saying goodbye to Worsnop?
Cassells: It's not even a thing. We thought it would be like "Team Danny" and "Team Denis," but there is none of that. It's ridiculous. People have just accepted him and love him. If you look at YouTube, there are some people who go out there just to try and talk shit — I call them "keyboard warriors."
We just released the video "The Black," and it probably had 2 million views. It's been insane. It's getting hundreds of thousands of hits every single day. Numbers don't lie — our shows are awesome and have been selling out. We are bigger and better than ever, and everyone is accepting, because we are back to what we started off like, playing the role of Asking Alexandria, and people want to see that.

Blue: Regarding the title track "The Black," did Stoff write it, or did you collaborate together?
Cassells: Musically, we, as a band wrote it, but lyrically it was Denis and Ben. Ben also did a lot of the lyrics on the first album, "Stand Up and Scream." Denis writes good lyrics, but obviously English is not his first language. So even if it was a very personal song for Denis, Ben will always play a helping hand in the writing process to make sure it's completely correct.
Blue: So is "The Black" about a personal experience?
Cassells: Honestly, I think "The Black" is like a lot of the songs that are about personal experiences and meant to be interpreted how you want. For instance, "Light Sleep," another song off our album, is about inner demons. People can take it how they want. For Denis, in interviews he will say it's a personal experience, and he doesn't really want to go into what it's about. You just have to take it as you want to and apply it to your life in your way.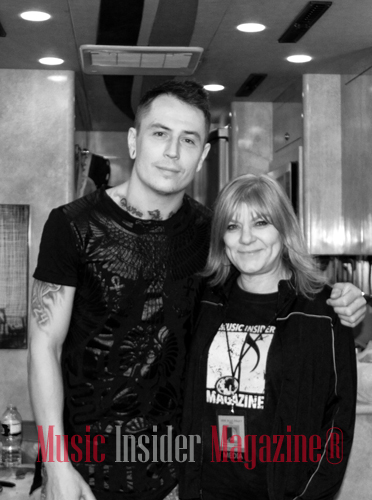 Blue: What would you say is too young of an age to listen to your music?
Cassells: We have some really super young fans! There is a little kid who came out to see us in San Diego with his parents. He came up to the stage at the Soma and actually did a drum solo on my kit. Then he fell over and off my stool. I managed to catch him, before he hit the floor! It's like a 5-foot drum rise. He wasn't more than 6 years old. So there are some fans who are super young.
Some of our songs are quite dark — there is swearing, and they are about some pretty messed-up subjects — but I feel like they are so young that maybe they don't really understand them. They just like the sound of the music. If they grow up with it, then maybe their parents can teach them what the songs are about, like "going through a hard time," etc. Who knows? Maybe, it will actually help them out.
Blue: Are you ever critical about your own work?
Cassells: YES! Nobody's perfect. Sometimes I will watch a live video and say, "Oh wow, I fucked up there." Sometimes, we can all be our own worst critics.
Blue: What music did you grow up with in North Yorkshire? What did your family listen to?
Cassells: My mother was obsessed with Duran Duran and Queen. My dad liked similar stuff, Dire Straits, Cockney Rebel, which is a British band, and Dépêche Mode. The new romantic 80s pop music is still to this day really cool to me.
Blue: Tell me about your training as a drummer.
Cassells: I started getting drum lessons when I was about 14 years old, and I haven't really had a lesson, since I joined the band. My mum used to drive me to lessons every Saturday growing up.
Blue: So your parents were not shocked when you decided you wanted to be a drummer and do this for a living?
Cassells: I was already in the music college, so they had an idea. They just didn't think I was going to move to America immediately, but they were still supportive when I did.
Blue: If you could play with anyone from the music world alive or dead, who would it be and why?
Cassells: I would love to have a drum off with John Bonham. That would be cool as shit!
Blue: Who is your favorite band that you have opened for?
Cassells: I really like Slipknot. We have done a few tours with them, and they were really awesome. Those guys are cool. They put on a sick show! They were also one of my favorite bands when I was younger.
Blue: Do you have a band motto?
Cassells: "Don't shit on the bus."
Blue: What do you do for fun when you aren't touring?
Cassells: I have two dogs, and I like to play with them and walk them a lot. I play Xbox, go to the gym, play my drums and kind of chill out, and hang out with my girlfriend of five years.
Blue: What brand of drums do you play? Do the members have a favorite brand of instrument?
Cassells: I play Tama drums. Some of the guys play Ibanez guitars.
Blue: Are there any festivals you're playing this year?
Cassells: We are playing a lot of the radio rock festivals in May in North America. After those, I'm really not too sure.
Blue: Where do you see the band 10 years from now?
Cassells: I would like to be playing bigger and better shows.
Blue: Do you see yourself still playing in your 60s like the Stones?
Cassells: Yeah! That would be cool! I don't see myself doing anything else but playing and writing music. I just want to continue this for as long as I can.
Blue: Do you and the rest of the band all get along pretty well.
Cassells: Yes, the band and crew are pretty good friends with each other, and we keep in touch outside of work as well.
Blue: What is your favorite thing about being part of Asking Alexandria?
Cassells: Getting to tour with my friends and seeing the world. It's a pretty awesome thing! We get to go to a lot of places, and we definitely have a blast. It's good!
James is endored by Tama Drums and Sabian Cymbals.
Asking Alexandria is currently on tour opening for Bullet For My Valentine.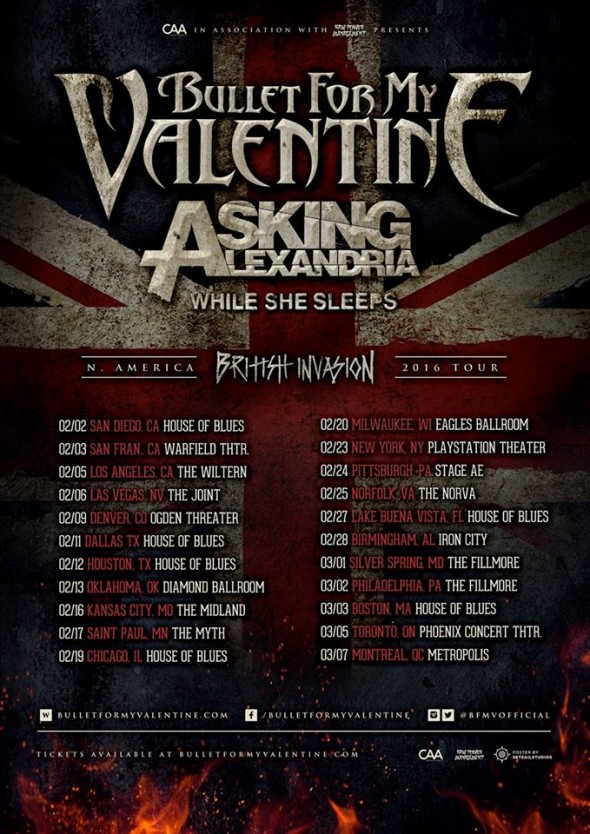 Website: www.askingalexandria.com
Facebook: https://www.facebook.com/askingalexandria/
Twitter: https://twitter.com/AAofficial
Instagram: https://www.instagram.com/askingalexandria/