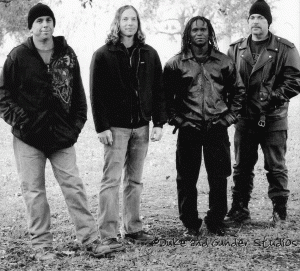 Ashes To Dust makes things happen.
From their inception in December 2010, these seasoned veterans have shown their passion and dedication to music not only in the thoughtfulness of their songs, but in their tireless composing. In less than a year, they have crafted over a dozen solid, blues-driven hard rock tunes, with more in the works. They also recorded a full-length 10 song CD, "1718", from which 3 tracks have been released as a promotional demo, and are now writing material for their 2nd CD.
They have produced a music video for "I'm Home", the first single off of the album, and are currently shooting footage for the second single, "Spineless". The band's live shows, which showcase the band's "Loud And Proud" idea of how live rock 'n' roll ought to be, have begun to attract more and more attention.
Individually, the members of Ashes To Dust have shared the stage with some of the heaviest hitters of the SE Louisiana music scene, as well as national acts, from Acid Bath and Down to Overkill and Smash Mouth. Now, they are looking to put their own stamp on rock 'n' roll and make Ashes To Dust a household name.
Their will and determination are obvious. Their experience and talent are unquestionable. Their goal is clear: to remind people what it was like to hear heart-felt songs that jammed!