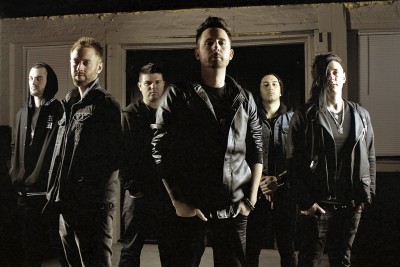 BETTER NOISE Records' artists FROM ASHES TO NEW are quickly going to become one of the leaders of the new generation of rock bands.  As they ready new music for their summer 2015 album release, they are putting out an EP to preface their March tour with HOLLYWOOD UNDEAD. Blasting out of Lancaster, PA, From Ashes To New is less a band, more a dynamic aural antidote to modern life's perpetual grind. Based around the twin fulcrums of Matt Brandyberry's relentless, twisting verses and ChrisMusser's razor-edged vocals, the sextet are already dealing in the sort of arena-ready anthems that will make youwant to kick your 9-5 into the middle of next week.  The band blends from the broadest of modern metal palettes to produce something both wholly unique and utterly compelling.
In anticipation for the groups E.P entitled "Downfall" out March 2nd, the band plans to give away an exclusive track for free.  "Downfall" will be available for download at noon EST today, February 26th to noon EST Saturday, February 28th: http://betternoiserecords.pgtb.me/Gm0Gc2
The brand new tracks on the EP will be available for streaming via Spotify on 3/2:"Downfall" "Land of Make Believe" "Lost and Alone" "Through It All." The upcoming self-titled EP provides music for the fans that will see the band on their tour of the U.S. opening for Los Angeles-based rockers, Hollywood Undead.  
The tour kicks off March 9th and will be the group's first national run.  "We can't wait to hit the road and finally get the chance to meet the fans that put us in this position. We've worked incredibly hard over the last 2 years and now is our chance to show everyone what we've been working so hard on," said Brandyberry, "We couldn't be more stoked that our 1st national tour is with Hollywood Undead, so thanks to them and their team for giving us this chance!"
FROM ASHES TO NEW with HOLLYWOOD UNDEAD:
March 9 – Philadelphia, PA @ Underground Arts
March 10 – Boston, MA @ Brighton Music Hall
March 11 – New York, NY @ Gramercy Theatre
March 13 – Poughkeepsie, NY @ The Chance
March 14 – New Haven, CT @ Toad's Place
March 15 – Baltimore, MD @ Soundstage
March 17 – Chicago, IL @ Bottom Lounge
March 18 – Minneapolis, MN @ Fine Line Music Cafe
March 20 – Denver, CO @ Marquis
March 21 – Salt Lake City, UT @ Murray Theatre
March 30 – Los Angeles, CA @ Troubadour