JACKSON BROWNE, GARY CLARK JR., FOO FIGHTERS,DON HENLEY, CHRIS HILLMAN AND HERB PEDERSEN, NORAH JONES, ELLE KING, KINGS OF LEON, JEFF LYNNE, RANDY NEWMAN, STEVIE NICKS, REGINA SPEKTOR, GEORGE STRAIT, THE BANGLES, AND LUCINDA WILLIAMS TO HONOR TOM PETTY AS 2017 MUSICARES® PERSON OF THE YEAR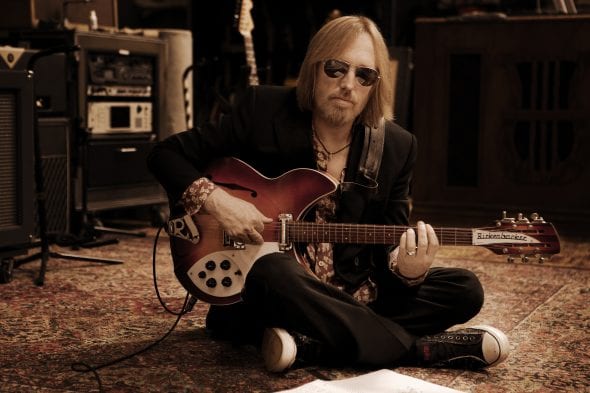 T Bone Burnett Announced As Musical Director Of Star-Studded Tribute Concert To Benefit MusiCares®' Emergency Financial Assistance And Addiction Recovery Programs
WHO: Performances by multi-GRAMMY®-winning artists Foo Fighters, Don Henley, Norah Jones, Kings Of Leon, Randy Newman, Stevie Nicks, and Lucinda Williams; GRAMMY-winning artists Gary Clark Jr., Jeff Lynne, and George Strait; GRAMMY-nominated singer/songwriters Jackson Browne, Chris Hillman and Herb Pedersen, Elle King, and Regina Spektor; and rock band the Bangles. Tom Petty And The Heartbreakers will close the evening's performances. Multi-GRAMMY-winning artist and producer T Bone Burnett will serve as musical director. Additional performers will be announced shortly.
Attendees will include Neil Portnow, President/CEO of MusiCares® and The Recording Academy®; Alexandra Patsavas, Chair of MusiCares; Bill Silva, Chair Emeritus of MusiCares; and John Branca, Honorary Chair of MusiCares. The event's Tribute Chairs are Olivia Harrison, MusiCares Board Member; Ringo Starr, multi-GRAMMY-winning artist; and Cameron Strang, chairman/CEO of Warner Bros. Records.
Past MusiCares Person of the Year honorees include: Tony Bennett, Bono, Natalie Cole, Phil Collins, David Crosby, Neil Diamond, Bob Dylan, Gloria Estefan, Aretha Franklin, Don Henley, Billy Joel, Elton John, Quincy Jones, Carole King, Paul McCartney, Luciano Pavarotti, Bonnie Raitt, Lionel Richie, Paul Simon, Bruce Springsteen, Sting, Barbra Streisand, James Taylor, Brian Wilson, Stevie Wonder, and Neil Young.
WHAT: Tom Petty will be honored as the 2017 MusiCares Person of the Year in celebration of his extraordinary creative accomplishments and significant charitable work. Proceeds from the annual Person of the Year tribute—now in its 27th year—provide essential support for MusiCares, which ensures music people have a place to turn in times of financial, medical, and personal need.
GALA: The 2017 MusiCares Person of the Year gala will begin with a reception and silent auction offering an exclusive and unparalleled selection of luxury items, VIP experiences, and one-of-a-kind celebrity memorabilia for bidding guests. The reception and silent auction will be followed by a gala dinner, a tribute concert featuring renowned musicians and other artists, and the award presentation. This year, for the first time, a limited number of VIP experience tables will be available for $75,000 that include: 10 seats, red carpet entrance, access to artist rehearsal and special backstage area (day before event), private pre-show reception with dedicated staff and personal auction bidding kiosk, front row table placement, enhanced dining experience, and exclusive gift bag with a limited-edition commemorative item. For more information on purchasing tables and tickets to the event, or placing ads/messages in the tribute journal, please contact Dana Tomarken at MusiCares, 310.392.3777. The MusiCares Person of the Year tribute ceremony is one of the most prestigious events held during GRAMMY Week, which culminates with the 59th Annual GRAMMY Awards® at Staples Center on Sunday, Feb. 12, 2017. The telecast will be broadcast live on the CBS Television Network at 8 p.m. ET/PT.
WHY: The MusiCares Foundation® offers programs and services to members of the music community, including emergency financial assistance for basic living expenses such as rent, utilities, and car payments; medical expenses including doctor, dentist, and hospital bills; psychotherapy; and treatment for HIV/AIDS, Parkinson's disease, Alzheimer's disease, hepatitis C, and other critical illnesses. MusiCares offers nationwide educational workshops covering a variety of subjects, including financial, legal, medical, and substance abuse issues, and programs in collaboration with health care professionals that provide services such as flu shots, hearing tests, and medical/dental screenings. The MusiCares MAP Fund® allows access to addiction recovery treatment and sober living resources for members of the music community. Staffed by qualified chemical dependency and intervention specialists, MusiCares offers Safe Harbor Room® support, sponsored in part by the Bohemian Foundation and RBC Capital Markets, to provide a network to those in recovery while they are participating in the production of televised music shows and other major music events. MusiCares holds weekly addiction support groups for people to discuss how to best cope with the issues surrounding the recovery process. The MusiCares Sober Touring Network is a database of individuals across the United States who take music people to recovery support meetings while on the road.
WHERE: Los Angeles Convention Center, West Hall
1201 S. Figueroa St.
Los Angeles, CA 90015
Parking: West Hall Lot, off Cherry Street; cost: $25 (no valet available)
WHEN: Friday, Feb. 10, 2017
*Note Check-In Time*
4:30 p.m. Media Check-In (at Gilbert Lindsay Plaza)
5:30 p.m. Red Carpet Arrivals, Cocktail Reception, and Silent Auction
8 p.m. Gala Dinner
9 p.m. Concert & Award Presentation

Established in 1989 by The Recording Academy, MusiCares provides a safety net of critical assistance for music people in times of need. MusiCares' services and resources cover a wide range of financial, medical and personal emergencies, and each case is treated with integrity and confidentiality. MusiCares also focuses the resources and attention of the music industry on human service issues that directly impact the health and welfare of the music community. For more information, please visit www.musicares.org. For breaking news and exclusive content, please "like" MusiCares on Facebook, and follow @MusiCares on Twitter and Instagram.