As beautiful as The RockBar Theater in San Jose is, without someone to bring the right talent to the stage, Bay Area music lovers may not ever see the inside.  So owner Susan Cramer brought in longtime talent buyer Jimmy Arceneaux.
With well over two decades of experience in the business, Jimmy is now tasked with bringing in the talent and marrying just the right combination of artists together to create a cohesive show.  It is not just about getting the big name and putting them up on the stage, the art of talent buying is more closely related to making music itself, than people might think.  In still just its infant stages, Jimmy Arceneaux and The RockBar Theater have already been making some sweet music together and proving themselves a force to be reckoned with and one of the most desired destinations for live music the Bay Area has to offer.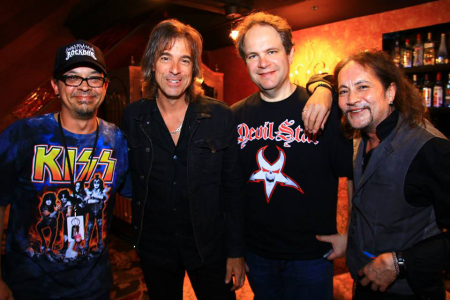 Jimmy was kind enough to take a few moments out of his busy schedule, and speak with me in the RockBar Theater's elegant Vodka Bar.
Dennis Gast: When someone asks you what you do for a living, what do you tell them?
Jimmy Arceneaux: A talent buyer is basically someone who books talent into a venue. Some people call us booking agents, but that's not really the proper term, however it doesn't really matter.  We are kind of like prognosticators, if that is the right word, where you have to know what works with what and make sure the packages all make sense to create more awareness for the show itself.  So its not just a matter of throwing a band in there, you also have to be a bit creative with the other acts that are on the bill.
Gast: How did you get started in the business?
Arceneaux: I used to go to the Omni in Oakland and played there with my own band and knew Toby Garten who ran the place, John Nady's wife. I used to come in and see their calendar every month and I would ask them about bands. I would ask them why are you booking that band or why did you book that national band and I would give them my two sense and tell them, well that bands not that hot right now.  So after about a year of me annoying them about it, they ended up hiring me as the local talent buyer and that's how I got started.
Gast: How did you meet Susan Cramer (Owner of The RockBar Theater)?
Arceneaux: I met Susan off and on, we had been crossing paths for a few years now.  She called me up one day, when they started construction on the RockBar and asked me to informally come over and consult and give my two cents. So I stopped by and that informal hangout turned out to be a job interview and they ended up hiring me a couple days later.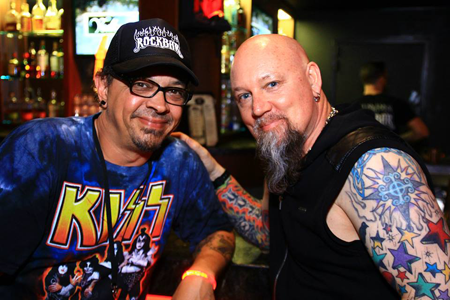 Gast: Being in the business for some time now, are there any differences now versus when you got started?
Arceneaux: You would be surprised. A lot of things are still the same, oddly. Even some of the personalities are the same. The only thing that has changed now is the live touring for bands is much more important now than it's ever been, so things have gotten a lot more pricey for certain bands because they have to be able to afford to do it.  Especially since artists are not pushing record sales like in the past. So the only thing that has changed on this end of the business is, it is getting a bit heavier for the acts having to be out on the road more than they used to be.
Gast: So what is your thought process when putting together a show?
Arceneaux: It's weird.  It's almost like writing a song for me. Some days it's obvious, yeah I want to book Cheap Trick of course.  Sometimes I will just be stumbling around and happen to catch a clip of something and go ooh what's that.  Also I have been very lucky to have lots of friends over the years that would turn me on to things I might not have heard of and say you should hear this band I think they are going to be big.  Then I would listen and feel my gut reaction and go after those bands. That's how a lot of my relationships have started with acts such as No Doubt and the cats in Papa Roach.
Gast: So what are some of your biggest challenges as a talent buyer?
Arceneaux: Keeping it creative, you know what I mean? We've done a lot of heavy music in the last few months because it was the easiest for us to get into right away but now the challenge for me is to diversify the genres.
Gast: From an outsider's perspective, it seems you have done a pretty good job of that already.
Arceneaux: Well, I want to do more.  Yeah we brought in Billy Idol, but for every Billy Idol we have had five heavy bands. My biggest inspiration was Bill Graham and I found out about Bill Graham after I had become a talent buyer.  I didn't really know what he did, because I wasn't from here originally I was from Texas. So my goal is to eventually get it to be where we can book a heavy metal band and a comedian. Or a heavy metal band and a really cool alternative band and a really cool pop rock band. I would like to start making it just a little bit more like your record collection as opposed to being genre specific.  My dream would be to have it a year from now, be so different and unique like the old days. So people will be excited.
Gast: Have you ever learned a lesson in the business the hard way, what did you learn and what do you now do differently because of it?
Arceneaux: I learn something new, probably every day. Some are less significant than other things but for example there was a band called Buckshot LeFonque it was Branford Marsalis, Winton Marsalis' brother, a big huge jazz cat.  At the time he was the band leader on the Tonight Show. So of course I thought, oh we can't lose with this. My boss at the time at The Edge agreed yeah we should absolutely go after it and it was a huge loss. So I learned to be a little bit more wary of the bigger expensive bands and going oh that's going to be a sure thing. I do more research now rather than jumping in with all my eggs in the basket. That's been probably the biggest lesson I've learned over the years. Also, being nice to people. Trying to be as nice as you can which is something that a lot of people in my position don't do.
Gast: How much time do you spend seeking out talent versus fielding incoming requests and how much is local versus national touring?
Arceneaux: We are just getting ready to do a lot more local band shows.  We just made a big announcement about that. Its really a 24 hour a day job. There is not a moment that I stop thinking about what my calendar is. It's weird.  And I don't think theres really more of one than the other because for every national band I book then I have to think about who can I creatively put on the show. Then there is the local shows where a band says we want to headline then I have to think who can I put on that show, so I think they are probably both equal as far as what gets more attention than the other.  But I spend a lot of my days even when sitting on the couch watching TV I am always thinking of ideas.
Gast: What do you look for when evaluating the local talent?
Arceneaux: I'm more interested in being blown away by a great sounding band whether, and it .(he pauses) I am into songs! I'm into song writing. That's my biggest thing. Now that can be a punk rock band or be a thrash band I am just really into the art of creating a great song. Being a musician myself, the brass ring is to get that song that you just go man this is a great song. Yeah, I am all about the song that gives me goose bumps or makes me laugh or makes me cry. On the other hand, there have been bands that haven't had necessarily great songs but their energy was so compelling that I had to pay attention to them. And their performance and their chemistry together made the songs I didn't really think much about up front, work for me.  You know what I mean? You'll hear an album and think, that's not so great but then you go see the band and your like oh my god, who are these guys and that happens sometimes too.
Gast: What's you're fondest memory or greatest achievement as a talent buyer?
Arceneaux: God, there are so many great memories. Booking the first Y&T show here for New Year's Eve was kind of a cool thing. I think Alien Ant Farm was the first National Act I officially booked in here so that was kind of exciting in itself. But, getting Nine Inch Nails to play for me for six grand at the height of their career, or No Doubt playing for me.  They started playing for me at the One Step Beyond as an opening band getting fifty bucks to where by the time Tragic Kingdom happened they were still coming back and playing for me for three to six thousand dollars so it was exciting to be able to get those kinds of shows. Being able to get one of the last Smashing Pumpkin shows was another one.
Gast: As a huge fan of Michael Schenker, how about working with him?
Arceneaux: I have a lot of Schenker stories that are all cool. The first time I booked Schenker at The Edge, was seven nights with UFO that I booked and a lot of my contemporaries laughed at me for doing it.  People in San Francisco said you've got to be out of your mind.  I booked seven nights with Michael Schenker with UFO and after he had done the UFO shows, he came back a few years later and recorded a live album there which you can see in the liner notes, I was actually at the top of the credits which was a very cool thing. It read like "Thank You Jimmy Arceneaux and The Edge." But it was cool that he did a double live album there. They had the mobile truck out there which I had never experienced before in my career so that was kind of cool. I have had a long career with that guy.
Gast: Do you have any bucket list artists?
Arceneaux: Actually I do, some might be a bit surprising. Gino Vannelli, I would love to book Gino Vannelli. Tony Bennett would be nice. Aerosmith would be pretty amazing. I could probably list off a hundred I mean seriously there are so many great artists out there that I haven't had a chance to book into a venue.
Gast: As a guitar player, who are some of your musical influences?
Arceneaux: That's a whole other topic.  Probably my favorite all around rock guitar player, just rock n roll guitar players is Gary Moore. Jeff Beck. I mean, I am nowhere near the guitar player Jeff Beck is, but for just emotion on a guitar he is probably the guy that swings me the hardest
Gast: If you could select one musician or artist, living or deceased to jam with, who would that be?
Arceneaux: Phil Lynott from Thin Lizzy.
Gast: You guys have already done some amazing things but whats on the horizon for the RockBar?
Arceneaux: You know, something strange that has been happening around here and Richard (Ross) a guy I work with has noticed it but I will reach out to an artists and someone will say, I was just talking to him.  Or I will be thinking about booking an artist and get in and there will be an email from their agent saying hey do you want to book them so there has been this weird synchronicity thing with the room itself.  You know we are still growing and there are still those small struggles with getting agencies to pay attention to the market because this is still a secondary market but overall it just seems like everything is working for a reason right now. I think people are going out to see local live music again because times are tough and people want to be entertained. And I think people are coming out to see live music again because they are seeing some excitement in what's out there and that's a great thing.
Regional or national headliners, cover bands and tribute acts, comedians, magicians, professional speakers, country, classic rock, progressive, alternative, pop, jazz…nothing is out of the realm of consideration to Mr. Arceneaux. Like a songwriter, looking for the right hook or just the right chord progression, Jimmy is constantly working on his next big hit.
Editor's Notes:
You can check out some of Jimmy and his band Swerver's music at: https://www.facebook.com/swervermusic or follow his talent buying prowess at: www.rockbartheater.com.