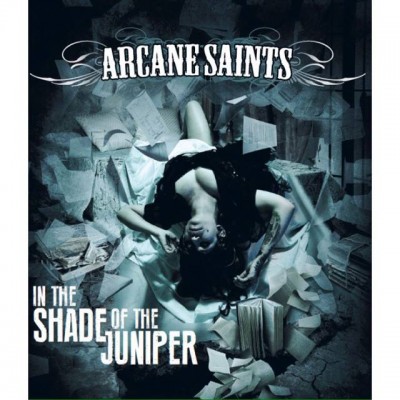 Arcane Saints are one of the most exciting new rock bands to come out of Australia since Silver Chair, Electric Mary, Midnight Oil, and INXS. Their latest EP, "In the Shade of The Juniper" being released worldwide on March 21, 2015, continues the Aussie legacy of musically diverse, hard hitting rock and roll; a legacy that is safe in the hands of singer, guitarist, and writer, Michael John. Originally from Auckland, New Zealand, John immigrated to Melbourne, Australia in 2006 after winning the Pan-Pacific Songwriting Contest in the Rock Category with his first hit, "Motorway." He used the prize winnings to throw a massive going away party with his friends and family, and then quickly moved to Melbourne, the heart of the music scene in Australia. He realized that the local Kiwi music scene was simply too limited to offer him any real chance at international success, so within just a few months of relocating to Melbourne, he started putting together his new band, called "Arcane Saints."
Over the past decade the band has enjoyed ever increasing success in a very steady manner, while enduring numerous personnel changes throughout the years, with many other bassists and drummers, and a few guitarists filling the open slots. The current lineup consists of the two mainstays of the band — Michael John as rhythm guitarist, vocalist, and writer, along with Michael "Sheep" Gooding as lead guitarist. "The Two Mikes" have been the one (or two, as the case may be) constant in the band for the past decade, and they now enjoy the company of Sydney native, Den Murray on drums, and the newest addition to the crew, bassist Rory Wale of Melbourne. This new lineup has solidified in time to bring you "In the Shade of the Juniper," a worthy follow-up to their 2013 Toby Wright produced album, "Turning the Tide," which culminated in a successful US tour during the summer of 2014 with Trapt, The Veer Union, and Letters from the Fire.
This latest release is a six-song EP, and it starts off with a serious bang in the form of the lead track, called "Juniper." It begins with a beautiful, clean guitar riff that accompanies John's smooth vocals, and after the introductory verse, the song goes off like a bomb in your face, with huge drums, booming bass, and guitars with John's voice floating above it all like a mushroom cloud over an atomic detonation. This is a song that is going to get them noticed on the radio, both in OZ and the States. It's perfect for heavy rock radio, and I predict it will be the band's first international hit, and radio station program managers everywhere should be clamoring to add this to their playlists.
"Fool's Gold" is the second track on the EP, and it has the same drive as "Juniper" and incorporates a very melodic vocal track and a complimentary guitar riff that work really well together. Meanwhile, the bass lines and accompanying drum tracks keep the bottom end solidly together and moving at a driving pace. The song has a cool breakdown that cuts you off at the knees, just before diving headlong back into the chorus one last time before taking you to the end of the line.

The third track, "Streetlights and Symphonies" shows off the obvious influences that Kurt Cobain and Nirvana have had on singer/songwriter/guitarist Michael John. It evokes memories of some brilliant moments in Nirvana history while still being its own original composition. It's reminiscent of parts of "Something in the Way" and moments of "On a Plain," as well as snippets of other Nirvana classics. I feel like it's John's way of paying homage to one of his idols, while at the same time writing a completely original composition. Bottom line is I like it because it works, and it works well. It's moody, melodic, and dissonant all in the same song and that shows a real growth in the composition and arrangement talents of John.
The next track, "Faith of the Faithless" is not only extremely powerful as all Arcane Saints tracks tend to be, but the lyrics went even deeper this time with some serious, socially relevant ideas that are at the crux of what rock and roll is – the ultimate in youthful rebellion and the necessary questioning of all authority. Regardless of which side of the political spectrum you fall on, you'll find John's lyrics and passion of performance hard to argue with. The strength of his convictions really comes through in this song, and the melody is as enthralling as the rhythm section is undeniably relentless in the zeal of their performance. A well-written, expertly performed composition that again will be another track for radio station program managers to take special notice of.
Michael John invited local female rock vocalist Shar Dee, from Melbourne's own "Shut Up and Choke Me" to sing backing vocals on their ballad, "Cellophane Eyes." The original acoustic version, recorded live during an interview with Cat Unwrapped on Ballarat Community Radio show, "Voice FM" which went viral on YouTube, cried out for a full-band version of this soulful rock ballad. The words and music are simple, heartfelt, and exceedingly melodic, lending themselves to the perfect arrangement for John and Shar Dee to show off their formidable vocal talents on this track. This is the song that you'll reach into your pocket to pull out your lighter or cell phone to wave in time to the rhythm when you catch their live show. This song is yet another winner, and demonstrates the versatility and musicality of this band.
"See You in the Summertime" is a short little ditty that has a playful neo-punk feel to it, something akin to a cross between the Kinks and Green Day that will make you smile, laugh, and do the pogo. It's a fun song that makes me wish for warmer days with the top down and the radio cranking while heading to the beach boardwalk at Ocean City. I especially like the guitar tone of the lead break because it lends a warm, fuzzy feeling to the song as it evokes memories of long, hot summer days. It's a bit of a break from the rest of the EP, but I think it's more of a present to the fans, letting them know that the Arcane Saints indeed will be back in full force in the coming summer days ahead.
In the Shade of the Juniper has a slightly different feel from their last album, but it maintains the raw essence and energy of their live performances, keeping things sounding more down to Earth and less produced. Judging from the quality of the songs and overall production superiority, capturing that live energy was the goal they set out to achieve with this latest release, and they did so with flying colors. This is a well-written and performed, expertly produced and engineered EP that I think should be the start of some very big things for Arcane Saints in 2015, and should also go a long way towards garnering new fans for the band. I believe it is also a product that their current fans will eagerly devour, like a tourist with a margarita on the beach at Cabo San Lucas, this release goes down smooth. This EP is their best effort to date, in my opinion, and should become a great addition to anyone rocker's music collection.
Available on March 21, 2015 at www.arcanesaints.com and on iTunes.