Out on the road with the PsychoOctopus
I was introduced to Priester's playing a little over a year ago. As a drummer, I am amazed by his speed, level of skill and technique and have been a huge fan ever since. Wanting to learn more about one of my new musical inspirations, I had the honor and pleasure of chatting with Priester, while out on the Tony MacAlpine Concrete Gardens tour, during their stop in San Jose at the Bay Area's
newest premier venue for live music, the RockBar Theater.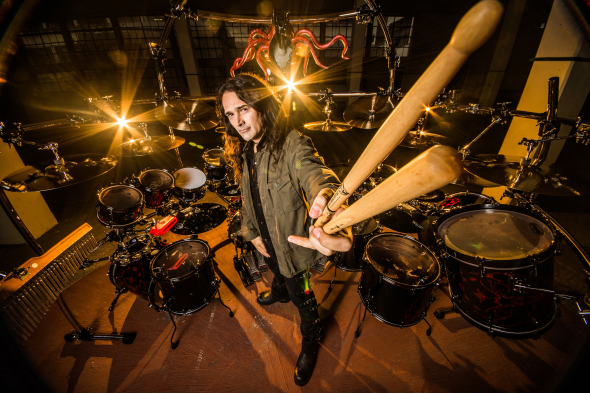 Dennis Gast: I read that your first contact with the drums came when seeing a jazz drummer on TV when you were age 4. What about that performance/drummer, stood out to you to make you commit it to memory like that?
Aquiles Priester: I don't know what happened, but it was something magical, because I can still remember walking through the living room, hearing the sound of the drums, and that really caught my attention. I remember he was a four-piece kit guy, and that's why I think he may have been Buddy Rich, but I'm not sure. After that, I only had actual contact with a real drum kit when I paraded and played the tambourine with a samba school in Argentina shortly after the Rock in Rio edition of 1985. When I first sat at the drums, I didn't know what to do, so all I did was observe that beauty and wonder where it could take me. Thirty years later, I find that I'm a very blessed person, because I have a beautiful story to tell.
Gast: When did you begin playing and what training, formal or otherwise, have you had?
Priester: Actually, in 1985 I began dubbing a Brazilian band called Ultraje a Rigor at the time of the first edition of the Rock in Rio. They are still around and are very proud they initiated me in the music business. In my backyard, I set up a drum kit composed of cans, plastic basins, ice cream pots and gasoline gallons, and that became my first drum kit. At the time, I was 15 years old, and my parents couldn't afford to give me a real drum set. I'd spend a large part of my afternoons (after school) looking at the drum sets in the stores of Foz do Iguaçu where I lived and imagined how great it would be to own one.
When I talk about the beginning of my relationship with music, I get all emotional, because so much has happened in my life. It is surreal to look back and see that things worked out, that I'm able to travel the world and live off the art of playing the drums. I can say that I'm 100 percent fulfilled with what music has brought me. My last job before joining Angra in 2001 was as a marketing manager, and that gave me a completely different perspective of the musical market. I know I had to create an Aquiles Priester brand, so I could also explore a career parallel to the band, and this is something I did little by little.
Gast: What is the significance of your octopus logo?
Priester: I believe that all drummers are octopuses of different species, of rare species. Each and everyone one has his or her own signature. When I recorded my first live DVD with Angra in 2001, our singer, who also was new in the band, introduced me as "Octopus" and told the audience that he had no idea how I could play so many notes with only two arms, and that I seemed like an octopus. From then on the band's audience, who later also became fans of mine, began calling me Octopus, and I realized I could explore this.
Gast: What is the significance of your tattoo?
Priester: Only in 2004 did I ask a tattoo artist who is a friend of mine to create my PsychOctopus. This name was inspired by the movie "The Silence of the Lambs" and I don't have to explain why, right? The image speaks for itself. My mask was based on a hockey goalkeeper's mask, and that was the first one I used during my first tour with Angra. I used to play the last song using that mask, and unintentionally, it came to represent the show.
When I stopped using it, fans asked me to go back to using it, and that's when I realized that the Brazilian market lacked an icon, an image that could represent all drummers. I immediately created my image, the PsychOctopus, and I included the mask in all of the products I released. Many endorsers don't even use my picture nowadays, because they prefer the PsychOctopus — for everyone knows it represents me very well.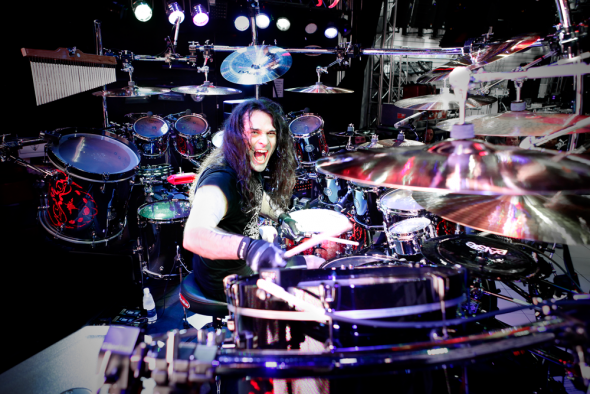 Gast: Do you come from a musical family? Does anyone else in your family play an instrument?
Priester: Actually, yes and no. My father and one of my oldest brothers play the acoustic guitar, but they never did so professionally. In other words, everything was more difficult. Contrary to what may happen in the United States, no father in Brazil is happy to know that his son wants to become a musician, especially a drummer. It is a very uncertain profession, and if you want to play in a band, you have to be aware that your career will depend on the interest and dedication of other people.
When I began playing, I lived in Foz do Iguaçu, a city in the south of Brazil located on the border of Paraguay and Argentina. In other words, very far away from everything! After Foz do Iguaçu, I lived in one of the state capitals of Brazil (Porto Alegre) from 1998 to 2000, and since 2000, I have been living in São Paulo. One of my plans for 2016 is to move to Los Angeles right after the Namm Winter Show.
Gast: You list Nicko McBrain among your influences. What is it about his style that draws you in?
Priester: Nicko McBrain has trademarks when it comes to his ride cymbals. Coincidentally, many people also identify my style by my fills using the ride cymbals. This became so important to me that Paiste Cymbals decided to release my signature ride worldwide, the 18-inch 2002 PsychOctopus Giga Bell Ride.
Nicko was responsible for introducing me to the metal world after I listened to his 1986 album "Somewhere in Time." Even today, this is still my favorite and most listened to album of all my life. I became one of those fans that Nicko knows by name due to my history of adoration. Besides, we use the same brand of cymbals.
In 1993 a friend of mine, who was a guitar player, loaned me Tony MacAlpine's album "Maximum Security". I simply couldn't comprehend whatwas being played on the drums I really enjoyed what I was hearing, but I could not comprehend it.
At the time, I decided to take drum lessons with the biggest legend of Brazilian drums, Kiko Freitas. Kiko is a very technical drummer who plays Brazilian music, fusion and jazz. That was exactly what I wanted, to mix his sophistication with my desire to play heavy metal. It worked out very well.
Last year we went on tour in the U.S. to celebrate 25 years of the release of "Maximum Security," and every night, I played the songs that inspired me to become a better drummer.. I'm very thankful I admired the right people. Life has been very good to me. I have fulfilled all of my dreams. I hope it continues this way.

Gast: How did the relationship with Tony MacAlpine come about?
Priester: After my audition for Dream Theater, Tony called John Petrucci and asked him which of the seven drummers, except for Marco Minnermann and Virgil Donati (he had played with both of them), in his opinion, would he recommend for a European tour. Petrucci recommended me. I was very happy with the recommendation, because Tony was responsible for placing me in the virtuoso drum market.
We have been working together since 2012, and in 2014 I recorded his new album "Concrete Gardens," and this is the tour we are on at the moment in the U.S. Playing with Tony is like a fairy tale, and what I can say about the new album is that it has sent me back to my practice room for many and many hours, until I felt ready to record the material. And even more so to be able to play these songs live. I can say I'm an improved Aquiles, who maintains the usual characteristics, but with a broader musical vocabulary.
Gast: What other brand drums have you played coming up and how did the relationship with Mapex Drums happen?
Priester: I never played with another drum set. Since 2001, when I began my professional musical journey, I've been with Mapex. For me, it's simply incomparable. I am so used to the sound of the brand, that I'm able to achieve my sound using any of the Mapex series. Besides the sound, I have a unique relationship with all of the brand representatives around the world.
Gast: Tell me about some of your other endorsements.
Priester: I have been working around the world with all of the following brands: Mapex Drums, Paiste Cymbals, Roland, AKG Microphones, JBL, Gibraltar Hardware, Evans Drum Heads, Pro-Mark Sticks, LP Percussion, Planet Waves, DW Pedals, Boss, Ahead Armor Drum Cases, Xtreme Ears, Urban Boards PsychoShoes, Power Click, Consulado do Rock and Lady Snake Rock Wear. I am sure that if the brands had been others, my sound would be different. All of them are responsible for my musical signature, and I'm very grateful for their unconditional support.
Gast: Your drum solo is multidimensional and more "musical" than most. You almost sound like a one-man band. Can you explain, in simple terms, how you achieve the added sounds and incorporate them into your live solos?
Priester: Actually, that is a backing track. Besides the musical accompaniment, I have a click playing simultaneously. I have played this solo for a few years, and every night, it is a great challenge. On certain nights I conquer it, and on others it beats me. It would definitely be less risky to do a free solo and control the musical tempo every night depending on my physical condition, but that would be less of a challenge.
Although every part is pre-defined, there are totally free parts, and I can play whatever I want. I mix many of my musical influences, and I make use of one of the parts to play different samba patterns. I even make mention of one of the most classical songs of this style in my country: "O Brasileirinho." The solo comes to a close in an epic way, when I play a passage of "Mercy, Mercy, Mercy" by Buddy Rich. I think there is no better way to close a drum solo.
Gast: If you could pick one musician to jam with, living or deceased, who would that be?
Priester: Definitely Steve Harris (Iron Maiden). He is so important to me musically speaking that, even though he is not a drummer, he impressed me as to influence the way I think and act. You can be certain that the metal world would be different without him.
When Iron Maiden appeared, he brought a lot of innovation, and that is fine since it was a novelty. To maintain an active band for 30 years and still continue at the top, that's something else. Besides the musical aspect, there's still the business part of the style, and that was a totally new way of administering a metal band.
When you think about a heavy-metal mascot, who comes to mind? Eddie! And besides that, he always was an excellent songwriter and bass player. You can be certain that many bands were and still are inspired by the way Iron Maiden is administered. I'm afraid to know that in the future when they're no longer here, we'll only remember the history they left behind.
Gast: When you are not performing and rehearsing and just want to listen to music for pleasure, what is your go to? What is on your iPod?
Priester: Definitely not heavy metal. I love the style, but I have to recycle myself all the time. I listen to a lot of pop music. I know that may sound weird, but from this style, I get my best ideas. If I listened to and played only the same style, I'd be totally limited, and that would reflect on how I play. But I'm also aware of everything new that's happening in metal, because I have to keep myself updated.
Gast: What is up next for Aquiles Priester?
Priester: This year, I'm going to fulfill my dream of playing at Rock in Rio and that will be epic. I began playing the drums 30 years ago because of this festival, and now the time has come to take advantage of my notoriety and make the most of the moment.
Besides that, I'm also planning to record my new DVD during the second semester, and I'm finalizing another book with the transcriptions of my acclaimed DVD, "Aquiles Priester's Top 100 Drum Fills," which won the Best Instructional DVD by the readers of Modern Drummer Magazine in 2014.
There are also the tours. I'm going to Europe with Tony in October and in September I'm going on a mini tour in Brazil with both Noturnall and Hangar. I also want to record a DVD, where I'll play the songs of my album with guitar player Gustavo Carmo. I intend to do all of this in 2015. In other words, I'll only think about rest at the beginning of 2016, but not much, since I want the year to begin with a lot of many new things.
Author's note: After some July dates with Primal Fear and Noturnall, Priester will be back out on the road for the European leg of the Tony MacAlpine Concrete Gardens tour. You can learn more about Aquiles Priester and his many projects at: