Music of epic proportions
Hailing from Helsinki, Finland, Apocalyptica consists of three cellists, Eicca Toppinen, Perttu Kivilaakso and Paavo Lötjönen, and Mikko Sirén on drums. They began their music career as a band in 1993, and their current singer Franky Perez, a former guitarist for Scars on Broadway, joined the band in 2014.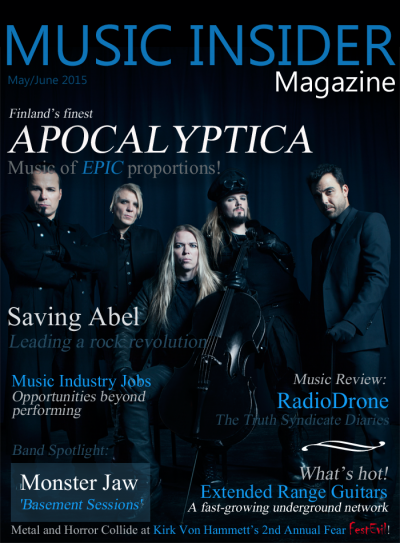 Apocalyptica have amazed fans with their music, combining a classical foundation with metal to create something absolutely incredible. They have collaborated with countless musicians and singers including Corey Taylor of Slip Knot, Gavin Rossdale of Bush, Adam Gontier of Three Days Grace, Brent Smith of Shinedown and Lacy Sturm of Flyleaf, to name a few.
Opening for Sixx:A.M. at the Hard Rock in Las Vegas, I met with Eicca Toppinen in the green room upstairs at The Joint.
Jeni Blue: What kind of musical training did you have?
Eicca Toppinen: Pure classical music. We studied at Sibelius Academy. It's the most famous music university in Helsinki. I stopped my studies there, when we started Apocalyptica; however, Paavo has his master's in music. I started training classically at age 9, Perttu started at age 5, and Paavo started at 6 years old. I was a little late in starting. We all play the cello in the band as well as perform backup vocals. I have known Perttu and Paavo since I was 13.
Jeni Blue: How did you cross over from classical music to metal?
Toppinen: I have been listening to metal all my life; I always liked different styles and types of music. As a teenager, I was into both classical and metal. We started to play it, because we liked it a lot.
Jeni Blue: Why did you decide on Metallica covers for the first album?
Toppinen: As far as metal bands, they were the number one favorite from the beginning, but we also played some Sepultura, Slayer and Faith No More. For our first album, we decided to make it a full Metallica album.
Jeni Blue: What was the one defining moment you knew you wanted to be in this business?
Toppinen: I think it was at the age of 17. I was in the youth department at Sibelius Academy. I got in a class that taught talented youth, so that was the turning point.
Jeni Blue: Did you know right away metal would be your genre of choice?
Toppinen: No, I was purely a classical musician. When Apocalyptica released the first album, we didn't think about it, we just played metal for fun. In Finland we thought if it sold a thousand copies, that would be great, but all in all we sold 5 million copies. There was no plan; we just played it for fun.
Jeni Blue: Your current singer Franky Perez is from America. How did you find him?
Toppinen: When we were writing songs for this last album, "Shadowmaker," we decided for this tour, we needed to find a singer for the whole album. Before, we had always had guest vocalists for each track. We sent out a sample, and let people know we were looking for a singer, and we went through all the auditions … We picked out a few of those who auditioned to make a demo tape for us. In that process we found Franky. It's going very well with him. We were really lucky to find such a cool singer who fits into the group so well.

Jeni Blue: What would you say is the most significant accomplishment in your career?
Toppinen: That we still exist (laughs). The very first time we played was 22 years ago. It's been 19 years since the first album released, and I think that is the best accomplishment, that we are still together. We like to make music together; we are really motivated to try new things musically and like to challenge ourselves. We all get along very well together.
Jeni Blue: Is there anything personally that you have not attained yet, that you would like to attain?
Toppinen: No, I don't think of such things very much. I just like to have fun with the experience. I try to only focus on what we are doing at this moment. I concentrate on that and not what we are going to do next — day-to-day living.
Jeni Blue: What challenges have you faced to get where you are now?
Toppinen: A lot of challenges. In the early years it was trying to convince people that we were not just a novelty act, and that we were a real band that likes to make interesting music. That was something we had to fight for. In the music business so many people think they know better than you about what you should do or who you should be. It's always an endless fight. The best way to do it is to keep your mind on the best way to do it. So many people want to put their fingers in the pot. That may be the biggest battle in this whole profession.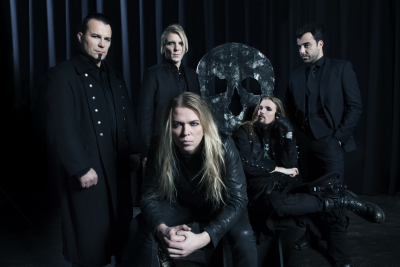 Jeni Blue: How did you come up with the name Apocalyptica?
Toppinen: That actually came from our first record company. It was an independent label, a small company, and they came up with the name. We wanted the name to have a dark feel to it, like Metallica, because at that time, there was no plan to do anything more than just the first album. "Apocalyptica plays Metallica by four cellists," so we wanted to have the metal connection. It's a combination of that.
Jeni Blue: As far as writing music, is it a group effort?
Toppinen: We do it together. Perttu does some writing, but I do most of it. I don't consider myself a lyricist, so I write with people outside of the band. We collaborate together on the lyrics.
Jeni Blue: In your opinion, what is the most difficult part of writing music?
Toppinen (ponders): Aha, the most difficult part … I don't know. I would say finding something that feels fresh, new and not boring. That's a challenging thing for me. If I have had a really long break from not writing music, it's the starting that's always difficult. I might have a good idea, but I am not sure what to do with it yet. It's hard to find the right way of working and how to process and develop songs. I think the most important thing is to challenge yourself, to not be satisfied with just "average."
Jeni Blue: I know you don't write the lyrics alone, but does your music or songs come with a particular message, or are they basically just for pleasure?
Toppinen: I think there is not too much anyone can sing about except relations. So therefore, it's mostly the problematics of relations. Being human beings (laughs).
Jeni Blue: How many cellos do you own?
Toppinen: Only three. However, one of them is worth $200,000, so …
Jeni Blue: What kind of music do you like to listen to when you aren't working?
Toppinen: I try to follow actively what's new in music in different genres, so I listen to a lot of radio, pop, electro, alternative and metal. I'm not so much into hip-hop, rap or R&B. Some rap I really like, but mostly, for me, all music that moves you, is good music. That's why I don't categorize it usually. If I really want to listen to something, I will pick out metal or classical, or something like Massive Attack or dark electro music. I really like to listen to this new French metal band Gojira.
Jeni Blue: Outside of music, what other things do you do for fun?
Toppinen: I like doing sports, running and gardening. I live outside of town. I have a little forest there, and I like cutting trees and making firewood. I also have a small boat, and I love to go to sea. I spend a lot time there in the summer. I love to sauna; I have a really nice one at home. I do that many days of the week. It's pretty cold in Finland. Summertime's alright, but it's not like in Nevada (laughs). I live in a place where when I am at home, I always have
something to do with my hands, fix this, build that, and it's mainly because in music, what we do is not concrete. We play a show, then the show is over. There's nothing left but noise in the air. I love to do something with my hands
where I can see the end result, and see how it progressed. So I do a lot of that kind of thing in my spare time. I also like drinking beer. Yeah, it's a nice hobby (laughs).

Jeni Blue: Do you have a family back home, kids?
Toppinen: I have two kids. It's pretty tough being away from them, but my kids are older, they are 16 and 13. They don't know anything else but Apocalyptica. I have always been with the band to them. I was at home with them for two years, before we started this record, so that was really nice. I do take them on the road with me, at least once a year. Now that they are in high school, it's a little difficult with their studies.
Jeni Blue: Would you rather have a night out on the town or a relaxing evening at home?
Toppinen: Depends, I love both. I have more relaxing nights at home than going out to the bars. Sometimes, I am very social; sometimes very isolated. I like to go out, but I also like living outside of town. I live 20 miles outside of Helsinki in the woods. There are two miles of sandy road, and no street lights. I'm totally in the middle of the forest yet still near the town. It's really nice there.
Jeni Blue: Odd question: some bands have particular amenities they must have backstage at their shows. Does Apocalyptica have anything like that?
Toppinen: Not really, we just try to eat healthy and avoid shitty food. We have a health project on this tour;  everybody needs to lose some weight (laughs). We only have healthy food backstage.
Jeni Blue: Any future projects in the works after this tour?
Toppinen: The tour will be two years minimum, so I can't think that far ahead. Perttu and I actually composed an opera for the Finnish National Opera that is premiering in January 2016. That was one side project.
I also have a side band called Cherry and The Vipers, I play drums and my wife sings. It's strictly in the Finnish language. We would like to get to the studio at the end of this year to make a second record. It won't be international. It's fun, I like it, and it's a good side project.
Jeni Blue: If you had a super power, what would it be?
Toppinen: My super power? I don't have one … (big laugh). Maybe my super power is to play music, so that people get good energy from it.
Apocalyptica is on tour promoting their eighth album, "Shadowmaker," which was released in the U.S. on April 21. Tour dates, VIP packages, photos and videos are available on their official website www.apocalyptica.com.