The Planet CrindelStar Story and Song Album is Changing The Message on bullying and has been Endorsed by Teachers, Child Psychologist, Parents, Children, and Grammy Award Winning Artists. Beneficiaries include the NPO Planting Peace.
FOR IMMEDIATE RELEASE
Changing The Message Planet CrindelStar
PRLog (Press Release) – Jul. 21, 2013 – NASHVILLE, Tenn. — "Changing The Message" (www.PlanetCrindelStar.com) is an outreach program to elementary schools sharing the highly acclaimed positive self-esteem message on the Planet CrindelStar album. Additional beneficiaries include humanitarian groups and NPOs such as Planting Peace (Orphanages, Equality House), and Stop The Bleeding, Inc of the U.S. Virgin Islands. The album includes the CrindelStar narrated story in both English & Spanish, plus songs contributed by U.S. Vrigin Islands Artists, Nashville based Artists, and the original CrindelStar theme song.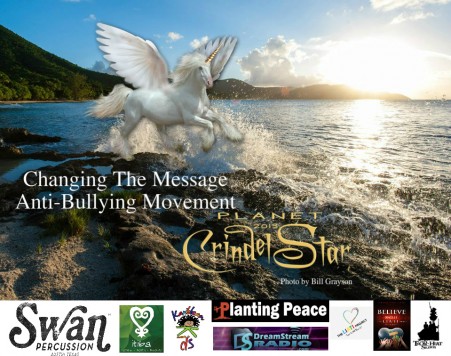 Among the featured songs on the Planet CrindelStar album, is "A Same New Day" by Nashville based rock band, Hip Kitty. "We are thrilled to have our music included in the mission of Crindlestar. Our investment in children strengthens the platform of development allowing their unique talents to bloom. Thank you Crindelstar for watering the seeds of our young dreamers! " ~ Jen Goncalves HIP KITTY/Lead vocals. Hip Kitty career highlights include : Performer for Walt Disney World Entertainment, Pleasure Island, # 1 requested ROCK band 2006-2009, 3 world military tours for Armed Forces Entertainment (Middle East and Latin America) plus much more.
Nashville based author and award winning music publisher, Gigi de Lugo, Producer of Planet CrindelStar, is a 4th generation Virgin Islander, from St Croix. de Lugo is also working in partnership with USVI community leaders, like Cheryl Francis, to help the children back home. "It is my pleasure to endorse the work and vision of Gigi de Lugo and her team as Crindelstar extends outreach to elementary school aged children via music, stories and the arts. Our organization, Stop the Bleeding, Inc. is very happy and honored to incorporate our efforts on behalf of the children of the Virgin Islands through our song "Believe" created during our LIATI (Love Is All There Is) project. This partnership assisted our students to not only enjoy music, but to merge the words of peace, love and inspiration that truly resonates through Crindelstars' stories and music." said Cheryl V. Francis Cheryl V. Francis, President STB USVI, Inc and wife of Lt Governor, Gregory Francis, of the U.S. Virgin Islands.
Included on the Planet CrindelStar album is the narrated CrindelStar, story based on a young girl, Maria, who faces peer pressure from her classmates to abandon her belief in her precious unicorns. We learn through Maria's encounter with a mystical creature, CrindelStar, that what she believes of herself creates the foundation of what she might ultimately contribute to the world through her life's purpose and gift. CrindelStar arrives to rescue Maria from her despair, but it is through Maria's compassion, honesty, and personal courage CrindelStar is saved as well !
The audio album is delivered via custom designed MP3 download cards made of paper embedded with wildflower seeds. No plastic – completely GREEN & planet friendly. The unique code on the back of each card is used to redeem online for the full album mp3 files, then children plant the card to grow wildflowers.
Visit www.PlanetCrindelStar.com to learn more and find out ways to be part of this wonderful movment. Photo: http://www.prlog.org/12178644/1