by Brian McKinny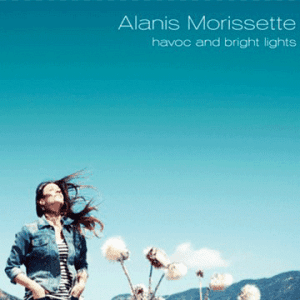 Alanis Morissette has released her eighth American album called "Havoc and Bright Lights" on new label "Collective Sound", distributed by Sony's RED Distribution. You know, sometimes life isn't fair, but it sure can be ironic (tongue planted firmly in my cheek). It's not Alanis Morissette's fault that she made an album 17 years ago (wow, has it really been THAT long?!) that was so right for the time that it became an instant classic.
"Havoc and Bright Lights" is her most recent effort to scale the heights of 1995's "Jagged Little Pill", and her new album shows the singer-songwriter in a completely different, happier place than her previous efforts have done. No longer playing the spurned lover, she is now happily married to Mario "MC Souleye" Treadway, and a proud new mother. Much of that contentment is obvious to the listener on 'Havoc and Bright Lights' lead single…
Guardian – A song that is clearly a celebration of the joy of her recent motherhood. It is a song that speaks of 'angels and keepers, wardens and warriors', mixing imagery of nurturing and protection. It is an uplifting song of support and love, and all that goes along with raising a child in an uncertain world. She is the watchful lioness caring for her newborn cubs in a savage world. Okay, it's a little cliché, but it works in this song. It's a sweet, sentimental song, but I liked it.
Woman Down – With the industrial keyboards, and driving upbeat/up-tempo, this song is very Madonna-esque… 'Woman Down' is a message-strewn song that the Queen of Pop would be proud to belt it out herself. Sadly, it's a bit much of a stretch for our former spurned lover, angst-queen, Alanis. The lyrics are mated to a style that is just too incongruous for the message. I think that it would have given more gravitas to the intended message had it been done in a more thoughtful style than the industrial dance sound she chose for these lyrics. I'm still not sure if I like this song – I get the message; it's not exactly subtle… But I'm not sure she's the right messenger for this one.
Til You – It is soft and slow, beautifully sung and cleanly orchestrated. It is a simple, sweet love song with nice piano parts, a good acoustic guitar backing track, and very soft, subtle vocals and lyrics. Arrangement is straight-forward and works for this song. I like it for what it is, and what it doesn't try to be.
Morissette, whose voice sounds as pliant and supple as always, still seems to be at her most potent when she's still holding onto a little bit of an edge, even if the chip on her shoulder is long gone. And as she looks outward, as well as inward with the thoughtfulness and moodiness we've come to expect from any Alanis Morissette album, she knows how to stay true to her own strengths.
Celebrity – On the middle-eastern tinged, steady driving song "Celebrity," she questions the need to acquire fame for fame's sake, taking on all the "tattooed sexy dancing monkeys," who would give their "kingdom to be famous." An interesting take on the "Kardashians" of the world, Alanis finds more of her old edge with this song, with some plain and simple disdain for those who are as shallow as that.
Empathy – A true, feel-good song if ever one was written. "Empathy' is an upbeat love song, written by someone who has obviously grown out of her scorned woman angst-filled songs of the 90's. This is a much more mature outing that still makes great use of her silky, powerful voice.
Still, for me, it's the less obvious songs which are the ones that shine on this record. For instance –
Lens – This is the first hit, mark my words.  It may not be the obvious choice for a hit single, but it has a good mid-tempo groove, and I like what Alanis and her producers, Guy Sigsworth and Joe Chiccarelli, have done with the subtle orchestrations. 'Lens' has a good dynamic build-up, and I must admit that I like the lyrics – mature, thoughtful, and clearly written by a woman in love. This song almost has a gospel feel to it, if you can excuse a gospel song for having a groove and good bounce to it.
Spiral – Another of the less obvious choices for a hit single, this is a very up-tempo pop song, first and foremost. It goes into a little psycho-babble with the lyrics, i.e., "Shame spiral…"?? Still, there's good energy in this song. I like the vocal performance on this one very much – the phrasing and arrangement are interesting, if not atypical for Alanis. It has nice, simple guitar riffs that fit the song nicely, and overall this song makes me smile. Good guitar tones and excellent production are evident on the entire album, but this song is where they stand out to my ear the most. The chorus makes you want to get up and dance, and the feel of the song is light and carefree. The bridge is a nice change in the song, as it builds up to a strong finish.
Numb – 'Numb' has a darker sound and feel to it, again, almost a middle-eastern influence on the guitar sounds. I also like the ominously-played fiddle; it is reminiscent of "The Devil Went Down to Georgia, trading off with guitar licks that heighten the darkness of this song, with the same kind of intense, high energy I've come to expect from Alanis' backing musicians.  'Numb' also has a very out-front bass line that drives not only the melody, but the beat along as well, and helps create an almost angry, frenetic mood in this song.
Havoc – This is a very nice ballad, good production, very dynamic, yet smooth and elegant. The piano and cello are nice touches that keep the music sparse enough to showcase the vocals and lyrics of this song. Alanis' voice is as supple and smooth as silk sheets, caressing the air with her every breath. She is creating a mood within this song that allows one to picture a beautiful woman performing a flowing dance of sadness, alone in a beautiful secluded setting that belies the name of the song, creating an ebb and flow of alternating subtleness and power.
Win and Win – It's competent, but there's really nothing that stands out on it. The lyrics are lofty, idealistic, and a little too sweet for my taste. But I was always more of a savory lover than someone with a sweet tooth. It's even, and competent, but it's a bit too much Karen Carpenter for me. Still, it isn't out of place  here.
Receive – This could be another radio hit.  It has a strong hook, good dynamics, and an almost familiar feel to it. Nice counter-melodies on the bass line, and guitars and orchestration are full and the vocals are well done with catchy, easy to sing-along lyrics. Very nicely done.
Edge of Evolution – This song has a bit of a dated sound to it, like it should have been on one of her earlier, less-worthy albums. It doesn't stand out to me, other than it would have been better to keep this an eleven-track album and to not have included it at all. The only real weak song on this entire album is this track.
'Havoc and Bright Lights' is the best effort from Alanis Morissette in quite some time. However it's not on equal footing with her seminal album, 'Jagged Little Pill'. But fret not, O fans of Alanis! Even if it is uneven in a few spots, overall I think it captured very well what she was trying to do and say with this album, so I would recommend it to any Alanis fan. It is a testament to her new-found maturity, happiness, and her own in-depth analysis of her life as she sees it now.