MARCH 17TH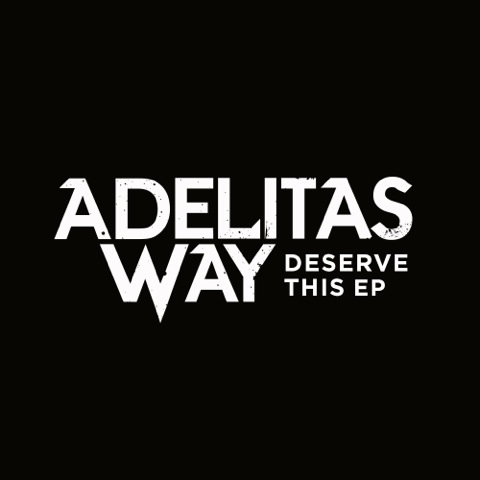 BAND CURRENTLY Co-HEADLINING SNOCORE TOUR WITH FLYLEAF
February 6th, 2015 – Las Vegas hard rockers Adelitas Way are gearing up for the release of their new EP entitled "Deserve This" March 17th.  The EP was produced by Matt Dougherty (Airbourne, Aranda, Megadeth, Staind, Disturbed) and the band at Groovemaster Studios. The band is currently on the road this Winter as a part of the SnoCore tour along with Flyleaf, Framing Hanley, and Fit For Rivals.
Formed in the late 2000's by lead vocalist Rick DeJesus and Trevor Stafford, Adelitas Way, the edgy Las Vegas-based hard rock band, which also includes Andrew Cushing, and Robert Zakaryan, released its self-titled debut album on Virgin Records in July 2009. The album's first single "Invincible" became a top 5 Active Rock smash making its way into numerous television spots including: Fox Sports Network, the THQ video game "Raw vs Smackdown" and the "CSI Miami" finale. It also served as the theme song for the weekly WWE Superstars show.
The band's sophomore effort, "Home School Valedictorian", arrived in the Summer of 2011 and it spawned 4 – Top 5 singles including two #1 hits at Rock radio. The record was the band's highest selling album to date, selling over 150,000 copies and over 1 MILLION singles.
At the end of 2012, Adelitas Way began writing their third album, which would be the first featuring guitarist Robert Zakaryan with writing credits. In July 2013, they entered the studio with Grammy Award-winning producer Nick Raskulinecz (Foo Fighters, Marilyn Manson, Evanescence) to record the album "Stuck". The record was released July 29th, and produced the Top 10 single "Dog on a Leash".
The band has toured with Guns N Roses, Shinedown, Creed, Alter Bridge, Three Days Grace, Halestorm, Theory of a Deadman, Breaking Benjamin, The Pretty Reckless, and Godsmack.
SNOCORE TOUR DATES
FEB 3 – AMOS SOUTHEND – CHARLOTTE, NC
FEB 4 – RAMS HEAD LIVE! -BALTIMORE, MD
FEB 6 – UPSTATE CONCERT HALL – CLIFTON PARK, NY
FEB 7 – JEWEL NIGHTCLUB – MANCHESTER, NH
FEB 8 – THE CHAMELEON CLUB – LANCASTER, PA
FEB 10 – STAFFORD PALACE THEATER – STAFFORD SPRINGS, CT
FEB 11 – PORT CITY MUSIC HALL – PORTLAND, ME
FEB 13 – LOST HORIZON – SYRACUSE, NY
FEB 14 – RAPIDS THEATRE  – BUFFALO, NY
FEB 15 – ALTAR BAR – PITTSBURGH, PA
FEB 17  – EXPO FIVE  – LOUISVILLE, KY
FEB 18  – NEWPORT MUSIC HALL – COLUMBUS, OH
FEB 20  – CLUB FEVER – SOUTH BEND, IN
FEB 21  – MACHINE SHOP – FLINT, MI
FEB 22  – MOJOES  – JOLIET, IL
FEB 24  – AUSTIN'S FUEL ROOM  – LIBERTYVILLE, IL
FEB 25  – POV'S  – MINNEAPOLIS, MN
FEB 27  – SUMMIT MUSIC HALL  – DENVER, CO
FEB 28  – MESA THEATRE  – GRAND JUNCTION, CO
MAR 3  – AREA 51  – SALT LAKE CITY, UT
MAR 4  – THE WILMA THEATER  – MISSOULA, MT
MAR 6  – KNITTING FACTORY  – SPOKANE, WA
MAR 7  – STUDIO SEVEN  – SEATTLE, WA
MAR 10  – KNITTING FACTORY  – RENO, NV
MAR 11  – ACE OF SPADES  – SACRAMENTO, CA
MAR 12  – THE GLASS HOUSE  – POMONA, CA
For more  information, check out Adelitas Way's web properties:
Facebook: www.facebook.com/adelitasway
Instagram: www.instagram.com/adelitasway

Twitter: www.twitter.com/adelitasway

Official: www.adelitaswaymusic.com