The world's largest suicide awareness event
The 5th Annual Rise Above Festival, touted as the world's largest suicide awareness event, was held in Bangor, Maine on July 22nd and 23rd, 2017. This year's festival was dedicated to rock icons, Chris Cornell and Chester Bennington. Cornell died on May 7, 2017 and Bennington passed on July 20, 2017, both from suicide.
The Rise Above Festival was founded by Shaun Morgan, Seether's lead guitar and vocalist in response to the suicide of his brother, Eugene, in 2007. Seether was about to release their third studio album Finding Beauty in Negative Spaces when Eugene leapt to his death while on tour with the band in South Dakota. "It took a couple of years to put it together," Morgan said. "I floundered around for a few years not knowing what to do about it. To get us over I thought maybe we could do something like this to promote awareness of suicide. We did the first one seven years ago and it was alright. We missed a year and then we moved it here (Bangor).We consider this to be the fifth one even though it is the sixth. It took a little logistical wrangling to work it all out. It was just to create the awareness and to raise the dialogue."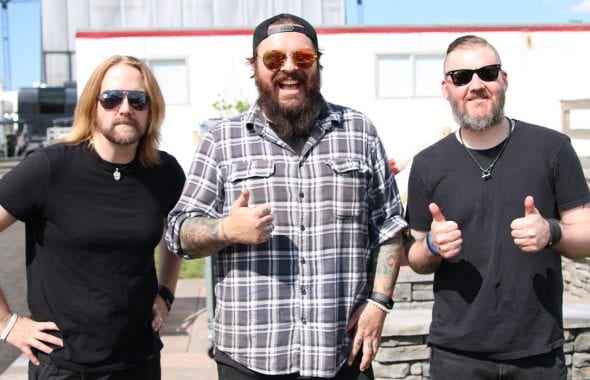 The loss of Cornell and Bennington has sent shockwaves throughout the musical community and Morgan wants people to face the pervasive specter of suicide. "These are high profile suicides," Morgan said. "If it's even affecting people as wealthy and famous as those kinds of guys, then it is everywhere. People have to start realizing that it is like this vampire in the corner that is sucking the life out of us instead of pretending it doesn't exist."
The decision to dedicate this year's festival to the Cornell and Bennington comes with no small amount of trepidation. "The timing on this thing has been really eerie. It is a little disconcerting and a little uncomfortable, but feels like the right thing to do. Two in two months, one is too many. It's crazy," said Morgan.
The only band to repeat at any of the Rise Above Festivals is Seether. Bands are clamoring to support this cause the best way they know; playing music. Bands included: Mucklers Circle, Mammothor, Ded, Dragon Force, Falling in Reverse, Killer at Large, Crobot, Red Sun Rising, Skillet, Seether, Stone Sour, Korn, Black Map, Cane Hill, Avatar, HellYeah, Kyng, Starset, All That Remains, Pop Evil, Theory of a Dead Man, Halestorm and Shinedown.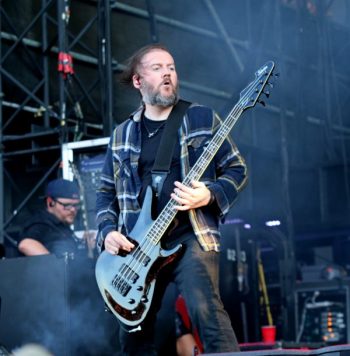 "This is one of my favorite lineups so far. With Korn and Stone Sour, I am huge fans of both," Morgan states. " But we have had Godsmack, Avenged Sevenfold, Disturbed, some of the biggest bands you can find, really. Like I said in the beginning, a lot of bands played because it was a festival. I think now we are starting to see more people playing because they believe in it. Certainly, most of us have either met, or run into, both Chris or Chester. Now it is starting within the ranks that this is affecting us as well. Now, unfortunately it becomes even more meaningful for a lot of these guys. It is crazy times man."
"The whole point is that a lot of these guys here, I would say all of the bands here, have been touched by a suicide of some sort. It is becoming a thing where every year bands are coming in and they believe in the cause more. In the first couple (of festivals) bands were like, 'Yeah we will play,' but now it is more and more like 'We have to do something.' It is becoming more of a unified voice. And that helps to keep something like this going and to make it two days this year is just awesome because it just means more opportunity, first of all, to do something cool in this city that isn't (snicker) country music. I used to live in New Hampshire and it was always just country coming through and I got so pissed. It is really is just about having a good time. At the end of the day you can sober up and think about what it was really meant to be about. But for the experience, yeah, it's really about having a good time."
Morgan sees the event as a cornerstone for larger social change. "We are just trying to build a community, man. Society crumbles if there aren't communities. Communities are disappearing because everybody is on their goddamn cell phones." Morgan said. "They are hiding behind the internet and saying mean things to people. I know it sounds super hippy to say it like that, but that really is the start of a society crumbling. We don't want that to happen. Especially in places like Maine, which is one of the higher suicide states. We need to start having a community. I don't know how to build that, but maybe this is the start of it. Maybe meet some friends out there and go hang out together or something. Who knows. But that is the whole point of it."
The release of Poison the Parish on May 12, 2017 marks Seether's seventh studio album, Morgan's first as producer, on the Canine Riot label. The raw, fundamental feel is punchy and pure. The album's concept is a raw exploration of the fate of humanity as it continues on a self absorbed, internet fueled spiral into the collapse of civilization.
"I just see that there is this clan at the top that are promoting and preaching that, if you are pretty and you put some shit in your ass and you pump that up and you pump this up, you can sell some lip gloss. You don't have to offer society anything of value," Morgan said. "It is not about building a community there at all. They are then going to turn around and say, 'Don't body shame.' Half of them is fake! It is easy to say that when you are a multi-millionaire and it is all photoshopped and shit."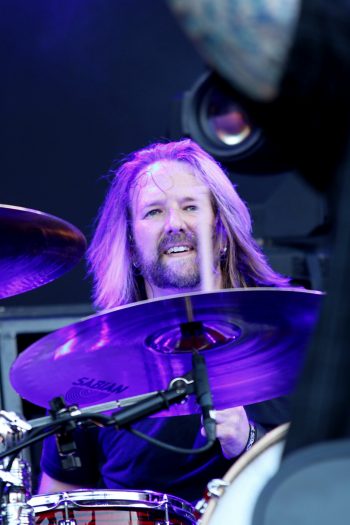 "I was in New York City for a couple of days and let me tell you, of the thousands and thousands of people I saw, very, very few people resembled the magazine covers. That doesn't mean there weren't beautiful people," Morgan continued. "It's just this fallacy that we live in and this bullshit that everyone is trying to promote this thing, that their lives being better than anyone else's lives, through social media. It's all crap man. Like seriously, live in the now. At the end of the day, it is just stupid."
The Rise Above Festival is the first to span two days. Seeing the massive success of past years events, the expansion is a natural extension. "It is great! To even still be around is huge," Morgan said. "There are a lot of ideas that you start and they fumble and then fail. I think that a lot of this (success) is because of the message. There are a lot of passionate people behind the scenes as well. Dr. Dan (Reidenberg), from Suicide Awareness Voices of Education (SAVE), that dude lives and breathes this festival, as much as he does his own charity. We just get to come and be the figureheads and take credit for it."
Dr. Reidenberg spoke about the realities of suicide in respect to Morgan's personal experience and how he perceives Morgan's crusade. "It is heart-wrenching, but it is hopeful. We have to turn that really difficult thing into something positive so we can start saving peoples' lives."
For those interested in helping raise suicide awareness, Dr. Reidenberg recommends that you go to Save.org and learn the warning signs, the risk factors and the protective factors to learn how to keep people safe. Also learn about resources in the community that are available.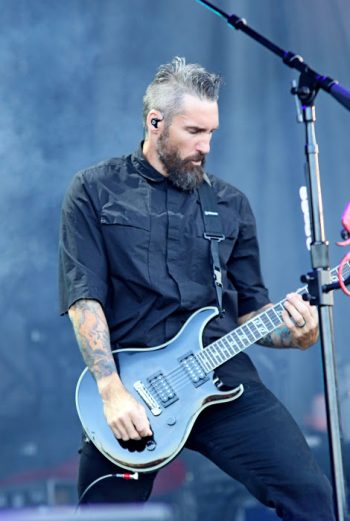 The more people can find out about it, the more they can talk about it and they are not going to stigmatize it. That will help people reach out for help," Said Dr. Reidenberg. "Ask the question and get somebody the help they need."
The band has picked up a hitchhiker this summer in the form of one Clint Lowery, lead guitarist and vocalist for Sevendust. Seether drummer John Humphrey was quick to comment. "It sucks," Humphrey said, sending the band into convulsive laughter. He quickly countered, "Clint is so awesome. He is not only a great guy but he is a great musician. He has such an positive vibe."
"We are lucky to have him for right now. He brings a real positive attitude, he is a killer player, a great singer. He is a triple threat." Morgan said. "It is really nice to have him around. It is really nice to have somebody that wants to be here as much as we do, instead of somebody that we have just dragging along all of the time. So that is really cool. He will stick around with us until the Sevendust album. We will see what happens from there. For now we are just going with it. I mean, Sevendust is his band. He is on loan to us right now. He is killer."
One gets the sense that Seether isn't just laying out platitudes about having Lowery on board. They have truly integrated him into the band. "He is the king of dad jokes, bro. He is starting to rub off on all of us. We were all making really crappy jokes this morning. It was so not rock and roll back there," Morgan said.
It appears moving to a two day format at the home of Rise Above is not the only thing on the horizon for Morgan's tribute festival. "What we want to do eventually is take this thing on the road. It would be the same festival thing. Just start small. You know, you've got to crawl before you can run," Morgan said. "After five years we have gotten to the point now where we can say, 'Yeah, let's move it," and do four or five (festivals) in 2018. If that works out then we will build it up even more. We will try to get packages to follow so it becomes more of a festival that travels."
Morgan's passion to raise awareness about suicide is obvious. "This is my one crusade. It drives me more than anything else;" said Morgan. "The music sounds great and that is awesome but this has affected all of us so personally and it is important for us to be here. Even if we weren't playing we would be here representing ourselves and the festival anyway."