5FDP CONFIRMED AS SPECIAL GUEST ON JUDAS PRIEST'S
"REDEEMER OF SOULS 2015" EUROPEAN TOUR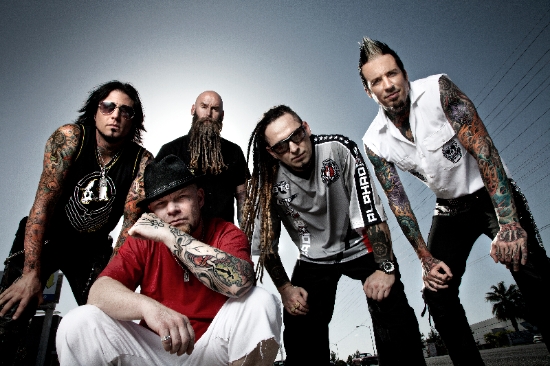 NEW SINGLE "WRONG SIDE OF HEAVEN" OUT NOW 
After a nearly sold-out headline tour in Europe this past Spring, global rock heavyweights FIVE FINGER DEATH PUNCH will make their return to the continent as Special Guests on the European leg of Judas Priest's "Redeemer of Souls 2015" Tour next June. The run kicks off in Helsinki, Finland on June 4 and takes the band all across Europe, winding up in Lodz, Poland on June 27, 2015. Tickets go on sale this Friday, November 7 via ttp://www.fivefingerdeathpunch.com/tour/.
Please see below for a list of dates.
"All of us grew up big Judas Priest fans so it was amazing to work with Rob on "Lift Me Up". Not only is he a true rock icon but one of the greatest guys you'll ever meet. To come back to Europe with Judas Priest next year is taking it over the top and a dream come true. We've had a fantastic year in Europe and can't wait to get back again next summer", notes guitarist and 5fdp founding member Zoltan Bathory.
ROB HALFORD of JUDAS PRIEST is featured on FIVE FINGER DEATH PUNCH's #1 radio hit single "Lift Me Up" from the first installment of their current double album, THE WRONG SIDE OF HEAVEN AND THE RIGHTEOUS SIDE OF HELL, VOLUME 1 & 2. Halford previously performed the song live with FIVE FINGER DEATH PUNCH at the 2014 Revolver Golden God Awards in Los Angeles and again during the band's tour stop in his hometown of Birmingham, England earlier this year.
FIVE FINGER DEATH PUNCH just wrapped up the biggest rock tour of the fall co-headlining arenas across North America with VOLBEAT. With their new single and video for WRONG SIDE OF HEAVEN the band, who has enjoyed tremendous support from their military fans over the years, is giving back to veterans and those suffering from PTSD. The critically acclaimed video clip to the song (which is currently the #2 rock song in the US) has surpassed 7.5 million views to date and can be watched here: http://bit.ly/1nwyu5C
Written by the band and directed by Nick Peterson the video to WRONG SIDE OF HEAVEN is intended to increase knowledge about the plight of veterans suffering from Post-Traumatic Stress Disorder (PTSD) and its larger repercussions.
5FDP have partnered with a multitude of help organizations, contact info for which runs at the end of the clip and is also available at www.5fdp4Vets.com. The band created the webpage to provide a destination with more info for those affected by PTSD & the issues they're facing.
To support the cause further, Five Finger Death Punch ran an Indiegogo crowdfunding campaign for a limited edition "No One Gets Left Behind" jersey, designed by guitarist Zoltan Bathory. The original goal to raise $50,000 was quickly surpassed and the campaign ended up raising over $225,000 with profits benefitting partner organizations in support of their efforts to help veterans suffering from PTSD.
Undoubtedly one of the most relevant and successful rock bands globally, 5FDP dominated 2013 and 2014 with the releases THE WRONG SIDE OF HEAVEN AND THE RIGHTEOUS SIDE OF HELL, VOLUME 1 and VOLUME 2. Both volumes debuted on the U.S. Billboard album chart at #2 (more notably, within a four-month period) and in the top ten mainstream charts all around the world.
The two albums feature two #1 radio hit singles ("Lift Me Up" featuring Rob Halford of Judas Priest and "Battle Born") and have combined sales of over 700,000 units to date. The multi-million selling rock titans' have had 14 consecutive Top 10 hits at Rock radio since the inception of the band in 2007.
USA TODAY proclaimed "VOLUME 2 elevates the group to the top of its game. Offering more than blind rage, though there's certainly plenty, the songs live in the tension implied by the album's title—aware of the implications of lashing out, ready to accept the consequences" (11/19/13).
Following Australia's Soundwave Festival and shows across Japan and South East Asia, the band headlined a nearly sold out European tour earlier this year and just concluded the biggest rock tour of the fall co-headlining arenas across North America with VOLBEAT, special guest HELLYEAH and NOTHING MORE.
FIVE FINGER DEATH PUNCH is Ivan Moody (vocals), Zoltan Bathory (guitar), Jeremy Spencer (drums), Jason Hook (guitar) and Chris Kael (bass).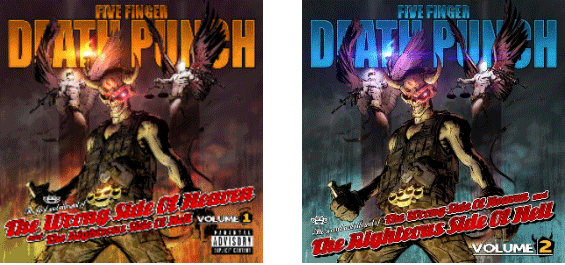 TOUR DATES
6/4      Helsinki, Finland                                Icehall
6/8      Hamburg, Germany                           Sporthalle
6/9      Berlin, Germany                                Arena Treptow
6/16    Luxembourg                                       Rockhal
6/17   Paris, France                                      Le Zenith
6/25   Ostrava, Czech Republic                    CEZ Arena
6/26   Prague, Czech Republic                     O2 Arena
6/27   Lodz, Poland                                       Arena
www.fivefingerdeathpunch.com
www.facebook.com/fivefingerdeathpunch
www.5fdp4Vets.com
Brand new 5fdp limited edition collector's Holiday merch packages available now !
http://smarturl.it/FFDP