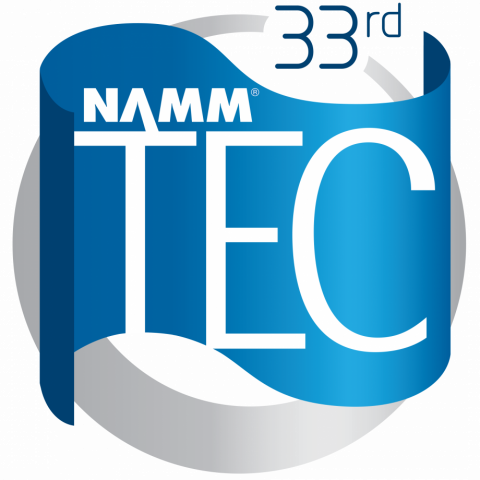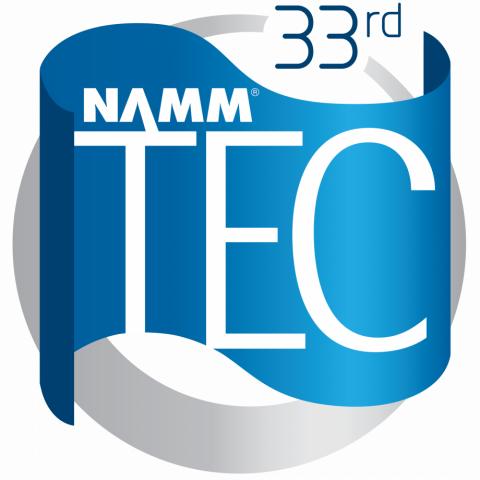 The NAMM Foundation is pleased to announce nominees for the 33rd NAMM Technical Excellence & Creativity (TEC) Awards. The annual awards are presented at The NAMM Show in Anaheim, California (January 27, 2018), the global gathering of music, pro sound and event tech industries, and celebrate the spirit of innovation, honoring the best-in-class products in the pro audio community. At the show, 31 categories of products and projects will be recognized in the areas of Technical or Creative Achievement to honor the many individuals, companies and technical innovations used in sound recordings, films, broadcast television and video games.
"The nominations for the TEC Awards and the creative luminaries behind them offer an incredible snapshot of the foremost advancements in audio products and projects," said Joe Lamond, NAMM President and CEO."Recognizing their contributions and sharing in the special camaraderie found among industry peers makes this event truly a special part of The NAMM Show."
The TEC Awards Nominating Panel, comprised of leaders in audio and production, considered more than 1,000 products and projects in the nomination process. This year's Outstanding Technical Achievement Nominees were chosen across 23 categories, ranging from Computer Audio Hardware to Recording Microphones to Wireless Technology. Reflecting the growth of live sound and event tech at The 2018 NAMM Show, the category of Sound Reinforcement Loudspeakers received the most nomination entries, with finalists among the likes of Bose Professional's ShowMatchTM DeltaQTM Array loudspeakers, d&b audiotechnik 24S|24S-D, JBL's EON ONE Pro, L-Acoustics' Syva System, the LINA Very Compact Linear Line Array Loudspeaker from Meyer Sound, the PreSonus Air Series and QSC's K.2 Series.
Eight categories for Outstanding Creative Achievement represent the top artists and productions that led the industry with innovative application and commitment to excellence. They include multi-Platinum recordings by hit-makers Bruno Mars and Kendrick Lamar, among other music artists. In the category of Television Sound Production, fan favorites "Better Call Saul", "Game of Thrones," "Homeland," "Saturday Night Live" and "The Voice" will compete for a TEC Award. In the category of Film Sound Production, this year's box office winners, including "Dunkirk," "La La Land," "Hacksaw Ridge," "Rogue One: A Star Wars Story" and "Guardians of the Galaxy Vol. 2," have been nominated for their creative application of sound in creating a defining audible experience. Other categories include Interactive Sound Production; Record Production Single/Track; Remote Broadcast Production; Television Sound Production; and Tour Sound Production, which includes nominations from 24K Magic World Tour (Bruno Mars); The Joshua Tree Tour 2017 (U2); Metallica WorldWired Tour; and others.
The TEC Awards will also honor two individuals for their contributions to music and recording. Soon to be announced, an honoree who embodies the creative, innovative and enterprising spirit of Les Paul will be honored with the Les Paul Innovation Award. Past Les Paul recipients include Joe Perry (Aerosmith, Hollywood Vampires), Slash (Guns N' Roses), Don Was (Was, Not Was), Lindsey Buckingham (Fleetwood Mac), Pete Townsend, Stevie Wonder, Todd Rundgren and others. The NAMM TEC Hall of Fame, which was created nearly 30 years ago to honor the industry's most pioneering producers and audio recording professionals, will again induct an industry luminary to its list of honorees. Past recipients include Jack Douglas (Aerosmith, Miles Davis), Skunk Baxter (Steely Dan, Elton John), Ed Cherney (Eric Clapton, Bob Dylan) and others.
A full list of nominees and categories is included below. For invited members, voting in each category will begin in November. Winners from the 31 categories will be selected by industry professionals across major music, sound and game audio associations, along with pro audio-focused media groups.
The TEC Awards will be held on Saturday, January 27 at The 2018 NAMM Show. The event begins with a VIP-only reception at 6 p.m., followed by the awards ceremony at 7 p.m., held at the Anaheim Hilton Hotel's Pacific Ballroom. Tickets can be purchased on site or in advance beginning September 27 for $65 (General Admission) or $195 (VIP).
Congratulations to the 33rd TEC Award Nominees:
Outstanding Technical Achievement
Amplification Hardware – Studio & Sound Reinforcement: ATC – P2 PRO Dual Mono Power Amplifier, Hafler – P3100 Studio Power Amp, JBL – Intonato, Powersoft – Quattrocanali DSP+D, SPL – HPm, Tree Audio – The Trunk
Audio Apps & Hardware / Peripherals for Smartphones / Tablets: Allen & Heath – dLive MixPad|OneMix, Apogee – Control Mobile, Focusrite – iTrack One Pre, iZotope – Spire: Multitrack Music Recorder, PreSonus – UC Surface for Android and iOS, Shure – Remote + Mic Accessory Cable RMCE
Audio Education Technology: Groove3 – Recording Vocals with Dave Pensado, Groove3 – The Josh Bess Webinar Series, Focal Press – The Audio Expert, PreSonus – Notion 6.2 for Mac/Windows, Sennheiser – Pro Talk Series, Taylor Robinson Music – One-Click Web Classroom
Computer Audio Hardware: Antelope Audio – Orion32 HD, Apogee – Element Series, Avid – Pro Tools | MTRX, Focusrite – Red 8Pre, PreSonus – Quantum, Universal Audio – Apollo Twin MKll QUAD
DJ Production Technology – Hardware/Software: Akai Professional – MPC Live, Allen & Heath – Xone PX5, Denon DJ – SC5000 PRIME, Numark – Mixtrack Platinum, Numark – NTX1000, Shinola – Runwell Turntable
Headphone / Earpiece Technology: 64 Audio – tia Fourte, Blue Microphones – Sadie, Premium Headphones with Built-in Audiophile Amp, Jerry Harvey Audio – Performance Series, Sennheiser – HD 200 PRO, Sensaphonics – 3D-U AARO IEM System, Yamaha HPH-MT8
Large Format Console Technology: Allen & Heath – dLive C Class, API – Legacy AXS Console, Audient – ASP 8024-HE, DiGiCo – SD12, Solid State Logic – AWS Delta V2, Yamaha – RIVAGE PM10 V1.5
Microphone Preamplifiers: AEA – RPQ2-500, Antelope Audio – Zen Studio+, Focusrite – Clarett OctoPre, Rupert Neve Designs – Shelford Channel, Warm Audio – WA12 MKII, Warm Audio – WA-412 Four Channel Microphone Preamplifier
Microphones – Recording: Aston – Starlight, audio-technica – AT5047, Blue Microphones – Bluebird SL, Chandler Limited – REDD Microphone, MXL – DX-2, Ocean Way Audio – RM1-B, Sennheiser – AMBEO VR Mic
Microphones – Sound Reinforcement: AKG – C636, audio-technica – ATM350a Instrument Microphone Systems, Earthworks – CTB30, sE Electronics – V7 Supercardioid Dynamic Microphone, Solomon Design – PUQ Cajon Pickup, Sontronics – Solo
Musical Instrument Amplification & Effects: Antelope Audio – Orion Studio HD, API – TranZformer GT|LX Transformer/Compressor/EQ Pedals, BAE – Hot Fuzz, EarthQuaker Devices – Space Spiral, Line 6 – Helix LT, ZOOM – AC-2
Musical Instrument Hardware: Arturia – MatrixBrute, Dave Smith Instruments – Prophet Rev2, Moog – Minimoog Model D, Moog – Subsquent 37 CV, Nord – Stage 3, Yamaha MX88
Musical Instrument Software: Line 6 – Helix Native, EastWest –MIDI Guitar Series, Spectrasonics – Keyscape, Steinberg – HALion 6, Waves – Electric 200 Piano, Waves – Electric Grand 80, Waves – Grand Rhapsody Piano
Production Essentials: Apogee – Control, Cloud Microphones – Cloudlifter Zi, IsoAcoustics – ISO-PUCK, PreSonus – FaderPort 8, Rupert Neve Designs – Swift Mix MC5, Slate – Control Mobile
Signal Processing Hardware: Antelope Audio – Goliath HD, Bettermaker – Mastering Limiter, QSC – Q-SYS Core 510i, SPL – PQ Mastering Equalizer, TC Electronic – Reverb TwentyFour, Tube-Tech – HLT2A
Signal Processing Hardware (500 Series Modules): BAE – G10, Big Bear Audio – MP1, elysia – mpressor 500, Serpent Audio – Splice MKII FET Compressor, Sphere Recording Consoles – Fab 500 Series, WesAudio – _TITAN
Signal Processing Software (Dynamics / EQ / Utilities): iZotope – Neutron, iZotope – RX 6, Slate – Virtual Tube Collection, Softube – Chandler Limited Zener Limiter for UAD – 2/Apollo, Softube – Tape, Universal Audio – SSL 4000 E Channel Strip Plug-In
Signal Processing Software (Effects): Eventide – Fission, FabFilter – Pro-R Reverb Plug-In, Softube – OTO Biscuit 8-Bit Effects for UAD-2/Apollo, Soundtoys – EchoBoy Jr., Universal Audio – Moog Multimode Filter XL Plug-In, Zynaptiq – Adaptive Plug-in
Small Format Console Technology: PreSonus – StudioLive 32 Series III, QSC – TouchMix-30 Pro, Softube – Console 1 MK II, SolidState Logic – Nucleus2, Trident – 78, Yamaha –TF Series V3.5
Sound Reinforcement Loudspeakers: Bose Professional – ShowMatch DeltaQTM Array Loudspeakers, d&b audiotechnik 24S|24S-D, JBL – EON ONE Pro, L-Acoustics – Syva System, Meyer Sound – LINA Very Compact Linear Line Array Loudspeaker, PreSonus – AIR Series, QSC – K.2 Series
Studio Monitors: ADAM Audio – S-Series, ATC – SCM12 Pro, Dynaudio – LYD-48, Focal – Shape Series, Genelec – 8331/8341 The Ones, JBL – 705P|708P
Wireless Technology: audio-technica – 6000 Series High Density Wireless System, beyerdyanmic – TG 500, Lectrosonics – M2 Duet Digital Wireless Monitor System, Sennheiser – Digital 6000, Sennheiser – XS Wireless, Shure – Axient Digital Wireless System
Workstation Technology / Recording Devices: Apple – Logic Pro X 10.3, Avid – Pro Tools 12.8, JoeCo – BlueBox Recorders, PreSonus – Studio One 3 Professional 3.5, Propellerhead – Reason 9.5, Steinberg – Cubase Pro 9
Outstanding Creative Achievement
Film Sound Production: "Dunkirk," "Guardians of the Galaxy Vol. 2," "Hacksaw Ridge," "La La Land," "Rogue One: A Star Wars Story"
Interactive Entertainment Sound Production: Battlefield 1, Call of Duty: Infinite Warfare, Gears of War, The Last Guardian, Titanfall 2, Uncharted: The Lost Legacy
Record Production – Album: 24K Magic – Bruno Mars, ÷(pronounced "divide") – Ed Sheeran, Damn – Kendrick Lamar, For the Good Times: A Tribue to Ray Price – Willie Nelson, 57th & 9th – Sting
Record Production – Single: "24K Magic" – Bruno Mars, "Believer"- Imagine Dragons, "Feels" -Calvin Harris featuring Pharrell Williams, Katy Perry and Big Sean, "Shape of You" – Ed Sheeran, "The Promise" – Chris Cornell
Remote Production – Recording or Broadcast: "39th Annual Kennedy Center Honors," "59th Annual Grammy Awards," "89th Annual Academy Awards," "2017 CMT Music Awards," "Super Bowl LI Halftime Show with Lady Gaga"
Studio Design Project: 55TEC Studios, AIRSHOW Mastering, The Barn, Levels Audio – MIx 8 and 9, Manhattan Center Studios-Studio 7
Television Sound Production: "Better Call Saul," "Game of Thrones," "Homeland," "Saturday Night Live," "The Voice"
Tour/Event Sound Production: 24K Magic World Tour – Bruno Mars, Bruce Springsteen and The E Street Band – The River Tour 2016, Garth Brooks World Tour with Trisha Yearwood, Metallica WorldWired Tour, The Joshua Tree Tour 2017 – U2
About NAMM
The National Association of Music Merchants (NAMM) is the not-for-profit association with a mission to strengthen the $17 billion music products industry. NAMM is comprised of approximately 10,300 members located in 104 countries and regions. NAMM events and members fund The NAMM Foundation's efforts to promote the pleasures and benefits of music, and advance active participation in music making across the lifespan. For more information about NAMM, please visit www.namm.org, call 800.767.NAMM (6266) or follow the organization on Facebook, Instagram and Twitter.
Source: The NAMM Foundation