THE RECORDING ACADEMY® AND ATLANTIC RECORDS TO RELEASE THE 2017 GRAMMY® NOMINEES ALBUM
ALBUM PRE-ORDER STARTS DEC. 6, OFFERING FANS AN OPPORTUNITY TO ATTEND THE 59TH ANNUAL GRAMMY AWARDS®
LAUNCH COINCIDES WITH ANNOUNCEMENT OF GRAMMY NOMINATIONS ON DEC. 6
2017 GRAMMY NOMINEES ALBUM HITS STORES AND DIGITAL RETAILERS ON JAN. 20, 2017
Pre-order The 2017 GRAMMY NOMINEES Album Here: 2017GRAMMYAlbum.com or CBS.com/GRAMMYs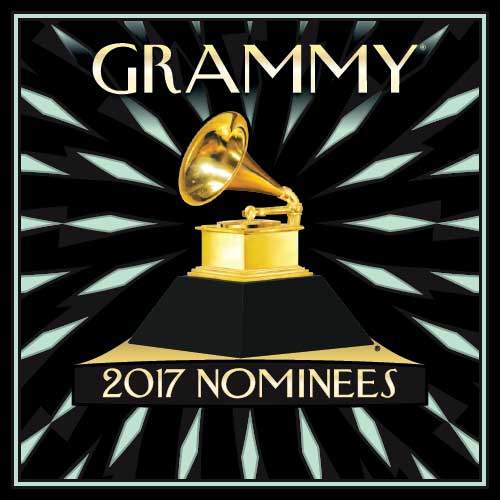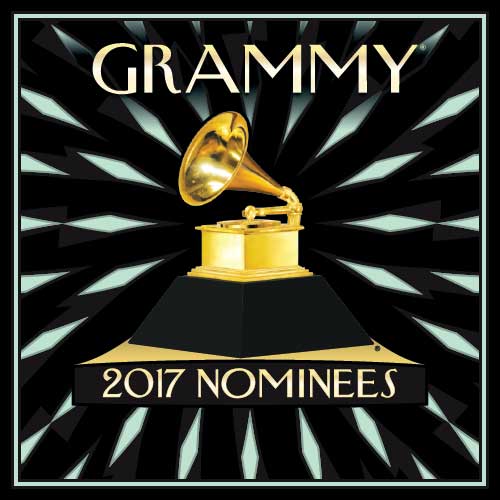 The Recording Academy®'s GRAMMY Recordings® and Atlantic Records will release the 2017 GRAMMY® Nominees album on Jan. 20, 2017, in stores and via digital retailers. The latest installment of the best-selling series — now in its 23rd year – features a collection of the biggest and brightest GRAMMY-nominated music for the upcoming 59th Annual GRAMMY Awards®. A portion of album proceeds benefit the year-round work of the GRAMMY Museum Foundation™ and MusiCares Foundation® — The Recording Academy's charitable organizations focused on music education programs and critical assistance for music people in need.
Beginning Dec. 6, with the announcement of the 59th GRAMMY nominations, music fans can log on to 2017GRAMMYAlbum.com or CBS.com/GRAMMYs and enter to win a trip for two to the 59th Annual GRAMMY Awards on Sunday, Feb. 12, 2017, at Staples Center in Los Angeles.
"We are delighted to partner with Atlantic Records to once again present one of the most diverse mix of tracks on one album," said Neil Portnow, President/CEO of The Recording Academy. "This great collection of music, coupled with the sweepstakes opportunity that will allow two lucky fans a chance to experience Music's Biggest Night® firsthand, constitutes an extremely fulfilling project, with proceeds supporting the crucial work our charitable foundations perform throughout the year."
"We are always happy and honored to partner with the Recording Academy to release the GRAMMY nominees album," said Atlantic Chairman & COO Julie Greenwald. "By bringing together in one place music that crosses multiple labels and genres, this collection celebrates what a fantastic year it's been for music. All of us at Atlantic are not only excited to be able to showcase an incredible diversity of amazing artists, but we're especially proud to help support the tremendous work being done by the GRAMMY Museum Foundation and MusiCares."
*No purchase necessary to enter or win. Visit 2017GRAMMYAlbum.com or CBS.com/GRAMMYs for details and eligibility requirements
About The Recording Academy
Established in 1957, The Recording Academy is an organization of musicians, songwriters, producers, engineers and recording professionals dedicated to improving the cultural condition and quality of life for music and its makers. Internationally known for the GRAMMY Awards — the preeminent peer-recognized award for musical excellence and the most credible brand in music — The Recording Academy is responsible for groundbreaking professional development, cultural enrichment, advocacy, education and human services programs. The Academy continues to focus on its mission of recognizing musical excellence, advocating for the well-being of music makers and ensuring music remains an indelible part of our culture. For more information about The Recording Academy, please visit www.grammy.com. For breaking news and exclusive content, follow @RecordingAcad on Twitter, like "Recording Academy / GRAMMYs" on Facebook, and join The Recording Academy's social communities on Google+, Instagram, Tumblr and YouTube.
About Atlantic Records
Atlantic Records celebrated its 65th Anniversary in 2013. Founded in New York City, the label literally grew from a one-room operation into one of the world's preeminent music companies. Atlantic has released a string of recordings that have had a profound impact on the course of modern music, its rich history including such musical icons as Ray Charles, Aretha Franklin, John Coltrane, and Led Zeppelin. The Atlantic Records Group roster today includes many of the world's most popular recording artists, among them Charli XCX, Kelly Clarkson, Death Cab for Cutie, Flo Rida, Kevin Gates, David Guetta, JoJo, Bruno Mars, Matchbox Twenty, Melanie Martinez, Janelle Monáe, Jason Mraz, K. Michelle, Panic! At The Disco, Paramore, Christina Perri, Charlie Puth, Coldplay, Ed Sheeran, Shinedown, Skrillex, Trey Songz, Twenty One Pilots, Rob Thomas, Wale, Wiz Khalifa, and many more