"Divine Battery" is the debut release from 20 lb. Sledge, independent hard rock band based in Los Angeles. The band is the brainchild of political and social commentator, Alfonzo Rachel of PJTV fame.
Aside from the obvious connotations that come with a band that has Christian conservative members, this isn't a Christian rock band as you may possibly have some typical preconceptions of. They're a hard rock band that is simply comprised of Christian members, and I'm here to tell you that no matter their personal belief system, these guys not only know how to rock, but they've got the funk, too!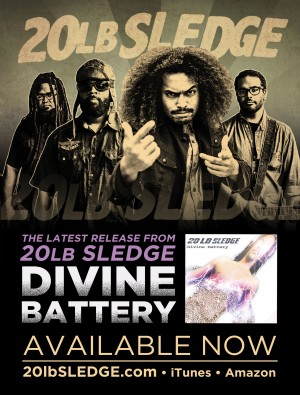 There's a lot on this album for everyone to find something they really enjoy – from the first track through to the last, the album is swimming in satisfying riffs, compelling melodies, and meaningful lyrics.
Right off the bat, I wanted to (quite naturally, especially once you hear the vocal and guitar combination) compare their sound and feel of the band to the likes of Sevendust and Living Colour – and I wouldn't be far off from the mark. But they have their own qualities in the way they are almost choral; some might say very gospel-like, it the way they arrange the vocals and melodies, and that lends distinctiveness to their sound that helps to set them apart from other bands of this genre.
For me, that distinctiveness of sound and style is a very good thing, because on top of the very sweet and chorale-like vibe of the vocals on certain songs, they can throw down the heavy "djent" riffs like a boss. The syncopation on songs like "Color Guard" is crisp and driving in the verses, and then things smooth out in the chorus and bridge before heading back into the "chunka-chunka" parts of the verse. On a personal note, it's nice to see a rock band that has no problem with professing their love of America with such a patriotic heavy rock song.
"Crazy and I Like It" is a raucous romp of a tune that has some cool hints of hip-hop in the lyrical structure, but still Shawn manages to sing rather than bark out the lyrics of the verses, and the chorus is positively musical, adding a diversity to the sound and texture of the song, which is a "kick you in the gut" kind of song, especially with regard to the frantic feel of the tempo, owning to the machine gun drums and thumping bass lines.
One of the funkier tracks on the album is "Soldier Electric (A Nephelim's Last Entry)," that has an intro that is sparse and full of the funk with the drop beats and a staccato guitar and bass riff to punctuate the action. The choruses smooth things out while at the same time bringing up the sense of urgency and anger with some well executed dynamics. If I may, I'd like to single out the drum and bass performances on this track because they both really work well together, like a well-oiled machine should with precision and expert application, particularly with the stutter-tempo breakdown.
Rage Against the Machine is what comes to mind immediate when I first heard the introduction portion of the song, "Source of Release," and that feel is carried on into the verses. That's not a bad thing, by any stretch of the imagination. It's just that it has the same intensity and heavy funk feeling to it, but the lyrics and vocals are much more to my liking in a number of ways, but most significantly in the way the vocals are performed – they're less shouted like RATM, and more "properly" sung, allowing the listener to enjoy, not just the musicality of the instrument performances, but also the musicality of the vocals on a song of this kind. It's a really cool track, and I enjoyed it immensely.
"Special Delivery" is more of a "djent-fest" for those new/active rock lovers out there, but with a healthy infusion of some funk with just a touch of soul in there to round out this track. The guitar riffs are cool, especially at the breakdown – there's a kind fuzziness to the heavy riffage in the breakdown that grabs you and forces your head to bang, right before it goes into an almost sublime clean part with just a bit of what sound like a chorus effect that transitions smoothly right into a sort of second bridge before steaming headlong back into the chorus to the end. It's a real rollercoaster ride, y'all.
"Ticket Out of Hades" is one of my favorite tracks on this album, and the standout for me on this song, besides the infectious groove, is the performance of the vocals – both the lead and the background vocals. They're energetic, engaging, and effortless way in which they integrate the heavy lead vocal parts with contrasting backing vocals that are smooth and melodic. It just works really well. And all this is going on while the guitars are attacking like a rabid animal, with the bass line and drums backing it all up. It's pretty sweet.
"Weapons Down, Hands Up" has a really good drum track on it – that's what stands out on this track for me. It could have easily gone a much easier way if Zo had chosen to simplify it and just follow the bass line. Instead of following the bass as most drummers would have been inclined to do on a track like this, he created a much more musical, far more intricate drum part that really takes the listener away from what they would otherwise listen for in a song. That's not to say he overplayed – on the contrary. He played exactly what the song was calling for in such a syncopated track that incorporates both heavy rock and elements of rap and hip-hop, creating some interesting textures in this song that enhanced the musicality of the percussion parts. Very cool work on the drums on this track, indeed.
Which brings me to the title track, "Divine Battery," which is the track that I believe is the most radio-friendly track on the album. It's a great hard rock and funk fusion that any self-respecting hard/heavy/metal-head rockers would be proud to crank up on their respective boom boxes or car stereos. The combined guitar and bass riff is catchy with a really captivating hook that is like the quintessential brain worm – it sticks in your head! It possesses the listener with a compunction to stomp your feet and bang your head. It's my favorite track on the album, which is a testament to the foresight of the band to make this song their first single as well as the title track to the album. Nice work, guys!

So as I find myself coming to the part where I wrap up the review and assign my rating to this album, I find myself in the rare position of wishing there were more songs on the album to review! There are nine tracks on this release, which is par or better than most LP length albums out today, so they're good on count. But I've enjoyed the album so much; I just want to hear more! Honestly, I'm quite anxious to get the opportunity to see the band play live somewhere in my neck of the woods in the very near future. I can only hope that my wish comes true sometime very soon. I think that if they're half as good live as they are on the album, I'll walk away from their show a very happy, satisfied music lover.
Well, it's on to the rating… I can't, in all good conscience give this band and their debut release anything less than a 9 out of 10 Skulls. That's pretty amazing, especially considering that this entire album was recorded on a 16-track portable studio machine and dumped into ProTools and Garage Band for mixing and mastering. It's just phenomenal what good musicians can do with the technology available out there today. My hat goes off to Alfonzo Rachel (drums), Shawn Taylor (lead vocals/guitar), K. Martin Wade (bass), and Corey Michael Hollins (lead guitar) for an outstanding first effort. Their self-described brand of "rough rock" certainly has its appeal, and I hope you'll give it a listen and purchase yourself a copy of Divine Battery. You will not regret it.
You can find 20 lb. Sledge's debut album, "Divine Battery" for sale and download on the following sites:
BandCamp: www.20lbsledge.bandcamp.com
CDBaby: http://www.cdbaby.com/cd/20lbsledge12
Amazon: 20 lb. Sledge
iTunes: https://itunes.apple.com/us/album/divine-battery/id776454255
iheartradio: http://www.iheart.com/artist/20-Lb-Sledge-30016048/albums/Divine-Battery-24432066/
Spotify: https://play.spotify.com/album/3dByoHGJZohlTqsCkzUAwP