Announces Entire Line-up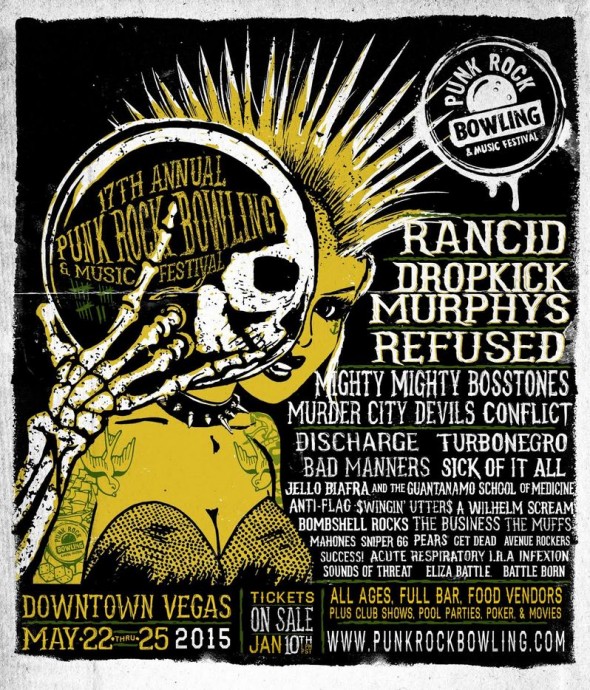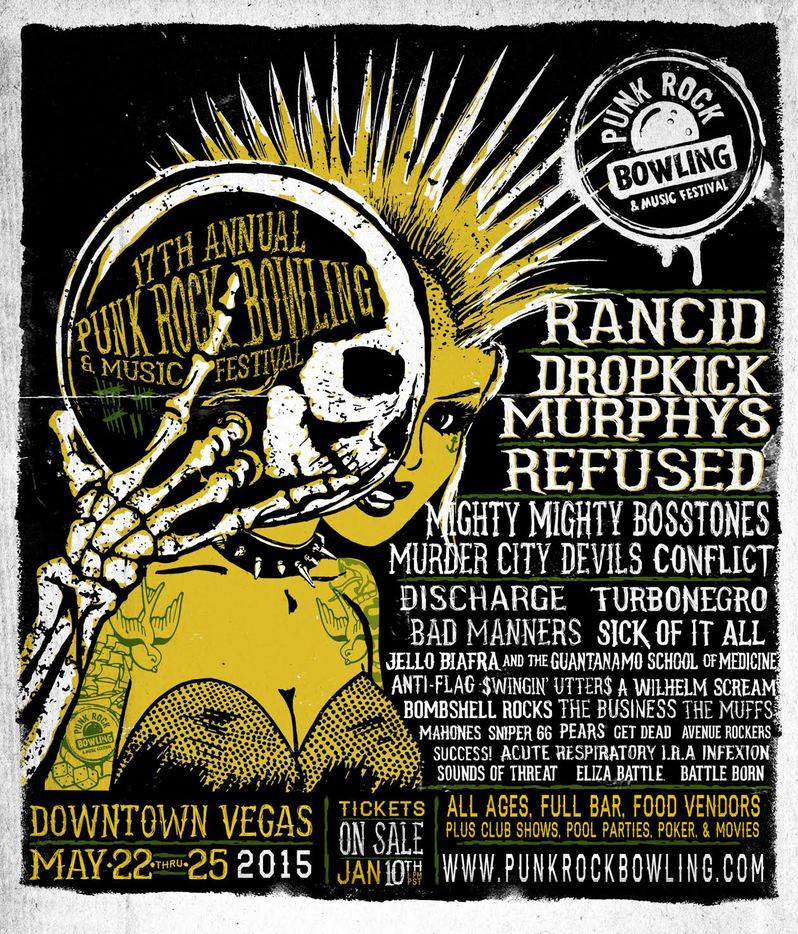 Punk Rock Bowling has announced that Rancid, Dropkick Murphys and Refused will headline its 17th annual music festival in downtown Las Vegas, May 22-25, 2015.
Tickets for the three-day event are set to go on sale January 10, 2015 at 11:00 am PST.
In addition to the 3 main stage headliners, other bands confirmed for the festival are The Mighty Mighty Bosstones, Murder City Devils, Conflict, Discharge, Turbonegro, Bad Manners, and Sick Of It All, Jello Biafra and the Guantanamo School of Medicine, Anti-Flag, Swingin' Utters, A Wilhelm Scream, The Business, Bombshell Rocks, The Muffs, Mahones, Sniper 66, PEARS, I.R.A., Success!, Get Dead, Avenue Rockers, Eliza Battle, Sounds of Threat, and Battle Born.
"We are very excited about the 2015 lineup" says founder Mark Stern. "We strive to keep things fresh and over 80% of these bands have never appeared at PRB. With bands from all over the States as well as Sweden, UK, Canada and even Columbia, it's going to be another classic Punk Rock Bowing weekend!"
The outdoor music festival, which will take place at 7th Street and Stewart Avenue, near Las Vegas' famed Fremont Street, is an all-ages, all-day event, and food, drink, music and clothing vendors will line be on hand. The bowling tournament, pool parties, poker tournament, music and comedy shows will keep fans entertained for days.
For more information visit http://www.punkrockbowling.com/
ABOUT PUNK ROCK BOWLING:
Punk Rock Bowling & Music Festival was started back in 1999 as a way to bring the independent music community together for an annual party. It has since grown into a 3-day festival in downtown Las Vegas that brings out fans and bands alike from all over the world. 3 days of outdoor festivals, 4 Nights of Club Shows, a 2-day bowling tournament, Hotel Pool Parties, A Punk Rock Poker tournament and comedy shows to boot, all wrapped up into one amazing weekend in the city that never sleeps.